How often do you struggle with registering manually yet another guest? Would you like to make visitors feel even more at ease and well informed as they arrive at your office? Learn about the most common setbacks of welcoming guests without the right technology in hand. And discover the right solution to improve the visitor experience at your company.
Then you hand over your ID, have your photo taken, and wait as your visitor pass is printed out.
But wait, your host must have forgotten to add you to the day's front desk visitor list because they can not find you on the approved list. So you stand and wait while front desk security calls up your host company.
Your meeting host is away from his desk, so you just have to sit tight until they can be tracked down. As the minutes tick by, you worry about the time cutting into your meeting. If the meeting goes over, you will have to push back all of your afternoon appointments.
This is not an ideal first impression for any visitor.
In an effort to keep buildings safer, building management companies now keep logs of who is entering their buildings at all times. But those logs are often paper-based, which are outdated and lack the type of privacy expected in today's digital age. Their visitor management procedures require check-in but do not always require check-outs, so there is no way of telling who is in the building at any given time.
They often require advanced planning from host companies to inform building security of who is coming and when. Last minutes changes often do not make it through the system and this results in inconveniences for the guest, security, and host company front desk employees.
Not to mention, it is a tedious and time-consuming process. There are many opportunities for a breakdown in the process that at best result in minor inconveniences and at worst can de-rail an entire business meeting.
A Better Way to Resolve visitor Management Problems
Today's robust Meeting Management technologies include Visitor Management solutions, a user-friendly platform that takes all of the hassles out of visitor management for the meeting host, front desk staff, building security, and office visitors. A virtual Visitor Management system will integrate directly into your office's existing Outlook or Microsoft 365 system. This lets users optimize time and resources by compiling multiple administrative functions into one single solution to dramatically improve business and front desk productivity.
An integrated solution combined with the meeting room booking process delivers all the information the front desk staff needs to know to welcome guests efficiently, such as who is expected, at what time, who they are meeting with, and where they are going. A Visitor Management solution automatically handles tasks such as guest registration, guest logging, NDA signing, the printing of guest passes and name tags, and notification of the meeting host, freeing up time and resources at the front desk.
Not to mention, it improves the visitor experience, offering a modern, streamlined experience without hitches. Here are five of the most common problems when hosting visitors in your office and the solution to each with Visitor Management technology.
Problem #1: Bad First Impression of Your Office and Visitor Management Processes
First impressions matter. The scenario written above is not going to endear anyone to your company.
Solution: Instead of confronting a paper log, visitors walk up to a touchscreen video screen or check in directly via their smartphone, enter their information, retrieve their visitor pass, and are on their way. Those who drop by regularly will be recognized instantly and receive information such as Wi-Fi information, meeting agenda, and a list of other attendees directly on their phones.
Upon guest check-in, the system automatically notifies the meeting host of the visitor's arrival and can proceed directly to the meeting room. This makes visitors feel even more at ease and well informed as they arrive at your office, and creates a professional first impression without the need to involve the front desk staff at all.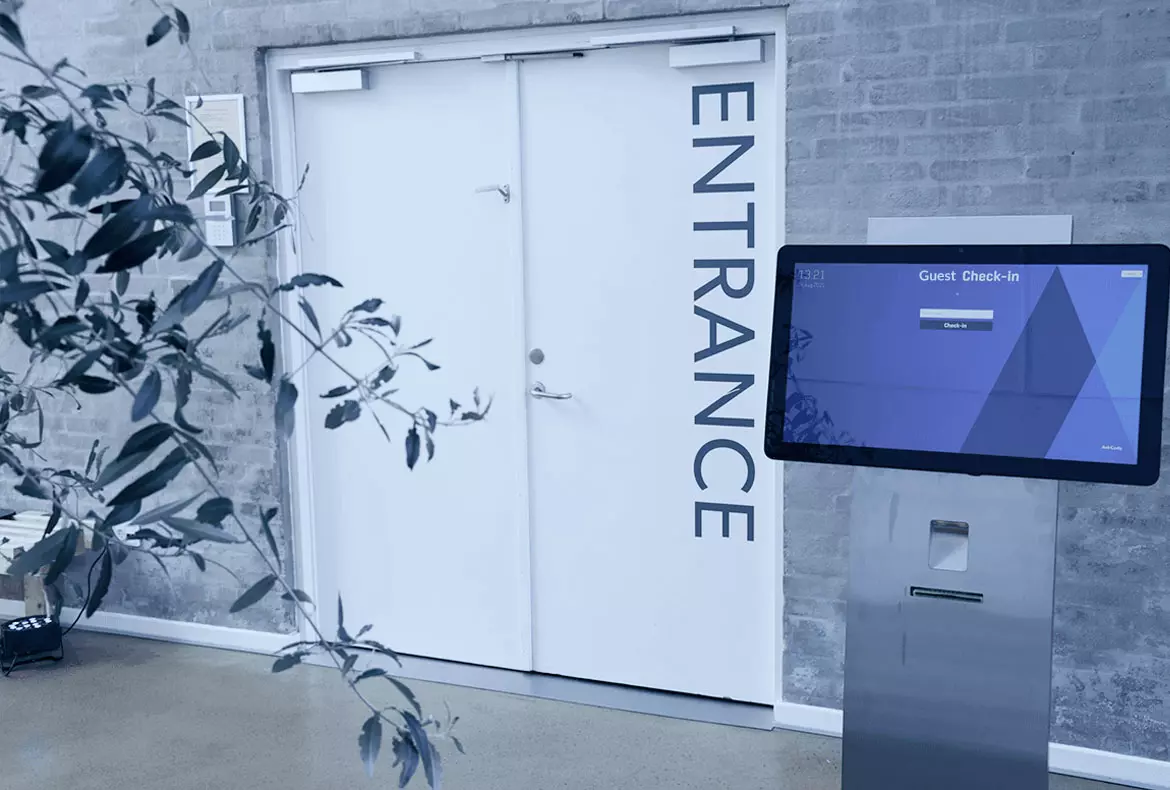 Problem #2: Unsecure Facilities
Most of what is done for the sake of visitor management today is done in the name of security. However, that is not very secure. Especially if your office is still using a paper-based logbook and pen.
Solution: A visitor management system provides an entirely new level of security to your office building. Should an emergency occur, your company can instantly account for everyone present in the office, including visitors. If an evacuation is necessary, everyone in the office will have access to evacuation directions and instructions to ensure everyone understands how to safely exit the building.
In case of an emergency, it is just as important to know if a guest has left the building, as it is to know that they have arrived. Once checked in to the Visitor Management system, a guest can check out with a single tap so host companies will know if they are still on premises during an adverse event.
Not to mention, Visitor Management technology is significantly more secure and precise than the old-fashioned log. Guest information is collected uniformly and correctly every time. Information for every contact can be easily managed from the system. In addition, returning visitors are instantly recognized and can check in simply with just a few clicks.
Problem #3: Cumbersome and Time-Consuming Processes
Waiting in line, dealing with front desk security, fumbling with a logbook, handing over ID, and waiting for approval all take precious time. And that is without any hitches in the system.
Solution: Visitor registration systems automate and streamline the entire check-in process. Hosts can easily register and add guests in a few simple steps. When a guest arrives on site, they can check in instantly via their smartphone, and the meeting host is automatically notified via email or SMS.
The system automatically prints out guest passes at the front desk for visitors.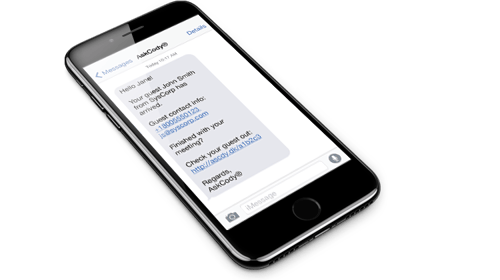 Problem #4: Lack of Communication
Step away from your desk for just a moment and you might never know a guest has arrived. In the meantime, your visitors are left waiting at the front desk until someone has the time to track you down.
Solution: Do not depend on the front desk staff to alert you when your visitors have arrived. A Visitor Management solution automatically sends an email or text message directly to your phone the moment your visitor checks in.
This way, you can greet your guest at the front desk or proceed directly to the meeting room knowing your visitor has everything they need to find the room on their own. A solution like AskCody Visitor Management integrates seamlessly with Outlook and Microsoft 365, so there is no need to access any type of third-part application to get the information you need to ensure a successful meeting experience for your guests.
The system automatically logs all visitor data for your reference, and guests have access to everything they need to set themselves up comfortably in your space. There is no more meeting host tracking, Wi-Fi password scrambling, or lost visitors.
All communication is automatic, consolidated, and easily accessible for all.
Problem #5: Lack of Visitor Independence
From the moment they arrive until the moment they walk out the front door, visitors often require a high level of hand holding from front desk employees to ensure they check in properly, have all the information they need for their meeting, track down the meeting host, make their way through an unfamiliar office, and find the correct meeting room.
Solution: When the entire check-in experience is automated, visitors do not need to rely on anyone to help them check in, find the meeting room, and get any additional information they need to prepare for the meeting.
Visitors are empowered to check themselves in with their smartphones and make their way directly to the meeting location. They do not need to rely on another human to print out their visitor badge, sign any necessary forms, or explain directions.
And this is just the beginning. Making processes easier and more convenient for everyone involved demonstrates a commitment to employee happiness and raises morale all around. Not to mention, it saves time, resources, and money.
With Visitor Management technology, a better office experience begins at the front desk.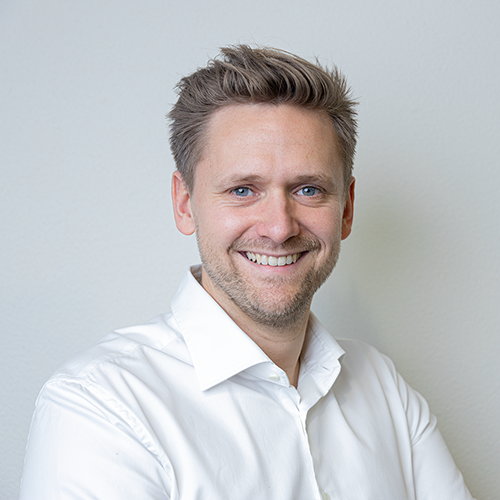 Allan Mørch
CEO & Founder, AskCody. Empowers organizations worldwide in creating better workplace experiences using AskCody.