We have some great news to share!
Our Services web portal has been updated, and it's now even easier to manage ad-hoc* requests.
For those who aren't familiar, ad-hoc service requests are designed to help catering and service personnel create "last minute" requests directly in the Services Web Portal. An Ad-hoc request is created on the spot and is therefore not attached to a meeting.
In the past, the title of these requests was set to "Ad-hoc," and the location was set to the service provider's name, which made it difficult to know which meeting it belonged to or where it should be delivered.
With our latest update, you can:
Edit the title and location, making associating an ad-hoc request with a specific meeting easier, which is essential for keeping things running smoothly.

To avoid mistaking the ad-hoc requests with requests coming from the Services Add-in in Outlook,

we have added a label on all ad-hoc requests

to identify which don't have an associated meeting to follow and need to be updated manually.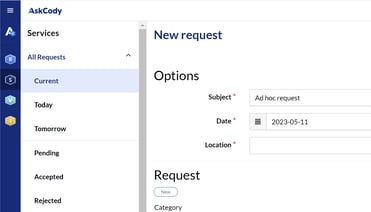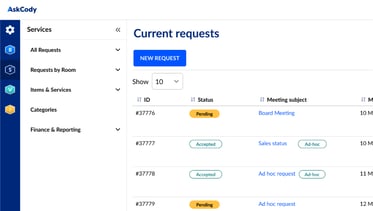 We hope you find this update as exciting as we do. If you have any questions or concerns, please don't hesitate to reach out to us. We're always here to help!
/Cecilie

You can open your Services Web Portal here US here
You can open your Services Web Portal here EU here
*Ad-hoc requests will soon be renamed "work requests" in the Services Web App.