Marshall Dennehey became an AskCody customer in 2022. They wanted to replace their current meeting management solution with a modern platform integrated natively with Microsoft 365 and Outlook. With several new offices emerging and a huge dependency on conference rooms, they needed a solution fast. Luckily, with AskCody they could meet their deadline while getting an on-prem and cloud solution to slowly migrate towards cloud.
Marshall Dennehey is one of the largest American law firms in civil defense litigation, leading in several practices including litigation, professional liability, casualty, health care, employment, etc. Marshall Dennehey is headquartered in Philadelphia, PA, with almost 500 attorneys spread across their 19 offices in seven states in Eastern USA.
We talked with 3 staff members, who took part in choosing AskCody. Hear from Nané Pr'Out (Director of Information Technology), Steven Schnee (Assistant Director of IT), and Kali McBride (Project Manager) on why AskCody was the perfect fit for Marshall Dennehey:
Customer: Marshall Dennehey

Location: Philadelphia, PA, USA

Vertical: Law Practice, Civil Defense Litigation

Size: 1000-5000 Employees

Partner since: October 2022

Marshall Dennehey wanted these meeting management functions
When we got in contact with Marshall Dennehey, they already had several wishes for their new system. They wanted:
A meeting solution integrated directly with their email system Outlook.

A user-friendly solution to ensure high end-user adaptation


A top secure and GDPR compliant solution.


A solution working with on-prem and cloud servers.

Marshall Dennehey found that AskCody was robust enough to meet their criteria, as Project Manager Kali McBride described AskCody services as a "One-Stop-Shop":


"I would describe AskCody as basically a 'One-Stop-Shop'. It's all integrated within Outlook for the end-user which is very easy to use. Basically go into your calendar in Outlook and book a meeting room.

It's very easy to bring on board. The training was simple, so it was not extensive for the end-user to learn and adapt. So it really helped with a user-friendly and easy integration for the end-user and that's what we were looking for."
- Kali McBride, Project Manager at Marshall Dennehey

Looking for new solutions

Before using AskCody, Marshall Dennehey had been using the same meeting management system (MRM) for many years, which in recent times had become outdated and unsupported. Their previous system was not designed specifically for meeting management which resulted in lacking key features and a lack of integration with Outlook and Microsoft 365. The issues led them to search for a new meeting solution to support needs going forward.
As a result, Marshall Dennehey pulled an internal survey to explore their most important criteria for choosing a new meeting management system. After creating an RFP, their Project Manager Kali McBride was tasked with testing different systems that could meet their wishes and criteria. This led to several reviews of systems and applications before the team decided AskCody was the perfect fit for their firm.

Picture from the Marshall Dennehey Office
Modernizing meetings

Director of IT Nané Pr'Out was the first to hear about AskCody during a presentation at ILTACON 2020, hosted by The International Legal Technology Association (ILTA). Being the director of Information Technology at a large law firm, Pr'Out was used to assess IT solutions and could instantly see the potential.
We were pleased to hear that Nané Pr'Out would eventually reach out to the firm's Manager of Desktop Services to inform them about AskCody as a potential candidate for their new choice of meeting management platform.
Nané Pr'Out explains what Marshall Dennehey was looking for, when choosing AskCody:
"One of the things that we knew we wanted to do was to get a modern system, something that didn't resemble Windows 3.1 like the previous system. [...]

We wanted a system that would be integrated with our email system. Because the previous conference room system was strictly browser-based, so there was no integration with our email which means you'd have to go to the internet or a website.

So we were looking to modernize. We wanted something with a nice modern look and feel. And something that was user-friendly and intuitive. Looking at all the various players on the market, AskCody checked off all of those boxes."
- Nané Pr'Out, Director of Information Technology at Marshall Dennehey

A meeting solution for on-prem and cloud-based services

After multiple expansions of office sites and conference centers along the American east coast, Marshall Dennehey saw a need for an upgrade to their existing meeting management tools.
As a law firm focused on litigation, a lot of Marshall Dennehey's litigation is settled outside the courtrooms and trial locations. The firm looked for opportunities to streamline their meeting management system to accommodate their clients and over 500 attorneys. This included looking for a solution which provided both on-prem and cloud-based services, to ensure effective planning and execution of meetings throughout their locations.
"Another important feature was cloud-based. It's very advantageous for us to have that in the cloud, where we're not responsible for the infrastructure, for doing the updates."
- Steven Schnee, Assistant Director of IT at Marshall Dennehey
Marshall Dennehey found themselves in a transition phase, where the need for on-prem features was still a key feature in their existing setup. This meant that the firm was not yet ready to commit to a 100% cloud-based system. Fortunately, AskCody allowed the firm to accommodate their need for both - to ease the transition from existing to new.
The pain of re-scheduling
The biggest pain point with their previous system was the lack of integration between Outlook and their meeting solution. Steven Schnee (Assistant Director of IT) described a major issue when rescheduling and canceling meetings. In their previous system, these tasks had to be conducted via two separate systems (calendar + meeting management system). Users would typically cancel or reschedule meetings in Outlook but would then forget to do so in their browser-based meeting management, to inform others about changes. This led to meeting mix-ups, misunderstandings, and ineffective use of resources by having rooms still reserved but not actually in use.
By moving to AskCody's platform, it allowed Schnee and other employees at Marshall Dennehey to effectively manage their meetings in Outlook. All changes made in the Outlook invitation would automatically notify the correct stakeholders in case of changes. By using the AskCody Outlook add-ins, meeting organizers can now operate within their familiar calendar interface and enjoy the power, security, and scalability of Microsoft 365.
Nané Pr'Out also highlights this as a key element in their new setup:
"The biggest impact I think is simply the ease of reserving of conference rooms when you're scheduling meetings, and that's the feedback that we're getting.

... also when you cancel a meeting, that the conference room frees up, and you don't have to do additional steps to go into another system and remove it."
- Nané Pr'Out, Director of Information Technology at Marshall Dennehey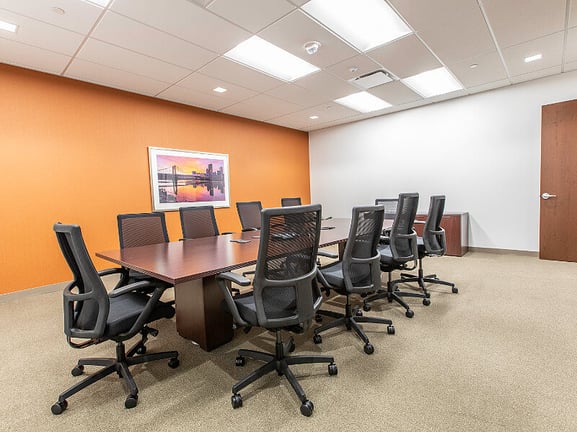 Picture from Marshall Dennehey's office
Safety and security with AskCody
As a law firm specializing in civil defense litigation, Marshall Dennehey is obligated to provide a secure, confidential, and private environment for all clients. This is imminent when handling meetings that can contain confidential information. Like other prominent law firms, Marshall Dennehey has a thorough process when evaluating and approving new products. This is to make sure they comply with their high-security standards.
With AskCody being GDPR compliant and having a secure setup, Marshall Dennehey was able to keep delivering high-security standards. Furthermore, the firm can now implement its own rules, conditions, and privacy settings to protect vulnerable information in compliance with GDPR.
The increased focus on information security and GDPR is also seen in other cases, such as Eversheds Sutherland LLP who gained their ISO Certification by integrating AskCody's Visitor Management solution.
Implementation and Adoption
The switch to AskCody has been easy and flexible without exceeding deadlines, according to Nané Pr'Out:
"On a scale from 1-10 as far as implementation goes and going live with the product, i would place it at about 4.5 as far as difficulty. 10 being exceedingly difficult [...]

We had to get it implemented by a certain date and we were able to meet that date without going over - in fact we finished early! So that allowed me to breathe easy that month when we went live."
- Nané Pr'Out, Director of Information Technology at Marshall Dennehey
Marshall Dennehey had AskCody up and running within the first 7 months through a smooth implementation process. The user-friendly interface in Outlook made it easy for users to adopt the platform quickly and effectively.
The feedback coming from Marshall Dennehey and their users has been very positive, as the transition has been without any major issues or complications.
Project Manager Kali McBride explains how the implementation of AskCody has been deemed successful by the firm:
"The feedback I've been getting - it's been very positive. I would say overall that the adoption has been very successful.

Very easy for the end-user to pick up and fairly user-friendly, so overall a success.".
- Kali McBride, Project Manager at Marshall Dennehey
Conclusion
In summary, as one of the largest American law firms specializing in civil defense litigation, Marshall Dennehey recognized the importance of modernizing their meeting management system to better suit their rapidly expanding operations and diverse requirements.

Marshall Dennehey sought a solution that would seamlessly integrate with their existing Microsoft 365 and Outlook ecosystem. The key criteria included accessibility through on-prem and cloud-based services, security and GDPR compliance, user-friendly integration, and a modern look and feel.

AskCody emerged as the perfect fit, offering a comprehensive suite of features that addressed these requirements. The integration within Outlook streamlined the booking process, enhancing user adoption and making room management more efficient. The transition from an outdated system to AskCody was facilitated by its compatibility with Marshall Dennehey's existing Microsoft 365 setup, allowing them to transition at their own pace. After migrating to AskCody, the firm have seen high user adoptions, as end-users can continue to handle meetings from the familiar interface of the Outlook calendar.
Through careful consideration, effective implementation, and positive user feedback, the firm successfully modernized their meeting management practices and streamlined their operations, all while maintaining a high level of security and privacy essential in the legal industry.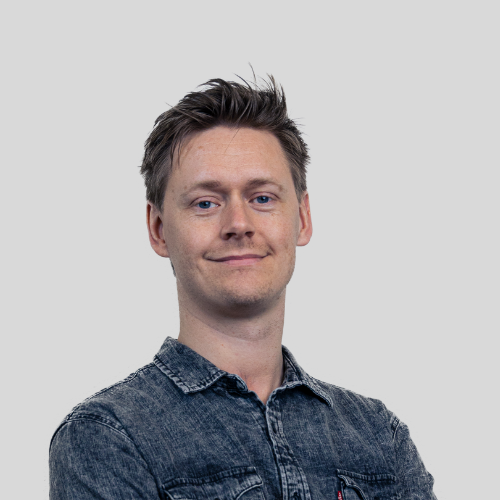 Steffen Mørch
CSO and Co-Founder, AskCody. Steffen helps organizations improve their meeting procedures towards scalable and cloud-based solutions.