The importance of workplace safety has expanded greatly in today's digital age. Companies must not only consider employee, customer, and financial security from external forces such as: Fires, natural disasters, chemical spills and contamination, civil disturbances, terrorism – but also from internal forces like: Workplace violence, employee theft, intellectual property theft, and data theft.
Security risks do not just potentially harm employees. Instances of office theft, fraud, or data theft could cost your company substantially. Therefore, it is important to have clear procedures in place in order to provide a safe and secure work environment for your employees and visitors. By law that means your company must provide an environment free of health and safety hazards, as well as psychological hazards. It might sound complicated, however with the right processes in place that burden will ease. We will guide you in how to handle your workplace security.
What are the biggest office safety risks?
Office theft
Studies Statistics Brain show that employee theft is costing U.S. businesses $50 billion a year annually. It is the most common workplace security risk and the most costly, as it often goes unnoticed for years. Employee theft runs the gamut of severity – from office supplies and computer equipment to skimming cash and committing fraud.
Another form of employee theft is intellectual property theft. The cost of intellectual property theft is difficult to nail down precisely, but even its most modest cost estimate is staggering. The Commission on the Theft of American Intellectual Property estimates the annual costs from the loss of intellectual property ranges from $225 billion to $600 billion. Intellectual property theft is more likely to occur in the form of an employee walking out of the office with sensitive files or hardware than a large international hacking effort. It could happen accidentally – like an employee leaving a sensitive laptop in a cab – or purposefully – like an employee paid by a competitor to smuggle out files. These numbers do not even account for office burglaries from outside perpetrators. As The Office's Michael Scott (2018) once said, "It is not known how many office robberies occur every second, because there is no Wikipedia entry for Office Robbery Statistics."
However, monitoring outside guests and accounting for employee whereabouts in the office can help prevent the occurrence of workplace thefts. There is an easy and frictionless way to do all that by investing in a Visitor Management software that will assist you in establishing a safe workplace environment.

Office violence
It is a sad fact that despite best efforts from companies and security teams, office violence is still a reality for companies around the world. According to OSHA, workplace violence is any threat or act of disruptive behavior, threats, harassment, or physical violence. While workplace violence does cover a wide range of events, from harassment to active shooters, it is worth noting that up to 25 percent of workplace violence goes unreported.
We have all read the headlines about disgruntled and deranged employees, ex-employees, or outside visitors who have brought violence to an office. Unfortunately, no matter the lengths you go to to foster a safe environment no office is completely immune from violence. In the U.S. alone, two million people a year report being victims of workplace violence. On the bright side, there are actions you can take to prevent and reduce workplace violence. Initiating violence prevention program and risk assessment to identify methods for reducing incidents. Establishing zero-tolerance policy towards violence is argued to be one of the top safeguards.
Office emergencies
No office is immune from emergencies, and things like fires, natural disasters, or bad weather can happen even in an office with the most diligent prevention practices in place. Typical office emergencies include fires or averse weather scenarios that require building-wide evacuations. Depending on the industry, there may also be the risk of chemical spills and contamination. It is also important to consider the risk – no matter how small – of incidences of civil disturbance or terrorism that would require an office evacuation.
Tips for fostering workplace security
Fortunately, there are a number of steps you can take to prepare for any type of office emergency. How you design your office and the technology you employ will make the difference between an office that is prepared for anything and one that is not. Establish office security procedures that would create a secure work environment for employees. For example, set up detailed security plan and implement a modern Visitor Management platform like the one AskCody provides. This way, with just a few safety procedures, you could easily avoid future security risks.
1. Make it digital
Replace the conventional methods of registering visitors. An automatic Visitor Management system eliminates unsecure manual sign in sheets and increases building security from unexpected outsiders. It also provides convenience and reduces friction, because it collects and saves all data in one easily accessible place. A robust visitor management system will automate the entire guest process from check in to check out. Authorized visitors are provided name tags and visitor badges, and granted access to the appropriate office space. The same system checks guests out automatically when they leave the premises. If you further combine this with a check in for employees the front desk staff and security personnel will always know exactly who is inside the building at all times. The data that is being stored could be crucial during a building evacuation or in the case of theft or damage to office property. Implementing visitor management software at your front desk helps businesses account for every guest in the building at any given time—even the unexpected ones.
In a modern work environment, you need office technology that takes safety and security (both physical and digital) into consideration. Creating a secure work environment is the first step to establishing workplace security.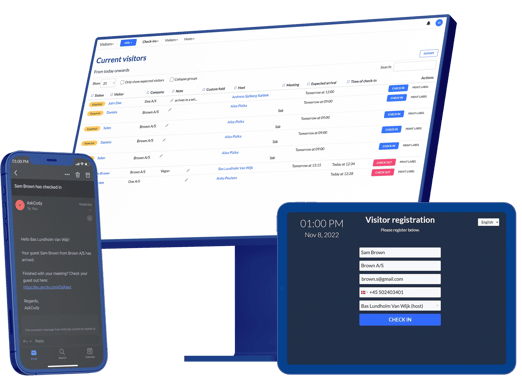 Visitor management, AskCody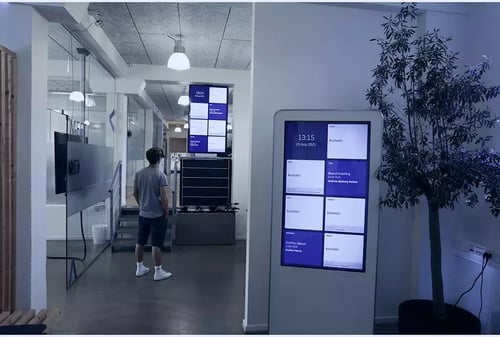 Dashboards showing occupancy of meeting rooms
2. Present clear rules and procedures
Every employee should know the office rules and procedures for security and emergencies. Do not just assume that they know. Educate your employees in the important procedures and make them easily accessible for reference. Employees should know precisely what to do (and not to do) when visitors arrive - if they see an unauthorized guest in a space where they should not be, if someone is lacking credentials, or where to go and what to do in the case of a physical emergency.
3. Review your OSHA compliance
The U.S.'s Occupational Safety and Health Administration (OSHA) requires companies to have set procedures in place in the case of a fire or other emergency. Schedule regular reviews to ensure your office's smoke detectors, carbon monoxide detectors, fire alarm system, and safety stations are functioning properly.
Emergency routes should be clearly marked and emergency exits should be visible and easily identified throughout the entire building. Aisles and passageways to those routes must be clear at all times. OSHA also provides a list of items that are considered hazardous and should be prohibited, such as exposed electrical wires, flammable chemicals, and personal electrical devices like space heaters.
4. Regularly run drills and conduct training
Make evacuation drills and safety training regular occurrences. Not only should every employee know how to quickly exit the building in case of a fire, but they should be experts in company data security as well. Make sure your company has high standards for passwords and have a system in place that ensures employees change passwords regularly. Implement data security measures and provide basic cyber security training, so every employee understands phishing schemes and hacking risks to avoid the most common cyber interruptions and threats.
5. Become GDPR compliant
If your company is based in the EU, you are already GDPR compliant, but this is not yet a requirement for every American company. We highly suggest you take the steps now to secure your customer and visitor data to cover yourself for future security regulations and better protect your customers' data today.
Your company likely collects, processes, and stores a tremendous amount of data every day. In addition to your website, your visitor management system should also make it possible for individuals to have control of their personal data.
AskCody redesigned our own visitor management solution to be GDPR compliant when Europe shifted to compliance in 2018. We turned our resources to focus on ensuring data control and security risk assessment, and extended encryption of any personal data within all of AskCody's systems. Not only did we assure GDPR compliance, but also this move immensely improved our entire visitor management system. AskCody Visitor Management has a strong foundation of security and privacy compliance and a simplified visitor experience. You can read all about our own GDPR compliance here.
The importance of a secure work environment
Knowing your workplace security risks and how to best mitigate them is the best step in creating a safe and secure work environment for all of your employees, both from a physical and psychological perspective. A sense of security is intricately linked with employee happiness. This fosters a greater sense of trust and loyalty between your employees and your company. A strong sense of security also leads to stronger employee engagement and higher productivity.
Today's most innovative office technology products take security into consideration as much as they do optimization and productivity. In today's modern work environment, you need all three. Creating a secure work environment from a physical and digital perspective is good for your employees and good for your company.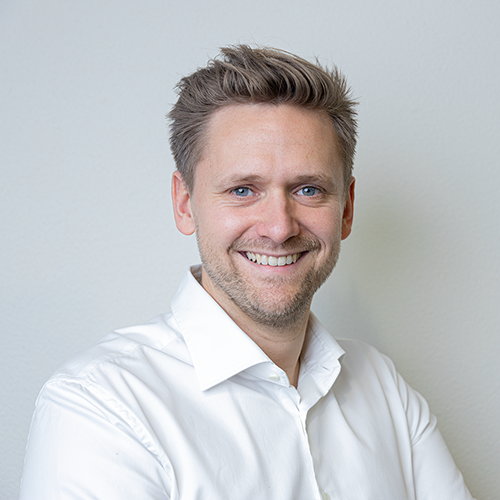 Allan Mørch
CEO & Founder, AskCody. Empowers organizations worldwide in creating better workplace experiences using AskCody.