Boston-based law firm Burns & Levinson is comprised of 125 attorneys who focus on a number of core practices and specialties. The firm was founded in 1960 on the principle of being accessible and responsive to clients. This client-centric commitment to service means attorneys serve as advisors, legal counsel, and business strategists and are available to offer personal attention from senior partners on down.
As such, meetings at the firm are a near constant occurrence. Booking them, however, was a labor intensive and often frustrating experience. Employees lacked a system that organized meeting room bookings and kept everyone up to date, so they relied on Excel spreadsheets that were managed by office administrators.
Meeting managers had to manually fill out multiple separate forms for booking rooms, ordering hospitality, and requesting AV/IT and submit each order form to its respective department via email. Meeting managers constantly checked and double-checked that rooms were booked and all necessary services were ordered correctly, requiring back and forth phone conversations.
The IT department maintained administrative rights to the master spreadsheet and granted access to a limited number of individuals to avoid conflict and room bumping. All changes and requests had to be logged in Excel, and the front desk was continuously cleaning and correcting the schedule at the end of each day. Legal assistants had to send updates to staff multiple times a week regarding constantly changing meetings.
At Burns & Levinson, as with every law firm, it is critical these details were correct before a client ever steps foot into the office. Confidentiality is crucial. It would be imprudent to have clients walking through the hallways with potentially confidential information available, so private areas and ample conference room options are essential.
The many AV requirements for rooms, such as video conferencing, further complicates the booking process. Henry Chace, Burns & Levinson CIO, knew that automation would be the solution.
Meeting Management made for law firm complexities
Chace went on the hunt for a dedicated meeting management system in hopes of simplifying the process for everyone involved. He researched what others in the legal community were using for years and found anecdotal evidence that, overwhelmingly, these meeting management products and platforms didn't necessarily work well for each firm's needs, but they worked better than Excel.
With these lukewarm reviews in mind, Chace was pleasantly surprised when he discovered AskCody. The cloud-based, central booking system for every user, instant updates, and streamlined process were main selling points.
"We were initially suspicious because everything with technology always seems too good to be true before having tested it," says Chace. "We were grateful for the pilot because a proof of concept was really important in order to make sure it was the right fit for us. The implementation was easy, and it's very intuitive to use as it's through Outlook, which was a big thing for us as everyone is already familiar with Outlook."
The effects rippled immediately. Following AskCody's group and one-on-one end-user and super-user training sessions at Burns & Levinson, employees who were initially resistant to change became confident with their new tool set and transitioned easily into a more streamlined booking process.
"From my perspective, having filled out many food order forms and emails to IT, the entire process through AskCody is a major time saver for me," says Chace.
Users open the application and instantly view which rooms are available. They can reserve rooms, book catering, and order any necessary AV equipment with a few clicks of the mouse, and the system updates in real time. No more Excel spreadsheets, no more stack of forms, no more waiting for approval for requests, no more double-booked rooms. Users can log in at any time to change a reservation, move rooms, or cancel and the system will automatically open the room for other users.
The white glove experience
"By not only allowing us to instantly book, but also to release booked rooms, we find that we actually have a higher rate of rooms available," says Chase. "Previously, people who used to forget to release rooms, such as our multi-purpose room, can now do so easily in AskCody, so the entire process is streamlined."
This has allowed legal assistants to focus on much more important tasks at the firm such as helping manage cases, scheduling, billing, and building relationships with clients.
"The entire experience for clients is elevated by having personal touchpoints," says Chace. "There is no more, 'oh I thought I told you I didn't need the room anymore,' which drives higher utilization of our rooms and lowers costs on unnecessary catering orders. Having the responsibility back in the hands of the assistants allows reception to provide more of a concierge, white glove experience for clients coming in."
Additionally, Burns & Levinson is utilizing AskCody's Insights and Analytics to determine which types of spaces and equipment are most popular for meetings. They are using this information as they plan their move into a new space in Boston to create an optimal environment.
More than meeting management software
AskCody provided a dedicated Customer Success Manager to Burns & Levinson to ensure implementation, product adoption, and long-term success. Initial technical concerns, such as integration between different desktop set ups throughout the firm, were solved quickly and easily.
"Our Customer Success Manager proved over and over again that no matter how much we managed to mess up your program, he was able to fix it and improve it and tweak it to meet the challenges we were facing."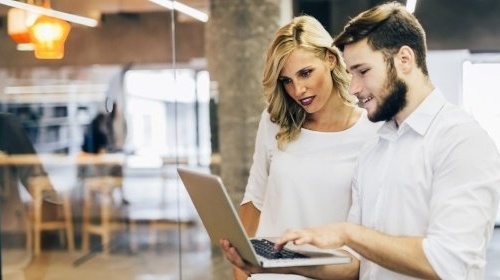 Connecting every location
Burns & Levinson implemented AskCody across all of the firm's sites throughout the Greater Boston and Providence regions. Employees at every site report implementation and end-user training was simple.
"At some of our satellite offices, AskCody has helped us immensely as we only have limited resources there," says Chace. "By scheduling everything through AskCody, people are on top of their bookings, which makes for a more efficient use of space. Before AskCody, it was mainly show up and hope for the best, but now everything is booked and manageable both on an individualized and centralized basis. We can tailor to both clients' flexibility and make it easy for the attorneys to plan ahead and book necessary space."
Asked if he would recommend AskCody to others in the field, Chace did not hesitate. For him, AskCody's Meeting Management suite exceeded his expectations. The value was immediate and long lasting.
"They will instantly see the ease-of-use, how well you support our implementation and our needs, and help us understand best practice," says Chace.

"The ease-of-use, ease-of-management, and overall time savings is worth it."