Hello! We have an exciting product update for Visitors Web Portal, which improves the way group check-ins are handled.
This product update contains:
Send only one check-in confirmation to hosts for a group check-in
Check-in all visitors in a group in one click
Collapsible Group View


Office Visitor Management Improvements
Send only one check-in confirmation to hosts for a group check-in
For our Office Visitor Management system We have created a new message type, which notifies a host about the check-in status of a group of visitors it is expecting.
Improvement Value
When an expected group starts checking in at the reception, their host will receive a notification when the first group member starts to check-in.
By receiving the notification, hosts will be informed of the group arrival so that they can prepare and receive their visitors.
Where to find it?
The notification message is sent to the host's e-mail inbox, and as it is a general improvement, it is already made available for all Visitor Management customers.
Check-in all visitors in a group in one click
It is now possible to check-in all visitors from a group at once.
Improvement value
When receptions receive consistent visitor groups, checking-in every group member individually can be a time consuming task, especially in big groups. With Visitor Management it is now possible to check-in all visitors from a group in a single click, improving the efficiency of the check-in process and allowing people in the front desk to focus on delivering a great visitor experience.
Where to find it?
This feature can be found in the Visitor Management Portal. After clicking on the group's name under the "View expected groups" option, you can find this functionality right above the list of individual visitors.

Collapsible Group View
We have added an additional filtering option for the Current Visitors list, which allows collapsing each group in the list and display one group per row.
Improvement Value
Waiting in line at the reception, dealing with front desk security, and waiting for approval all take precious time. In receptions with a high traffic of visitors, it can be challenging at times to provide all of them with a seamless and agile visitor experience, especially when receiving big groups of visitors. With the collapsible group view feature in the Office Visitor Management Portal, it is now easier for people at the front desk to have an at-a-glance view of the different types of visitors (both individual, and groups), and easily distinguish them, which can influence the dynamics of the check-in flow. Additionally, it is also easy to identify the group that a visitor belongs to, even by searching the visitor's name with the Collapse groups option activated, when individual visitors in the group are not visible at a glance.
The ability to filter out visitors to show instances of groups versus individual visitors, assists receptionists to control the overview that fits their needs best, and to prepare for the traffic of the visitors and allocate resources if needed.
Dynamic Visitor Management
These new features will allow to better adapt to the daily operations of your organization, by simplifying processes and empowering people in the front desk with the right tools that allow them to provide the best possible visitor experience and a great first impression.
Want to stay updated?
Subscribe to our product update blog to have the latest AskCody news delivered to your inbox.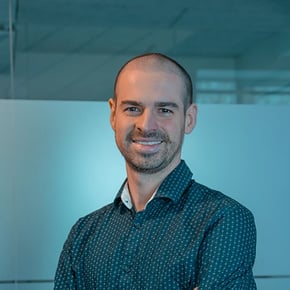 David B. Posada
Product Manager, AskCody. Works with introducing and enlightening about product improvements, and new platform features. He also helps increase adoption by creating product communication.