Visitors Anonymization
The new Visitors Anonymization feature automatically anonymizes personal visitor data after a given number of days (by default 31 days) removing the concerns of having personal data reside at your company.
How does it work?
Visitors Anonymization allows companies to remove personal data from guests, expected guests, and groups after a certain number of days. Personal data includes names and email addresses - information that is considered Personal Identifiable Information (PII).
Under account settings, you can set automatic removal of visitor data and choose your own timeframe or use the default 31 days. After 31 days the guests' personal data will be replaced with "anonymized".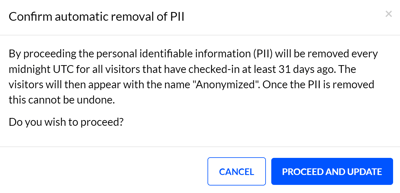 Be aware that once you have set up Visitors Anonymization - your visitors' personal data will be removed permanently.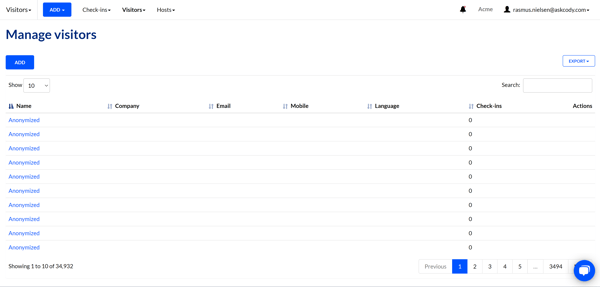 Where is the feature located?
Visitors Anonymization is located in the Admin Center. Once inside the Admin Center, you can select the Account settings and choose Compliance.
Here you can enable Visitors Anonymization and set a timeframe or choose the standard 31 days.
Read more about configuring the AskCody visitor module.

Security and Compliance is a priority
In June AskCody released a Major Infrastructure Update with the goal: "to have our Platform be second to none when it comes to Reliability, Scalability, Security, and Compliance."
Visitors Anonymization ensures that all our customers easily and efficiently can manage personal data from all guests. Thereby minimizing the risks of having personal data reside at your company.
Set new standards in terms of compliance
We hope that Visitors Anonymization can help our customers set new standards in terms of being compliant and managing personal data with care. If you have any questions, you are always welcome to reach out to us.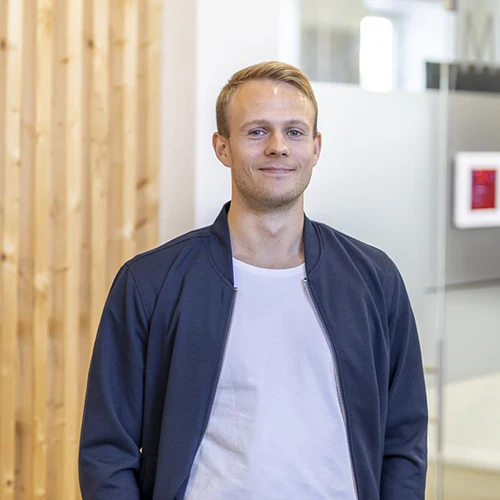 Johannes Hergaard
Product Manager, AskCody. Writes about human-computer interaction, user experiences, and new advances, helping people in their daily work. Johannes has a background in engineering physiology and has worked with various methods for understanding and evaluating the interaction between people and technology.