We are excited to announce that the AskCody Mobile App is available for both Android and IOS.
The AskCody Mobile App has had great adoption from iOS users, who use it for smarter bookings of ad-hoc meetings, preparing for current and upcoming workdays, as well as booking desks for coming into the office. We are now happy to also welcome Android users to the benefits of the AskCody Mobile App.
The mobile app offers great functionalities when managing meetings and desks on the go.
This includes:
Finding rooms + desks with the right amenities and equipment within seconds.
A full overview of your workday from your phone.
Get a full list on pending meeting invitations.
Extending and ending meetings on the spot.
Your meeting management tool is now less than a fingertip away from you, and it is available no matter what kind of smartphone or tablet you are using.
IOS Updates Also Apply To The Android Version
The past year we introduced better and optimized functionality for the iOS app. We made it easier to manage and respond intuitively to recurring events in your calendar. We also heard the iOS mobile app needed some more speed, so we optimized the app to respond even faster. We updated the interface creating an easy and seamless booking experience and overview of your activities.
All of these updates also apply to the released Android version of the app. So, if you are using Android, you can expect the same quality as the iOS version.
How Do I Start Using The App?
It is really easy to get started using the AskCody Mobile App. Follow our quick guide to get started using the app. Follow our guide here: How to use the AskCody Mobile app.
Requirements For Using The Mobile App
Want to know if the AskCody app is applicable in your organization? We have a guide on our help center, where you can read more about how to install and what requirements your organization need to use the AskCody mobile app. Read our guide on requirements and installation of the AskCody app here: What are the requirements for the app.
Want more information on the AskCody Mobile App?
We are always happy to receive feedback, questions and provide support if you need it at support@askcody.com. You can also see this video to get more information on the mobile app.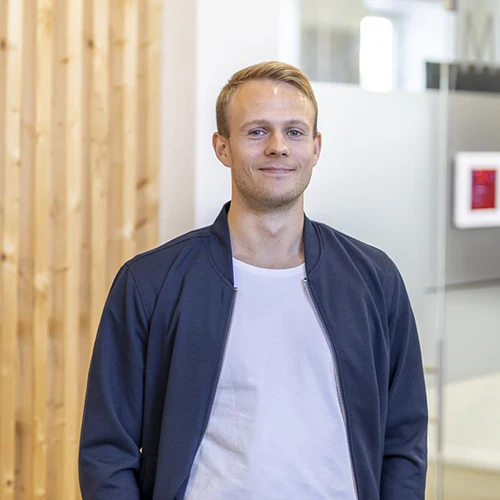 Johannes Hergaard
Product Manager, AskCody. Writes about AskCody mobile app and Outlook booking Add-ins, news about these, and how they can be applied. Johannes has a natural interest in human-computer interaction, user experiences, and creating amazing products that truly help people in their daily work.