When a leading provider of investment management services were in the mist of upgrading their headquarters, they went looking for a solution to support their new workplace with meeting room booking, catering service, and visitor management. With a global portfolio of managed assets valued over $100 billion, they are one of the largest institutional investors within the capital markets. With a continued rapid growth, they decided to expand the corporate headquarters and moved into a modern 12 story building with 98 meeting rooms across all floors.
For the sake of their privacy, we are keeping this study anonymous, but by interviewing he Manager of Workplace Services and the Audio-Visual Technician from Corporate Operations you can still learn how they got a better overview of meetings and optimized the associated meeting booking procedures which benefits the internal meeting bookers, the canteen, facility management, and Finance. The customer in question has been an AskCody partner since August, 2018.
Vertical: Financial Services
Location: North America
Size: +1,200 employees
Customer Challenges
When we first approached them, they highlighted the following challenges:
Had to visit several tools for the purpose of booking one meeting
Strict internal security rules made it difficult to approve a vendor
Had a large increase in amount of meeting rooms but no overview of their availability

User experience for managing meetings was time-consuming and troublesome

Catering service had no system to handle requests only manual time-consuming processes and checking

Catering service had no buffer time between meetings to get ready for the next meeting

Missed the feeling of having a local and present vendor
The previous office setup utilized room booking devices connected to Outlook. These devices were placed outside the 25 always-booked original meeting rooms. With an upgrade from 25 to over 98 bookable meeting rooms in the new office location, the device no longer felt feasible and was not on its own enough, as employees could not see availability from their desks.
In addition to the building upgrade and the quantity of meeting spaces also AV equipment, catering service management, and their visitor management processes were reviewed for potential improvement. In the buying process multiple vendors were considered:
"We were quite far down the road with another solution, and in fact ready to pull the trigger when we stumbled upon AskCody. I don't believe the other vendors can do the catering, the room set up, and AV requests as well as the visitor management piece altogether as seamlessly. Also, what we found was the AskCody user experience was just slicker."
The fact that AskCody is a Microsoft approved product that integrated with the systems they already had in place and fulfilled all security requirements was indeed important components. In fact, the criteria used to make the decision to buy AskCody was:
"It must be a Microsoft approved solution that integrates with our Exchange, Office 365 and Outlook, and Active Directory. It must be secure and comply with highest InfoSec standards, easy to use for end users, and be easy to implement for IT."
Partner Solution
Resources: 150 bookable resources
Users: 951 active users
Bookings: 50,000 per year
AskCody plan: 150 advanced licences
Displays: 144 room displays
Service: Premium services
Most of the AskCody platform was put to work as a resource management stack in the brand new headquarter with four times the meeting spaces as in the old HQ. Thereby, eliminating multiple tools from the tech stack and many manual processes. With a unified solution they achieved to implement a "one-stop-shopping" for end-users, and are now able to order catering, AV requirements, and any room set-up in one central location and system. From a user perspective the organization highlights that booking a meeting looks no different than what end users are currently used to in Outlook and that was the selling point to make the transition for employees much easier.
"In a lot of the other platforms on the market we have to leave Microsoft Office and go to another interface to do this booking, and that would not have been an easy sell internally. AskCody was a much easier transition because it looks the same as the native Outlook experience, but it's easier for the end-user as you can do all the requirements of your meeting in this one spot. So, we've added a few buttons to Outlook for the end-user to enhance what they're doing with a meeting. And then the beauty of AskCody was that also visitor management we were able to tie back into Outlook again with the "one-stop-shop" experience from AskCody."
Previously AV requests, catering, and visitors were all handled by separate email, which meant that end-users would have to book a meeting and then send an email to two different individuals for the AV-equipment and room setup, one email for the catering, and an entirely new email to security to let them know that external guests were arriving. So, essentially, they had five steps which have now greatly been minimized.
"We definitely know for catering that their job has been extremely streamlined with AskCody. They were originally apprehensive because they couldn't believe all the things they didn't have to do anymore. All the emails back and forth for catering and catering not being canceled when a meeting has been canceled. They had to do a lot of manual processes and manual checking and asking lots of questions to end-users about catering, so they estimate that they save in average 1 to 2 hours per day with AskCody. Also, before AskCody security would have to answer an email and take information and enter into Proxyclick, so we've eliminated a lot of wasted time regarding visitor management. You neither have to communicate with everybody about canceled or rescheduled appointments as it's automatically updated. We also see great time savings regarding buffer time, as the admins would have to go into Outlook and add buffer time to meetings/calendars manually to make sure they have the time to set up and break down catering, AV requirements, and room set up, which is now automated. Through the visitor management AskCody provides, it's a nice way to welcome people who are external as they receive an email and/or text message prior to their meeting where they are welcomed which also includes a map to where the meeting room is. This adds to the things we do to be professional".
With the implementation process and following premium service AskCody has further solved a challenge for them:
"We think you've done a tremendous job with the implementation. You've been patient with us and our IT department, and you're always readily available or make yourself available. You've made it feel like AskCody is not too big of a company and that we're just a number. You've made it feel like you're a local company, and that's important to us."
Conclusion
For this organization and its employees, the basics have not changed. They are still using Outlook and Office 365. They just downscaled their tech stack and solved their challenges by extending what they already had with workplace bookings, room setup, AV, and catering can all be completed through add-ins inside of Outlook.
So, what have the employees said after starting using AskCody?
"...I know it's been successful because if it's not successful we'll hear it loud and clear from our end-users and we haven't heard that. It's been very quiet, so for that matter we know it's been very successful, and everybody seems to be happy and in content with it, and it adds a lot of value. Staff have commented that it's a very slick product that looks great and it's easy to use, so really good positive feedback."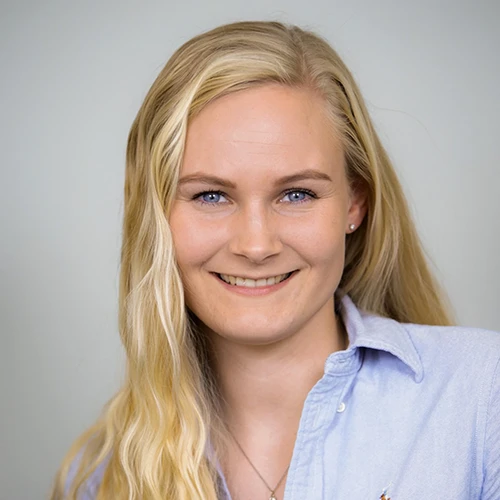 Rikke Fuglsang
Content and Communications Lead, AskCody, AskCody. Rikke oversees all AskCodys media presence and event management, sharing company news, case studies, and press releases. If you are attending an event with AskCody, you are likely to see Rikke there.