In some way or the other, it seems we will be dealing with a mix of closed offices, semi-open offices, and fully open offices for quite some time to come. The natural thought would probably be to postpone any investment plans directly associated with your physical office space. We can empathize if you have that feeling in these months.
But, what if the current situation is the perfect moment to act on getting your offices into a perfect fit? A short while ago, we had a conversation with one of our newest customers on this very subject. We feel their reflections are of great inspiration and value and are therefore sharing it here with you.
Always keep your eyes on the horizon
In the dialogue we had with this law firm specializing in comprehensive legal assistance in intellectual property areas, we asked what their advice would be for other businesses in the current times. Should they invest time in looking for a better meeting booking and resource management solution right now? Here is their answer to that question:
I guess other firms feel that this is something they know they want to address. They think: we have had the engagement and the product demonstrations. The conclusion is: this will work for us, but is it the right time? Why should we initiate this partnership?

It is all about looking ahead. I always keep my eyes on the horizon regarding my strategic plan for our department and the firm.

And a more formalized meeting and space management solution has always been on our horizon. The time is perfect right now. Do not lose sight of where you want to go!

Just because you can not deal with it right now or there is not much incentive or priority given to this initiative, it does not mean that the issue will go away. The moment you step back into the office these issues around booking meeting rooms come up.

Be ready for that moment and get everything lined up to the point where you are prepared to pull the trigger on it. That way – when everybody is back in the office, and you know, those meeting rooms are going to be starting to book again – you are ready to go.

And I think it will help sell adoption because what happens is this: anytime you have a fundamental change and how you have to do business, it is the perfect opportunity to bring in a new system and a new way of doing things. Do not let the opportunity slip by because you know it is something you want to do in the future.
Be ready when the transition happens
The perfect time making a system change is when the organizational transition happens. You are simply at risk of losing that transitional point. Who knows when you might be able to approach it again, and you would have lost the capital you may have at this moment to tackle something new. The other side is that you have your goal date when you know the company's valid target date of returning to the office.

Let me give you an example: Let us say that 20 percent of your company will go back and be on-site by October first. Then that would be the goal date for you to finish the testing and deployment of a new meeting management platform so that you can have that ready and have that available for even the 20 percent that is going back to October first.

I also think it is imperative to realize that when the office is activated again, you have even fewer resources available, making that new platform even more critical because our ability to manage things will be reduced.

If 20 percent of the firm goes back into the office, you will probably have one person in the office, and that one person will do all the work for all those important meetings happening. And because of that, you now have additional complexity. It is going to be even more critical to line that up ahead of time. To be ahead is essential.
What is the vision?
Offices are going to be quieter for a short period. But the new office is going to be bolder and better than it was. Some firms are taking this time (like the one in this blog post), where we have this period with reduced internal demand to pull forward into the future.
We encourage you and your company to take the vision they had – empowering a mobile workforce, modernizing technology, and replacing cumbersome operations – and take advantage of the fact we have this lull in activity to accelerate progress and move the firm forward. It will be enjoyable to see if companies come out of this agile, flexible, and more efficient than ever.
Why implement IT during COVID-19? The learnings here are quite simple:
Eyes on the horizon – solve for the future.
Do not lose sight of where you want to go.
The moment you step back into the workplace, this has to be solved.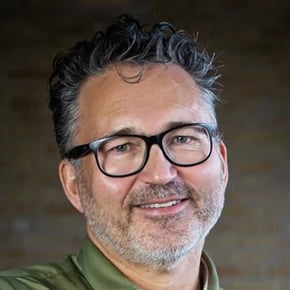 Lars Ørhøj Lauridsen
Hubspot CRM and Inbound Marketing Expert. Works with optimizing businesses' inbound revenue processes. He has experience in the areas of marketing and sales in SaaS companies and in agencies. And has engaged in team development and change management with a focus on fair process principles.