Hello! At AskCody we are working non-stop on improving your experience while using our products, which is why we can't wait to share the news with you!
New Update Notification Widget
We have implemented a new widget to keep you updated with the latest news and releases.
Meet Headway
Headway is an in-product widget, which notifies you about product updates, improvements and best practices to get the most out of your AskCody products.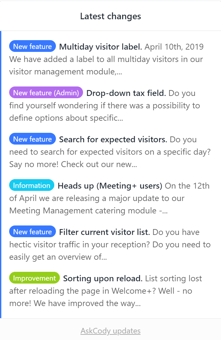 You will find different types of announcements in Headway, amongst which are:
New Feature: Contains new product features available for all users.
New Feature (Admin): Contains new product features available for Administrators of the AskCody Management Portal.
Information: This tag is used to announce an upcoming event, such as major product update.
Highlights: Here we will showcase different product features, which are not necessarily new, but still make a difference in your experience using AskCody.
Improvement: With this tag, we will inform you about product improvements.


Improvement Value
Every time there is an important message involving the AskCody Platform, the Headway widget will display a red dot over a notification bell, keeping you up to date with relevant product announcements.
Where to Find It?
The Headway widget is located at the top right corner in every page of the AskCody manager, on the form of a bell with a notification dot on it:

Visitor Management, Better Every Time!
We have a few announcements for our Visitor Management Portal, so buckle up as we have a treat for you!


Overview Improvements
We have released a couple of features that make the overview of Welcome+ more user-friendly and intuitive.
Filtering Expected Visitor
Do you have a high traffic of visitors on a daily basis? Does it get difficult to sort the visitor list between visitors who are expected to show up and the ones that already have received their visitor badges? Say no more!
Use the newly added checkbox in the Current Visitors list in Visitor Management Portal, which allows you to switch between all checked-in visitors from the list and the expected ones.
Improvement Value
This feature allows you to easily manage your expected visitors and be better prepared for large group visits, as it allows to exclusively display upcoming visitors.
Where to Find It?
In the Current Visitors list, above the top left corner of the table.

Multi-Day Visitors - At a Glance
Wouldn't it be nice for visitors staying for multiple days to have a distinct label right next to their name in the current visitor list? Well, now they can!
Improvement Value
This feature adds a "Multiday" label next to the names of the people who will be visiting the company for multiple days in a row, making it possible to distinguish them from one-day visits in the Current Visitors list.
Where to Find It?
The "Multiday" label appears in the Current Visitor table, next to the name of people performing visits of multiple days.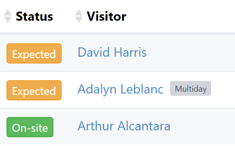 Searching and Sorting Improvements
We have new features that improve the efficiency of searching upcoming visitors, and sorting through the different columns in the Current Visitor list.
Search Who's Coming
We know how much work you put into getting everything ready for when having large amounts of visitors in the upcoming days, so we have just released a feature for Welcome+ that will help you do it even better!
The Search Expected Visitors feature allows you to search for expected visitors any day in the future, so you can be well prepared in advance.
Improvement Value
This feature allows receptionists to manage expected visitors in an easy way, and efficiently plan upcoming visits of large groups.
Where to Find It?
In the Visitor Management Portal, by clicking on the "Visitors" menu on top, and then on "Search expected visitors".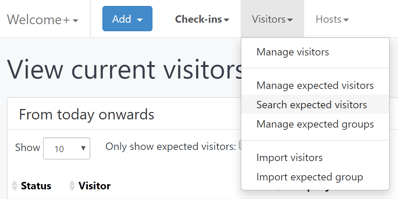 Persistent Sorting
The available sorting options for the columns in the Current Visitor list become especially useful when managing current visitors in a busy reception, and whenever the list updates with new check-ins, the columns should keep the selected sorting preferences. The newly added "Sorting Upon Reload" feature makes that possible.
Improvement Value
When managing current visitors and selecting a preferred sorting order to adapt the table order to your needs, if new visitors check-in, the table will keep the preferred order and display the new visitor names under the corresponding hierarchy. This allows you to keep focus on the task at hand even when large groups of visitors check-in.
Where to Find It?
This improvement is already available in the Current Visitor list. There is no need to change any settings to access it.
Tracking Required
We have added a possibility to support registration of visitors for both appointments and meetings. This means that any changes in the visitor list will follow the meeting in case it is rescheduled, if tracking required feature is enabled.
Improvement Value
By using this feature, changes made to Visitor Management Portal visitor lists will follow the meeting in case it is moved to a different room or time-frame, keeping all the meeting information aligned and making sure that people are notified about any changes.
Where to Find It?
Currently, this feature is only available per request. To activate it, please contact us at support@goaskcody.com.
Inline Edit
Sometimes, front desks require to include additional information in the visitors' check-in data, such as license plate numbers, parking ticket numbers or access code badges. The new Inline Edit feature allows receptionists to add the required information directly from the Current Visitors list.
Improvement Value
With this feature, the process of adding additional information to visitors becomes fast and intuitive, so even when having to do it for large visitor groups, the check-in process will continue to be efficient.
Where to Find It?
In the current visitor list, editable fields will have a pencil icon to their left.

Want to stay updated?
Subscribe to our product update blog to have the latest AskCody news delivered to your inbox.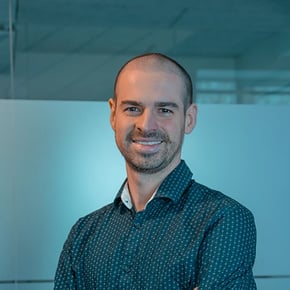 David B. Posada
Product Manager, AskCody. Works with introducing and enlightening about product improvements, and new platform features. He also helps increase adoption by creating product communication.