Hello! We have some exciting updates for Meeting Services that include additional relevant information in the tax fields and service provider opening days.
This blog post contains the following updates:
Ad-Hoc Only tax fields visible for service providers
Drop-down tax fields
Business workday support for service providers
Interface Improvements for the Meeting Services Add-in
Improved Tax Field Support
We have released a couple of features that allow extra information to be included in Meeting+ orders, allowing the product to better adapt to different organizational needs.
Ad-hoc only
It is now possible to configure a tax field that is visible for service providers when placing an ad-hoc delivery, but hidden for add-in users.
Improvement value
When placing an ad-hoc catering order for a meeting, it is sometimes necessary for the service provider to add information in the tax fields that is relevant for them, and not to the add-in users. This feature allows service provider administrators to enrich the tax field information for ad-hoc orders and display the information only to the people in the organization that is relevant for.
Where to find it?
When creating or editing a tax field in the Admin Center, you will see an additional checkbox in the options list:

When ticked, it will make the tax field visible for delivery providers when setting up an ad-hoc order and for accountants when viewing settlements.
Drop-down tax fields
We have added support for a new type of tax field in the Meeting Services Portal, which consists of a drop-down box when adding tax fields to a delivery
Improvement value
This new feature adds flexibility to the management of tax relevant information for catering orders inside the organization. It allows Meeting Services administrators to predefine a list of options for tax fields and make them available for add-in users and accountants:
Add-in users will see a drop-down box with predefined display names when placing a catering order for a meeting from the add-ins.
Every predefined display name in the drop-down box will have an associated underlying value, which contains specific information about the tax field and is available for accountants when managing settlements.
Where to find it?
When creating a new tax field in the Admin Center, you will see an additional type of tax field available called "Drop-down":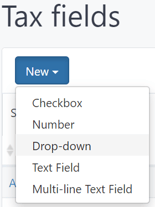 Business Workday Support
Service providers can now specify which days they are open and able to deliver orders to the organization, supporting the concept of business workdays.
Improvement value
Add-in users can now see information about the delivery provider working days directly when placing an order for a meeting.
Delivery providers can set a preparation deadline for all orders and for specific items, making sure that users are informed about the time it needs to be taken into account when placing an order.
The information about the opening days displayed in the add-ins takes into account the days the service provider is open, and also the different preparation deadlines and times set by the service provider, informing the user about the maximum deadline in terms of specific day and time to place the order. In this way, the communication between the service provider and the add-in users is streamlined, making sure that the orders are placed well enough in advance to be prepared and delivered in time to the meeting.
Where to find it?
For end-users, the service provider's working days are available directly in the add-in when selecting a provider to supply their delivery: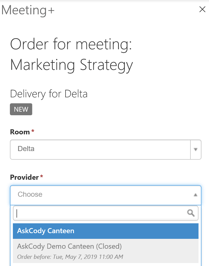 Meeting Services Administrators can set the business working days in the configuration options for a specific service provider inside the AskCody Admin Center:

Interface Improvements for the Meeting Services Add-in
Alongside with the Business Workdays support, the add-in interface was improved, displaying information in a more organized and user-friendly way: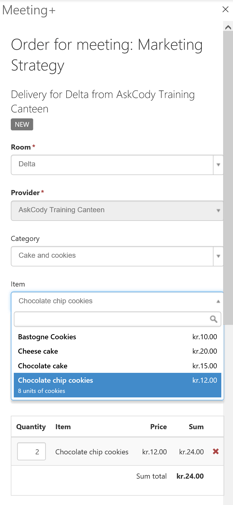 When selecting the available items from the desired provider, you will see information with item details right below the item name, giving a better overview of its contents. To delete an item, the "Delete" button, was replaced with a red "X" to the right of every item, becoming easily accessible for users and contributing to a cleaner interface of the add-in.
Want to stay updated?
Subscribe to our product update blog to have the latest AskCody news delivered to your inbox.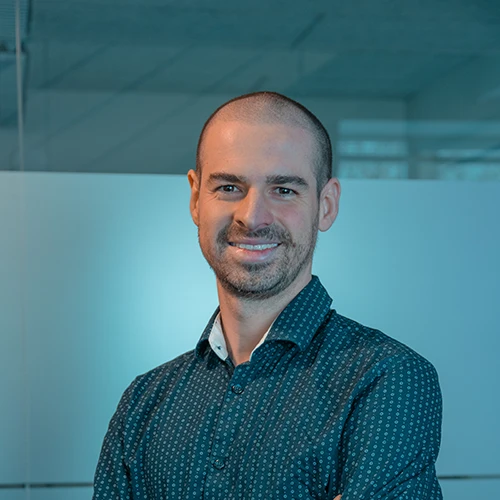 David B. Posada
Product Manager, AskCody. Works with introducing and enlightening about product improvements, and new platform features. He also helps increase adoption by creating product communication.