Managing your AskCody subscription and licenses for your organization just got a lot easier.
We updated our Admin Center to give Admin Users even more control when managing their organizational AskCody licenses and subscription. By allowing and enabling our new feature called In-App Purchases, selected users can add as many licenses as your organization requires at any time, without contacting Sales or your Account Manager, allowing your organization to be in control, and scale with ease at your desired pace.
Go to In-App Purchases here: for US or for EU.
Keep track of rooms, desks, and receptions inside the AskCody Portal
With the update to managing licenses and your subscription, you can give selected users access to make on-demand purchases of rooms, desks, or lobbies directly inside the AskCody Portal.
This feature will give organizations centralized control to:
Better manage licenses
Select which users can access license administration and quickly add rooms, desks, or lobbies
Restrict and limit how many licenses can be added across multiple locations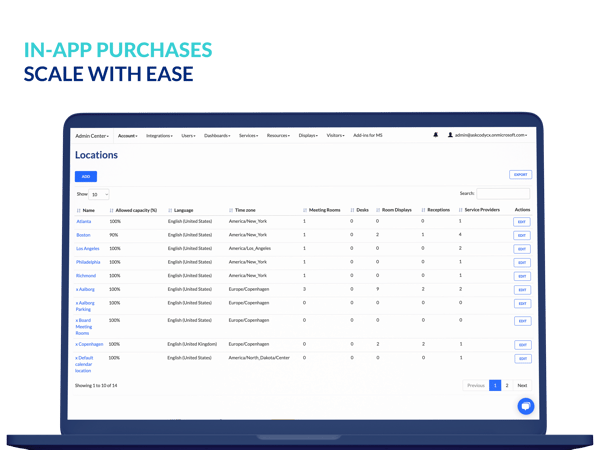 This will bring flexibility for organizations wanting to quickly scale AskCody across their locations and offices, but it can also be used to restrict locations to only add the number of rooms, desks, and lobbies accordingly to the initial contract and subscription.
When adding more licenses than valid and available, your organization's subscription terms will be automatically updated, and an invoice adjusted to the current billing period for the additional licenses will be sent to your organization.
Want to know more about how to enable In-App Purchases? We updated the Help Center article setting up your organizational account to include the new feature.
Going forward, managing, and scaling your subscription is a breeze:
Let's say you included 100 room licenses in your subscription. As the subscription is renewed on a yearly basis, these room licenses will be valid for 12 months from your organization's go-live date. If after 6 months you need to add 10 more room licenses to your account, with In-App Purchases disabled, your organization needs to contact AskCody to unlock the addition of these 10 additional rooms.
With in-app purchases enabled, your organization can scale with ease and at your desired pace by adding as many licenses as required, whenever they are required and without the need of contacting AskCody. So, the 10 additional licenses can be added at the specific moment your organization needs it, giving your organization full autonomy over scaling your subscription.
As these 10 additional licenses are now added to your account, your subscription and contract terms will be automatically adjusted, and a corresponding invoice modified to the current billing period will be sent to your organization in case the changes made exceed the licenses included in the current contract terms.
Where to find it? How to enable it?
To enable In-App Purchases, go to the Admin Center and click Organizational Settings under Account.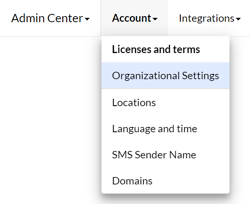 In your Organizational Settings, you can enable In-App Purchases. This means users with the right access can purchase additional licenses for rooms, desks, and lobbies and add them to your organization's AskCody account. If you choose not to enable In-App Purchases, then you will only be able to add the rooms, desks, and lobbies agreed upon in the subscription contract that are displayed as valid licenses in the license overview.

Do you want more information about In-App Purchases? Click here to learn more.
Increased control of your license usage
With In-App Purchases, you can effectively stay on top of your license usage across all office locations. You get the option of allowing or disallowing the addition of room, desks, and lobby licenses outside your current subscription contract without contacting AskCody, thereby removing friction in scaling.
This update is all part of making it easier for you to manage all your licenses across locations and regions. If you want a more in-depth guide on how to manage licenses by location, click here.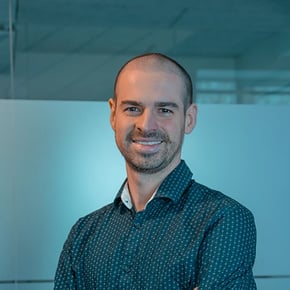 David B. Posada
Product Manager, AskCody. Works with introducing and enlightening about product improvements, and new platform features. He also helps increase adoption by creating product communication.