This new feature is an add-and-copy service request for ad-hoc deliveries helping organizations better manage services for recurring meetings.

Talking to customers and especially users like Conference Service Managers and Meeting Planners, we've learned that requesting and adding meeting services to weekly, bi-weekly, or monthly recurring meetings is a time-consuming and error-prone process. So, we decided to change that and build a true time-saver!

From now on, your meeting bookers can add and copy similar service requests to your recurring meetings. This will remove the daunting process of having to book services for individual meetings one by one - and instead, make it straightforward to add multiple similar requests at once for your series of events. With the latest update, we've made it easier to handle recurring service requests, enabling your Meeting Planners and Office Admins to win back lost time.

Try the new recurring service requests for EU or US or by logging in to the AskCody Management Portal.
A quick walkthrough of the new recurring meetings feature:
Add and Copy service requests to save time managing recurring meetings
By talking to our customers and analyzing how they work, we've learned that the services they added to their recurring meetings were often a series of similar service requests for all meetings. And frequently booked by someone on behalf of someone else. This could be a PA getting called up like:
"Hi, could you please book a Partner meeting for all Tuesdays for the next 12 weeks in the afternoon. Please also ensure standard meeting beverages and snacks for the meeting are delivered to the room."
Examples could be adding snacks, coffee & tea, and water to the weekly directors' meetings, or adding the same IT setup and cleaning for external client meetings. It's a repeated standardized task. And often managed by a PA, secretary, or booking coordinator.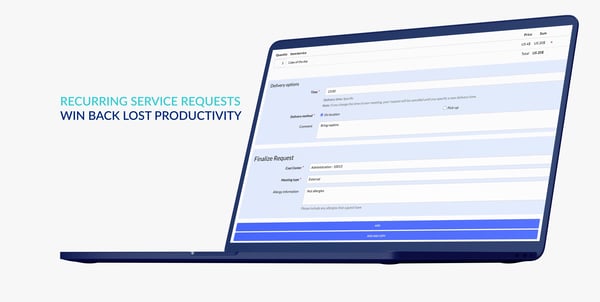 Knowing that the services were frequently similar, and often booked by the same users, we decided to make it easier to quickly add and clone a series of identical service requests, helping meeting planners save more time booking services as part of booking or overseeing a series of repeated meetings.
With the knowledge gathered from our customers, we created a plan to improve booking recurring service requests in multiple steps.
The first step was to give meeting planners access to a limited view of the Services Portal in our Platform, empowering them with the ability to add ad-hoc service requests for meetings and meeting series. Making it possible for them to book requests themself instead of having to call the service provider.
The second step was to add the option to clone and copy requests. Thereby giving meeting planners and office admins the tools to easily mass-add similar service requests for weekly meetings or other meeting series at once.
Try the new recurring services feature here.
Third step: making recurring services fully automated
As a starter, we are happy to be able to help meeting planners and office managers better manage recurring meetings less error-prone and smoother. Going forward we will continue to update this area making it easier to operate. This means, requesting will become fully automated, and adding meeting services will be based on triggers in our Platform. We will continue to keep you updated when new improvements become available.
You can look forward to this improvement soon
We will soon be able to share the biggest and most important AskCody improvement to date, unlocking the full potential of your Office Admins and Conference Service Managers. We are delivering a completely new interface to the AskCody Portal, while providing users with a complete workplace calendar, giving a full overview and insights into all meetings happening in the workplace. Stay tuned for more information.
So, why is requesting recurring meeting services an issue?
When we built and designed AskCody Meeting Service, a couple of things mattered more than anything else:
Everything should be managed from inside Outlooks familiar interface, making the user experience fast and easy.
Microsoft Exchange should always be the only source of truth.
There should never be any synchronization issues of meeting bookings and service requests detached to each other (Example: no coffee should ever be delivered to the wrong room and the wrong time)
Trust in the system has always been key! When a meeting is booked, it's booked. And when the Service is requested and accepted, it's locked to that meeting. Period.
If a meeting is rescheduled, postponed, moved to a different room, another location, or just canceled, everything should follow the meeting, while still respecting deadlines, business rules, and policies. We call it "follow-the-meeting"-intelligence providing certainty and confidence, since you can always trust that nothing is lost, falling between the cracks, while not complying with your business rules and policies.
This intelligence has always been a key reason why users love AskCody, because in its essence this has helped our customers remove 90% of all errors and frustrations in meeting planning since mistakes are often made: When meetings are rescheduled or changed, and people forget to update the service request, the room setting, or inform the Reception, Canteen, or Hospitality Team about the change...
Booking a single, individual meeting with catering requests, room equipment or room setting requests has been solved from day 1 in AskCody. This we know how to do.
Recurring meetings work differently
Managing service requests for recurring meetings is a different story than individual meetings because we've been challenged not to compromise our core follow-the-meeting intelligence on integrity and compliance with business rules and policies.
In the AskCody Outlook Add-in for Meeting Services, you can easily request meeting services from your Service and Hospitality providers to be delivered. But when it comes to requesting services for recurring meetings it often ends up being a manual, time-consuming process of adding individual one-by-one meetings with the same service requests to keep our follow-the-meeting structure of adding services data to each individual meeting.
For organizations with many weekly, bi-weekly, and monthly recurring meetings, booking these meetings as recurring meetings in Outlook is the way they and their users work, since it's a massive time-saver and much easier to manage repeated meetings this way. But that has come with a challenge and conflict in terms of managing service requests for those meetings in the same structured and trusted way that AskCody has handled service requests for individual meetings.
Until now.
For a long time, it's been a massive objective for us to really help our customers save more time and make it easy to quickly request and add the necessary services for these recurring meetings as well, without compromising on the user experience, certainty, and structure of AskCody.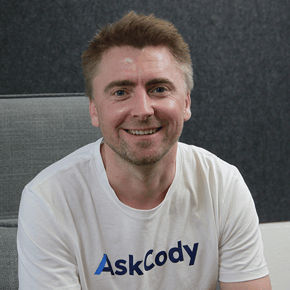 Ebbe Skøtt Andersen
Product Manager, AskCody. Writes about product integration, IT infrastructure, data processing, and security.