We live in an age where there are hundreds, if not thousands of tools that can help streamline your meeting management. With new tools coming available all the time, you have to wonder why anyone is still scheduling and running meetings manually.
Here is why: With so many tools available, it can be tough to cut through the noise and find the tools that are truly worth having — the ones that are so great, you will wonder how you ever managed meetings without them.
That is what we are here for. We have compiled a list of the meeting management tools your organization can not afford to go one more day without. Here is everything you need to know about the tools that are going to completely change how you manage meetings.
Which meeting management tools are essential to your businesses?
Meeting management tools can accomplish a lot of different things. Simply put, meeting management tools are tools that help individuals and teams with every task related to planning, scheduling, running, and follow-up for meetings. These tools are designed to streamline the entire meeting process, making it more efficient and productive for businesses.
By using meeting management tools, businesses can save time and resources by automating tasks such as room booking, catering and service ordering, and facilities management. These tools provide a centralized hub where all meeting-related tasks can be easily managed, eliminating the need for manual processes and multiple point solutions.
Moreover, meeting management tools can help businesses improve performance and control costs. By providing features like time tracking and setting time limits for agenda items, these tools ensure that meetings stay on track and avoid wasting valuable time. They also enable businesses to calculate the return on investment (ROI) of a meeting, allowing them to make informed decisions about their meeting strategies.
Here is an overview of how meeting management tools help businesses: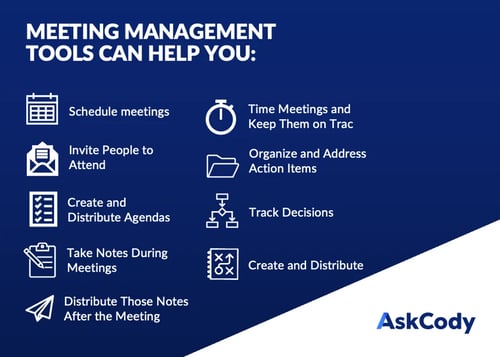 There are even specialized tools out there that can help you keep meetings focused and on track, or calculate the ROI of a meeting for your organization (how cool is that?).
The problem that meeting management software is here to solve is that meetings have a ton of moving parts. The right tools can round up all the steps it takes to pull off a successful, productive meeting and put them in one place, simplifying the entire process so businesses can improve performance, control costs, and put procedures in place that allow them to efficiently schedule and run meeting after meeting.
Why is this so important? Well, because people spend a lot of time in meetings. In Harvard Business Review a survey shows that managers reported 83% of the meetings on their calendars were unproductive, or that US-based professionals rated meetings as the "number one office productivity killer." If those meetings are not efficient and productive, well, just think about the cost—in lost hours, lost productivity, and in sinking morale, because no one likes to waste time at work.
And then there's the time spent preparing for all those meetings. Studies show that business professionals spend nearly 5 hours each week just getting ready for meetings that they will then spend even more time attending.
That is why so many organizations are turning to meeting management software. But with so many tools available and so many different things they can accomplish, how do you even know where to start with meeting management software? Well, not to toot our own horn, but…
AskCody: the all-in-one meeting management tools
A great all-in-one tool can get you well on your way to optimizing your meeting management, and that's where AskCody comes in.
AskCody takes all those meeting planning steps that used to be done with manual processes and point solutions and gives you a platform for booking rooms and hot desks, ordering catering and other services, managing facilities, registering and checking in guests, and more—all in one place. That means more efficiency, boosted productivity, and better control over meeting management and costs.
What is really great is that AskCody is built to integrate with another set of tools you probably use: Microsoft 365, Microsoft Exchange, and Outlook.
But of course we love our own software, so do not just take our word for it. Check out the user reviews that say AskCody is the meeting management tools of tomorrow.
20 other meeting tools you will want to start using
While a platform like AskCody will revolutionize your organization's meeting management, there are even more tools to help you streamline your systems even further. Most of them have to do with the ancillary tasks that surround meetings — small organization tasks to plan when and where meetings should take place, distributing materials, and assigning and monitoring follow-up tasks.
Tools to use before the meeting
Before you even schedule a meeting, you should make sure you actually need a meeting. Catch up with everyone on the team with a chat app like Slack or Microsoft Teams. See if you can accomplish your goal without pulling everyone into a meeting.
If you decide you need a meeting, but in a less formal setting, how about hosting a digital check-in with your team? There are a ton of tools that will allow you to host online meetings, but a few that we particularly love are Google Meet, Jitsi Meet, GoToMeeting, and join.me. These are some of the most popular digital meeting platforms online because they're fast, stable, and easy to use.
And before you head into a meeting, you have to make sure everyone involved is prepared to accomplish the goals you've set for the meeting. Make sure everyone has all the materials they need with Google Drive, which allows free, cloud-based file sharing. Or create and distribute agendas on the go with an app like Agenda Maker or Minute. Another great tool to help plan the most productive meeting possible is Team Meeting Checklist, which creates a timeline of tasks you need to do to prepare for the meeting and tackle during it.
Tools to use during the meeting
Everyone has been in a meeting that just did not stay on topic. It wastes a lot of time, so tools that can help you avoid that? We love 'em.
A time tracker is a pretty under-utilized tool for managing time in meetings, but it might be just the tool you need to stay on track. We love Toggl and Team Meeting Timer for this. There is also Less Meeting, a tool that helps you organize meetings by setting time limits for each agenda item. It will send you alerts when it is time to move on so you don't get stuck on any tasks. One of the most important things you will need to accomplish during the meeting is documenting what takes place, and there are several tools that can make that easier and more efficient. To create clean, organized meeting minutes that can easily be shared with other members of your team, we love MindMeister and Minutes.io.
For phone meetings that need to be recorded, TapeACall is our go-to because it allows you to dial into a meeting from your mobile phone and create a recording that can be accessed via the app as soon as you end the call.
For the ultimate accountability for staying productive and on-task during meetings, we love to use Meeting Ticker. It is a very simple tool that allows you to plug in how many people are attending and their hourly rate, and then it will show you in real-time how much a meeting is costing your company. There is nothing that will keep you from going over time like seeing exactly how many dollars are being wasted when you do.
Tools to use after the meeting
Once the meeting concludes, it's essential to ensure that the discussed action items are promptly addressed. This is where tools like MeisterTask, Trello, and Asana come into play. MeisterTask simplifies task delegation and accountability, making it easier to assign follow-up tasks and track their progress. Meanwhile, project management tools like Trello and Asana provide comprehensive platforms for organizing tasks, setting deadlines, and fostering collaboration among team members.
By leveraging these tools, you can streamline post-meeting workflows, enhance team productivity, and ensure that important action items don't slip through the cracks. Effective post-meeting management is a key component of efficient and productive teamwork.
Transform Your Meeting Management with AskCody and Essential Meeting Tools
Unlock the power of meeting management tools to revolutionize how you plan, schedule, and follow up on meetings. Dive into AskCody's comprehensive platform and discover a multitude of innovative features designed to enhance every aspect of your meetings, from pre-planning to post-meeting follow-ups, ensuring unparalleled efficiency and productivity at every step.
With AskCody's robust platform, you can effortlessly streamline the entire meeting process. Start by planning your meetings seamlessly, utilizing features such as room and hot desk booking, catering and service ordering, and facilities management. Say goodbye to the hassle of manual processes and multiple point solutions, as AskCody brings all these essential tasks into one centralized hub.
By embracing AskCody and its array of cutting-edge features, you can transform your meeting management and elevate your organization's productivity to new heights. Say goodbye to the inefficiencies of traditional meeting processes and embrace the power of technology to optimize every aspect of your meetings. With AskCody, you'll unlock the true potential of your meetings, driving success and achieving your business goals.
Conclusion - The meeting management tools you need
Meeting management tools have become essential in today's fast-paced business world. With the plethora of options available, it can be challenging to find the right tools that truly enhance productivity and efficiency.
However, by utilizing comprehensive platforms like AskCody and integrating them with other popular tools such as Google Drive and Trello, organizations can optimize every aspect of their meetings. From pre-planning to post-meeting follow-ups, these tools streamline processes, improve collaboration, and ensure that action items are promptly addressed.
So why continue to schedule and run meetings manually when there are tools that can revolutionize the way you manage them?
Embrace the power of meeting management tools and transform your meetings into productive and successful endeavors.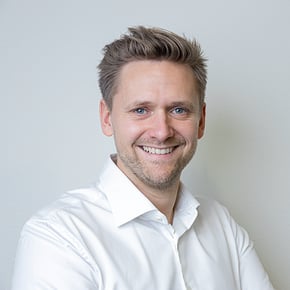 Allan Mørch
CEO & Founder, AskCody. Empowers organizations worldwide in creating better workplace experiences using AskCody.