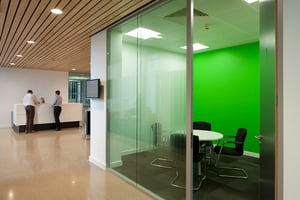 Dunelm: AskCody case study
Case Study with a British home furnishings retailer: Dunelm
Key Takeaways
SO WHY DID THEY PICK ASKCODY?
Better availability
Better meeting room availability
Better overview
Multiple meeting dashboards
FITS A LARGE ORGANIZATION
Many locations
Many visitors
Help for a busy reception
Timesavings
Faster processes for employees
Quick integration
Integrated inside Microsoft Exchange
British home furnishings retailer
About Dunelm
Dunelm is founded in 1979 and has its headquarters in Syston, United Kingdom. They have 173 superstores, three high street stores, and over 100 in-store Pausa coffee shops throughout the United Kingdom. As of 2021 they employ 10,000 people.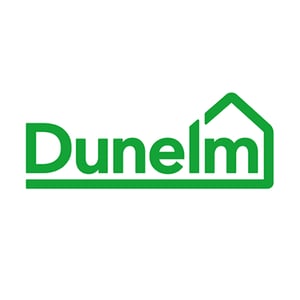 Why did you get involved with AskCody?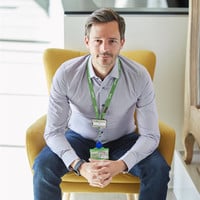 "The reason we got involved with AskCody in the first place is that we moved into a new custom-made office where we have around 500 colleagues. We had 23 meeting rooms, and as you can imagine, meeting room availability, therefore, was pretty sparse. We initially wanted a tool that would just display on-screen around the meeting room area who had booked what room in Microsoft Outlook."
This interview was done together with Ben Ashdown, who is the Head of Technology Support and Operations at Dunelm. Dunelm has used the AskCody platform for more than seven years now, and this case interview describes the journey during these years and how the AskCody platform has been a more and more integrated part of the Dunelm office spaces and meeting rooms during this time.
Getting a better overview of the meeting rooms
After some investigation, we found AskCody and their Meeting Dashboards product. Meeting Dashboard is now the system we use to get a good overview of the status of all the meeting rooms. Initially, we just had one screen around our meeting room area and have expanded from that.
Since that start, we have grown our use of AskCody. We have another office in London, where we also have a Meeting Dashboards display in the meeting room area. And we also use different Meeting Dashboards on big monitors that are strategically placed in different key open public areas in many of our buildings. So, we have grown from one to many, as this just gives ourselves and our visitors a great overview.
We also display other news on some of the monitors like our share price or latest Instagram and Facebook feeds on a loop. across all of our non-store locations we have displays with Meeting Dashboards in different formats showing what rooms are available. The benefit is that people quickly can see what rooms are free or booked. That is useful; especially as we have multiple sites:
A development office in London
The head office in Leicester.
A manufacturing center in Leicester as well
2 distribution centers in Stoke
A customer contact center in Manchester
So, we have five big sites where we have lots of meeting rooms. And now we have eight different Meeting Dashboards across those buildings.
Welcoming visitors
The next thing we started looking at was the visitor process. As a retailer, we constantly have many visitors during the day such as suppliers or internal visitors from our other sites. In the building which I am in – the head office in Leicester – we have more than 500 colleagues that work there.
Our head office is a custom-made modern building, and we have lots of visitors. I have been told that we are one of the busiest receptions that use AskCody in terms of the throughput of visitors of many types:
Lots of people visiting from the suppliers of products we sell in our stores
Executives for meetings.
Supplies of IT equipment
Using AskCody Visitor Management in a staffed reception
Lots of people all day are coming through our doors, as meetings are still the main driver of the business. And we have only ever had one receptionist! Therefore, the receptionist was rushed off her feet all the time, handling the manual process of first signing people in, giving them a pass, making a note of their car, contacting the host to come to reception to meet them, and so on.
And then when they left our offices again, the receptionist had to sign them out of a book manually. Moreover, if you need to exit the building in an emergency for whatever reason, you need to remember to take the big book with you to be able to check who was in the building. That was a very convoluted process.
This had the consequence that the receptionists' full day was taken up with people signing manually in and out of the building. With many people trying to get in and out, that led to some frustration if visitors then started running late for meetings.
When we then started using AskCody Visitor Management, we first started using the solution from a single PC where the visitor walks into the reception, and there will be a printed sign saying: please sign in via PC. They then input their name and company name, and we will then use the Active Directory Sync built into AskCody Visitor Management.
That then automatically pulls in all the requested colleagues, their email addresses, mobile phone numbers, and it will then email them and ping them a text (SMS) to inform them that their visitors are in the reception.
AskCody Visitor Management will then print the visitor a badge, which will be put in a lanyard. The badge states the visitors' names, who they are here to see, what time they checked in, and so on. Already with this first effort, we now had it all automated; which was great.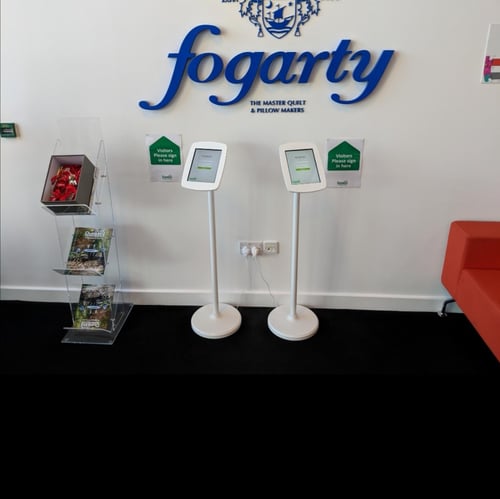 As time has moved on, we have again had visitors queuing so we solved that issue by installing two AskCody Visitor Management screens in this building, which are now on iPad stands. As soon as you walk into the building you have got the choice of the two iPads to avoid the queues.
At the same time, we removed the personal badges, as we deemed that they were not required anymore. Now they just pick up a generic lanyard that says they are a visitor. So, in the end, we got rid of the printing process and now only use the two iPads check-in stations which works great.
We are always up to date with the number of visitors who are in the building and all the manual processes have been eliminated.
There is literally nothing for the receptionist to do in the visitor process and all that time that was spent in the reception during most of the day checking visitors in and out has just completely disappeared.
And further, the visitors can also put their car registration into the visitor system as well. If we need them to move their car or there is an issue with the car, we know whom to contact.
It all works well for us. Plus from a health and safety perspective, it is also great as well because we always know who is in the building. AskCody Visitor Management is really a useful system.
Using Visitor Management in an un-manned reception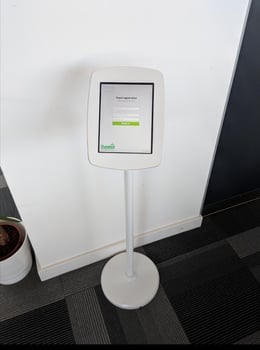 We have also put the AskCody Visitor Management system into our London office as well. This is a different setting as it has an unmanned reception. Basically, the visitor walks into this shared building, check-in on the iPad type in who they are, and who they are here to see.
Then somebody will come out of the secure office to meet them. The AskCody visitor system also works very well in an unmanned reception area as well as a manned reception area.
All that time that has been saved for the receptionist frees valuable time to perform other tasks: answering the phone, deal with deliveries and so. AskCody Visitor Management is a great help for us and has been really well received.
Managing efficiently booking of meeting rooms
The final AskCody product we have implemented in our offices is Workplace. We have this hooked into everybody's Microsoft Outlook at all our non-retail store locations. Workplace is extremely useful because we have so many meeting rooms
Earlier the situation was like this if you were trying to book a meeting:
You would select whom you wanted to attend the meeting.
You would then select the time and the date.
Then you literally had to select all the meeting rooms in the building within Outlook. A total of 23 rooms.
You would then go into the scheduler and try and see where there was a free slot in one of all those rooms
Then delete all the rooms, you didn't want.
And then probably by the time you were going to book the selected room, someone had already "stolen" it in front of you. Not a very time-efficient process.
We are now using the Workplace to find room availability. All you do is select which building you're in. It then automatically pulls in the capacity of the meeting rooms; you click and find a perfect room setting and it now shows you all the rooms that are available. One-click! Booked!
Again, we are all saving loads of time and frustrations in the process to find a good meeting room. And although we have got a lot of them, because we have so many colleagues who are all fighting over rooms, AskCody Workplace has made that process much more painless. So, it's a real help.
Why change to AskCody?
The original solution we had before AskCody was coded in-house. It was a manual PowerShell scraper of Microsoft Exchange. It would serve up to a web page, which we needed somebody in-house to administrate.
It would go wrong now and again, and you obviously had to know the code. AskCody has taken all that headache away. Relying on a software as a service solution is so much better.
When we looked at this originally, there were not that many SaaS-based alternatives on the market. I believe AskCody was at the forefront in meeting management solutions. And if there were any other solutions out there, they were certainly pretty clunky in my mind back then.
The other vendors that claimed that they could do the same thing, there you had to buy a physical device as well. And it certainly wasn't as automated, or it did not integrate as well with Microsoft Exchange as the AskCody platform does.
In short, we moved from an in-house solution which was time-consuming to maintain. We scouted the market and the AskCody product best met our needs and was simply easy to use and kind of easy to set up as well. They were the key factors.
The AskCody Experience at Dunelm
As an example of the ease of use and setup, I can give you an example. With the AskCody Workplace tightly integrated inside Microsoft Exchange, all the rooms were already there in the system.
What we found really useful there was that we could just go in and start using this stuff. And there was no pressure on us from a license perspective. It was quiet and easy just to start using it and get a feel for it. So, it was really easy for us to start using the products.
That is very important, as it is one of those situations where you don't know what you don't know when you start out. We knew we had a problem, but we did not know what the solutions.
But those solutions were already within the AskCody portal. We very much got things solved during the process: "Okay. So, what I will try is this. Oh yeah. That is very good."
Now we give an evident positive effect back to the business based on something that they did not know they wanted and benefit from greatly from. So AskCoy is a really good pay-off for us.
On the technical side of things, we originally had an on-premise Microsoft Exchange system. And then we moved to Microsoft 365. Obviously, that is quite topical and could have been a huge challenge, but we basically just needed to follow an AskCody quick guide to set the correct permission and configurations. AskCody is really responsive to help us out.
And I think that is a thing which is really useful for us; the flexibility. Lots of other companies out there will only sell their solutions with some added hardware, whereas the solution AskCody gave to us can use any hardware we like. Any type of screens, iPads, PC's, big monitors – any type of display monitors that can access a website. That is really flexible compared to being tied down to one piece of hardware that you have to buy from the same vendor.
The fact that AskCody is device agnostic just showed to be very important. If you want something like a fancy big screen with high screen resolution, you can buy that. If you want something that is cheap and cheerful and that is not going to break the bank but just does the job for you, then you can buy that as well.
You can really spend as much or as little as you will like based on your budget or your requirement without having to be tied down to any specific expensive hardware, which also normally will be expensive to replace. Or you can't get into the back of the device to fix it because you void the warranty.
There is an element of trying to avoid being tied in, and we avoid this with AskCody. That is also important when you look at the specific meeting room, where there is a particular corner of the room where you really want a smaller or larger device. Then again, the choice is up to you. AskCody gives you that flexibility.
The benefits of AskCody
The biggest benefit until now is that we have saved 80 percent of the reception time, which was taken up with them dealing with visitors coming and going.
There's also important handling of the health and safety risk as well as if a fire happens and what we then do if we must exit the building.
Certainly, there are some huge productivity savings when people are trying to find rooms. Now even the ability to book ad-hoc rooms by jumping into a room, when you can see it's free on the room display screen outside is a very useful feature.
And moreover, AskCody is a full solution for this area. Having one portal, one tool, that does everything obviously has its benefits because you've got one view of the truth in terms of all your user base, all your rooms, all of your calendars. And you have the direct integration with existing tools such as Microsoft Outlook. Why would you go for something else?
Why would you pick one vendor for signage, one vendor for your Workplace, and another one to do your meeting room management? For me having it all in one place just makes it really easy to service. I think the key thing here is just having it all together in one place is why I recommend AskCody.
It shows that AskCody has been in this business for a long time and that you share that knowledge. The AskCody blogs are really useful. You guys have got your finger on the pulse in terms of modern offices.
AskCody understands that a product develops over time based on the customer's needs. Nothing is static. AskCody is continuously developing and looking out for what your customers want.
In general, the AskCody benefit is the time savings and removing the daily frustrations around meeting planning.