WELCOME VISITORS
We help you keep the overview, stay in control,
automate recurring and tedious tasks,
so you can focus on
providing your guests with the best possible experience.
Key features
A COMPLETE VISITOR MANAGEMENT SOLUTION
When you are responsible for welcoming visitors, you need to be prepared, have a streamlined process, and a full overview, so you can give your guests a white glove experience.
01.
Keep an overview and stay in control
We help you keep an overview of expected guests and their check-in time so you can plan your day. You can also see who and how many visitors are in-house today, who will be in tomorrow, or have been in the past.
Pre-registering guests, automated check-in flows, badge printing, NDA signing, and notifications all help you stay in control.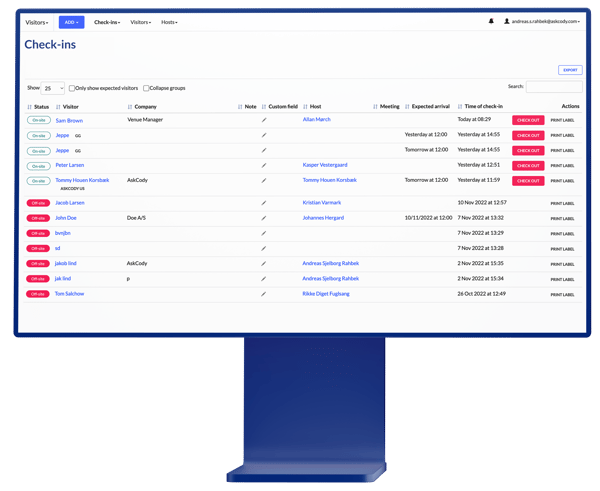 02.
Automate manual and tedious tasks
Set automated confirmations and notifications to help your guests arrive well-informed and geared with directions, instructions, WiFi codes, assigned parking spaces, etc.
A check-in by you, or a self-check-in by the visitor will instantly notify the host of their arrival by email and SMS. HSE surveys and NDA documents can also be streamlined in this process.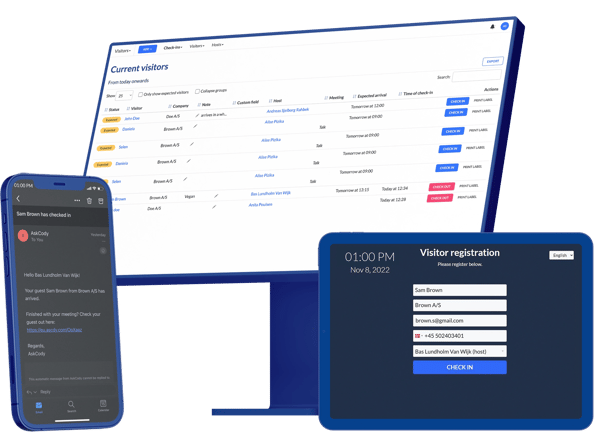 03.
Pre-register guests in Outlook and Microsoft 365
Let meeting organizers pre-register guests in Outlook by adding visitors' names and email adresses in the scheduled meeting, giving front desk accurate information about the visitors prior to check-in.

No more GDPR sensitive paper check-in lists and misspelled name tags.
04.
Self-service check-in
You can check-in a guest and print a badge with one click in the visitor management portal, easy as that. You can also set-up a check-in kiosk where guests can self-check-in.
Why would you want to do that? For instance, to supplement your reception, when having large groups visiting, or when hosting events. Also, to off-load at peak hours, or to have your back when you managed to squeeze in that well-deserved coffee break.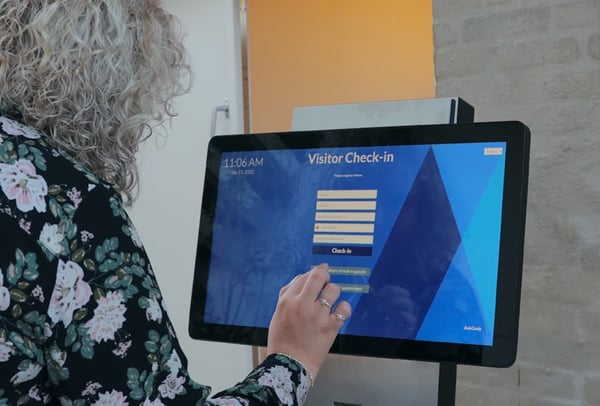 Key benefits
THE BEST POSSIBLE GUEST EXPERIENCE
You keep things running smoothly around your office – what would they do without you? You are wearing more hats than the queen, your task list is endless, and often things seem to happen all at the same time. Still, you are in control and have an overview like no one else.
Optimize visitor experience
With Insights on Visitors you get valuable data making it easier to get an overview of how your receptions are managed across locations. This enables you to optimize and streamline your visitor experience.
Combine Visitor insights with insights on Bookings and Services and you will be able to streamline the entire meeting process.
Insights are based on Microsoft Power BI and available in our portal. You can also export the data to your preferred reporting tools.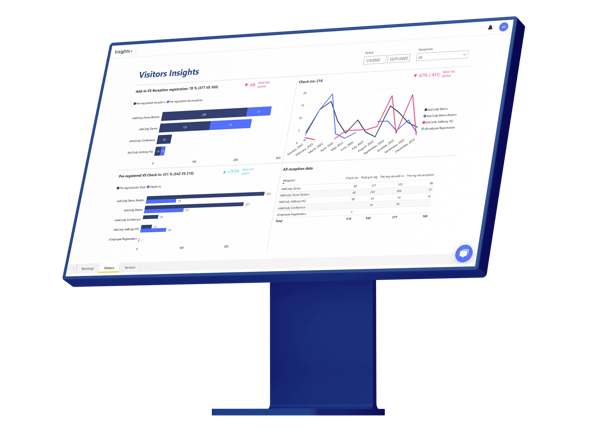 We have your back
We are the extra set of hands you can rely on every day. We prepare you for the day and provide the best possible overview.
With pre-registered guests, automated notification flows, one real-time overview of expected and current visitors, you are in control.
Due to the way we are built, native to Outlook and Exchange, we eliminate synchronisation issues and double bookings.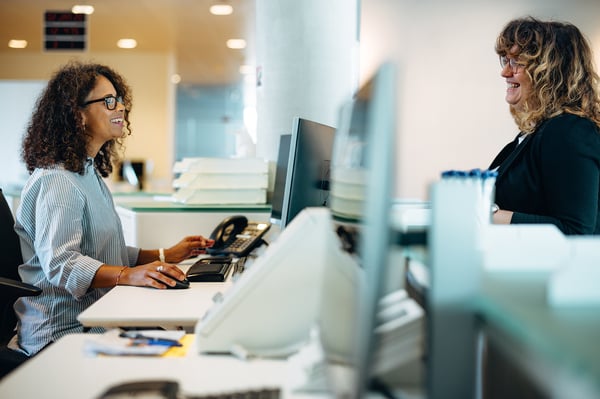 NABIL NEEDS US TO BE


INTEGRATED
IN OUTLOOK
"The AskCody Outlook add-ins provide us capabilities to easily book rooms, request services, and manage visitors from Outlook while linking them with the Outlook calendar invitation."

DALE NEEDS US TO
STREAMLINE
PROCESSES
"The benefit of AskCody is that we are all a lot more prepared. The receptionists are not struggling to gather visitor information, which has streamlined the whole process and made it much easier for the receptionist and a better experience for our visitors."

Don't just take our word for it
Read what some of our 500,000+ users from across the world say about us
"Our receptionists find its visitor registration features very helpful and easy to use, as it sends automatic check in messages to both visitor and host and also includes some usage statistics that allow them to easily reorganize the available meeting rooms."
"Registration of guests makes the first step into the BESTSELLER office easy and professional. The look and ease of using AskCody introduces the customer to our simple and effective ways of working and allows us – here at the front desk – more room to interact with the customers."
"Guest registration and concierge services all from within Outlook so that guests are welcomed professionally and can be well taken care of while they are here."
"We now have a visitor management system that can register and welcome our visitors in a professional and user-friendly way. Furthermore, the system allows that the hosts are informed of the arrival of their visitor without any interference of the receptionist."
How can we help you?
How can receptionists get an overview of daily activities?
Inside the AskCody Management Portal, receptionists can get a complete overview of:
Arriving guests

All meetings

Groups for the day

Notes for visitors (special needs)



This will empower your front desk team to prepare for daily tasks while making sure guests will get a white glove experience visiting the site.
What notification will be sent before, during, and after the guest arrive?
With Visitor Management you can choose to have a couple of notifications for email and SMS before, during, and after the arrival of guests:
Before arrival - Guests can receive an email or SMS with information about parking rules, WiFi password, and company rules & guidelines.
Upon arrival - Guests can check in through their phone or in the reception. This will notify the meeting host about the guest's arrival. You can set up notifications to who you would like, this could be notifying a PA or other stakeholders in the organization.
After arrival - Guests can choose to check out at the reception or through their phone after the meeting has ended.
Remember you can personalize all notifications to fit your tone-of-voice creating a great experience for visitors.
Do AskCody support badge printing and NDA signing?
Yes, you can do badge printing with the AskCody Visitor Management system. The data is pulled from the Outlook meeting invitation, which means:
No more misspelled name tags

Automatic print of visitor labels
You can also automatically print NDA (Non-Disclosure Agreements) for your guests to sign. Your visitors are thereby legally obligated not to disclose information shared at the property.
Can you anonymize visitor data?
Yes, you can automatically anonymize visitor data to comply with GDPR regulations and ensure important certifications such as ISO.
DOES ASKCODY SOFTWARE INTEGRATE WITH BOTH OUTLOOK AND MICROSOFT 365?
Yes, it indeed does. Natively.
We have a close collaboration with Microsoft, and our platform is 100% integrated with Microsoft Exchange, Microsoft 365, and Outlook. No need for manual processes or outdated third-party tools, unintegrated Sharepoint sites, or paper-based booking. Everything works within the familiar Outlook and Office interface. We have based the AskCody meeting room booking system on modern integrations into Exchange and built everything on Microsoft Azure.
Learn more about how we integrate to Exchange and Microsoft 365 in our knowledge base.
We would love to show you AskCody
Understand how we can help you in your organizational needs