Oh, you are in for a treat this month!
We have made so many cool and very helpful new features.
So if you know any secretaries, receptionists, kitchen staff, or just someone who book a lot of meetings, feel free to pass this post further on to them, because this month we have features for all of them.
Enjoy!
The coolest 5 features you will see from us this month...
1. Nice and smooth sorting of meeting room searches in the RoomFinder Add-in
In the old version of the RoomFinder, it would find and display too many meeting rooms at once in the Add-in. This search could take a while and made the RoomFinder slow... With the new and improved search and sorting, the RoomFinder now display a smaller amount of rooms, more focussed on your needs, so everything is faster, and leaves you with fewer options much faster.
2. Receive all messages from Meeting+ when "booking on behalf" as a delegate
Similar to last month Welcome+ Add-in features, it is now also possible to choose yourself to be the one to receive all messages from Meeting+ when booking catering and additional services on behalf of someone else.
On the picture, you can see that Allan is the host of the meeting, but Cecilie will be the one who will receive all messages and notifications (Cecilie is in this case, booking on behalf of Allan).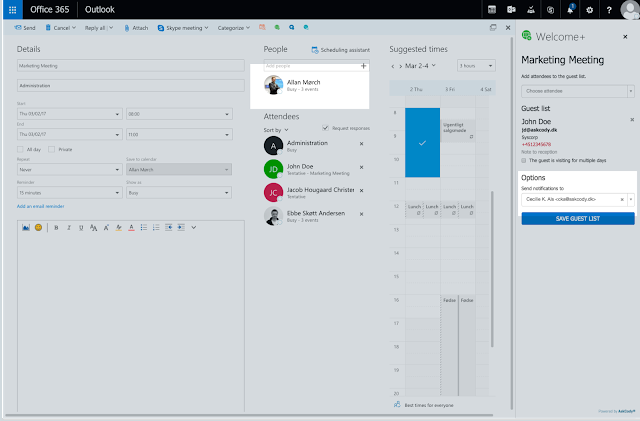 3. New layout in Welcome+ Add-in
In the old Welcome+ Add-in layout it wasn't clear that it was possible to click in the text fields when adding a guest. We have updated the design of the "guest card" directly in the Add-in, so the text field becomes more visible.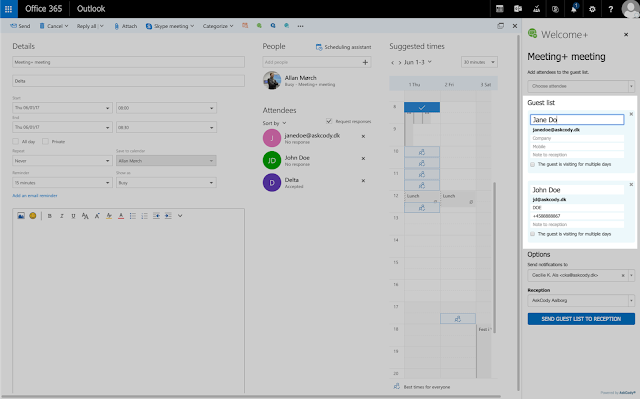 4. Add guests to the reception in Welcome+ Add-in without booking a meeting room
Have you ever needed to notify the Reception about visiting guests, but didn't want to book a specific meeting room for their arrival? It is now possible to use the Welcome+ Add-in on appointments (without a meeting room) in Outlook. Need and powerful!
5. Search for items ordered in a specific period in Meeting+
In the company kitchen, it is often necessary to know how many items, services or beverages that are ordered in a specific period of time. How many buns are ordered for next week? How much coffee do we need to brew? do we need to fill our stock... Check out the feature in the Meeting+ Manager!