5 features becomes 10 features
We at AskCody have had a great summer, but we were also very eager to get back to work, so we could build and release many new features for you – and this shows in this month's Five Feature post, because for this August it will be called "AskCody 10 feature", as we have some pretty awesome stuff to show you! Our product team has been ROCKING!
I hope you enjoy what we have for you – and if you have any questions afterwards, please do not hesitate to reach out to your Customer Success Manager.
Happy reading!
1. Settings is now known as Admin Center
This update to the Manager is about clear distinction between global and local product owners and managers for multi-location customers. From now on you will handle all product administration/configuration in the Admin Center, and more location-specific configurations in the Manager function to that specific product.
Example 1: You now configure your Room Display Configurations in the Admin Center, but you still configure your local displays in the Room Displays tab in Management Portal.
Example 2: Workplace Add-in purposes and capabilities have also been moved to Admin Center. Local configuring (and selection of these purposes/capabilities) of each room is still handled through the Workplace tab in Management Portal.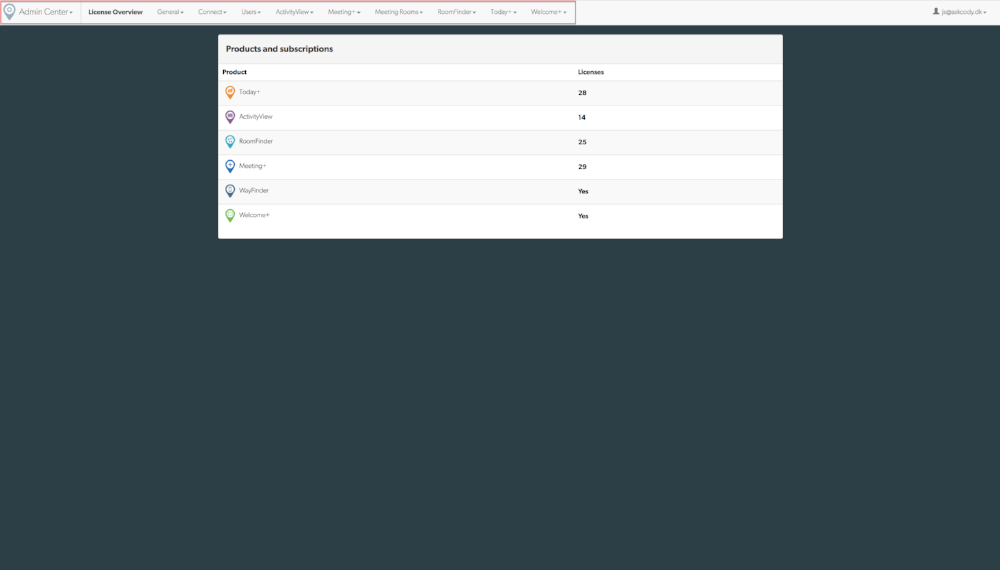 2. We have added Quick Actions to the Visitor Management Portal
From now on you will be able check your guests in and out directly from the "Exptected Guests" tab, like you now also can print their label/guest card directly from the same view. This should save you quite some time. Neat, right?

3. Apply Sender Name for text messages from Welcome+ and WayFinder
Now you have the option to send texts directly to your customers from "your telephone".
In Admin Center under General, you can now select you SMS Sender Name. What it does is that it shows up on your visitor's screen as per your selection. You can customise it to be 11 characters, from A-Z and 0-9.
We at AskCody has chosen to just send texts from, well, AskCody, so the next time you visit us, you should receive a text looking like this: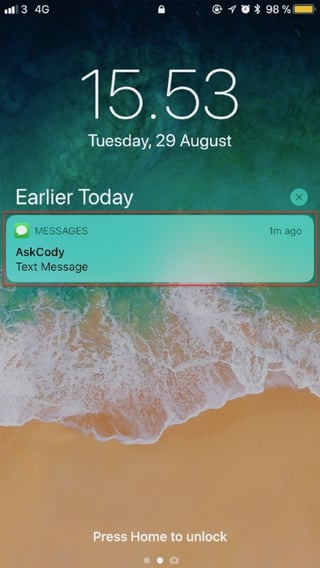 4.
(No longer available)
5. "Trends" feature to Insights alongside more KPI's
We now present "Trends" to you. From within Insights, you can now see trends for your resources. Trends display the meeting data for a selected timespan. This way you can keep track you peak periods over time.
Also, we have added more KPI's to the "General Statistics", so you can get even more information about your utilisation of your resources, hence being able to make even more fact-based decisions!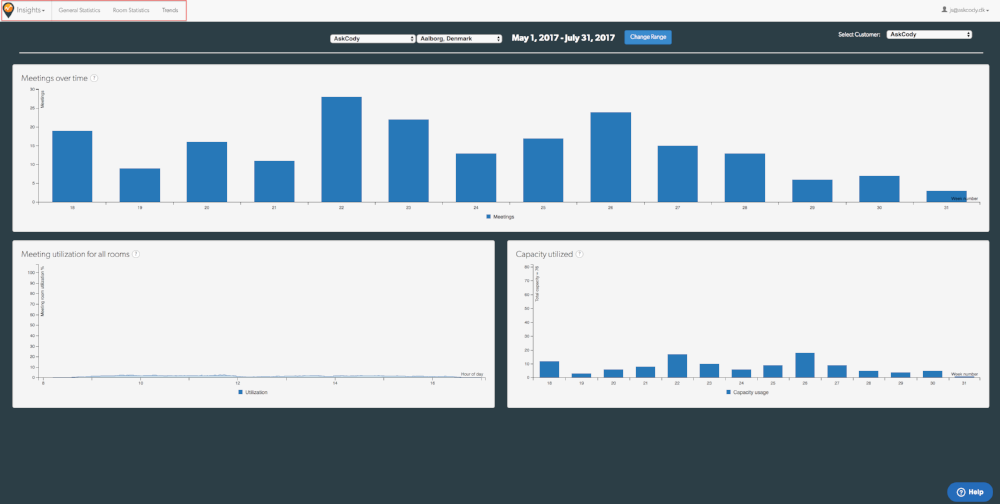 6. Tax Fields have come to stay in the Meeting Services Portal
This is a highly requested feature, and we are so happy to release it: going forward you can customise your Tax Fields (formerly known as Extension Attributes) to any way you see fit. You will no longer be dependent on us – you can just add and/or customise and/or your delete Tax Fields.
The way to do it is to go to Admin Center and choose Meeting Services and select "Tax Fields". There you will see your existing Tax Fields and you can create new ones.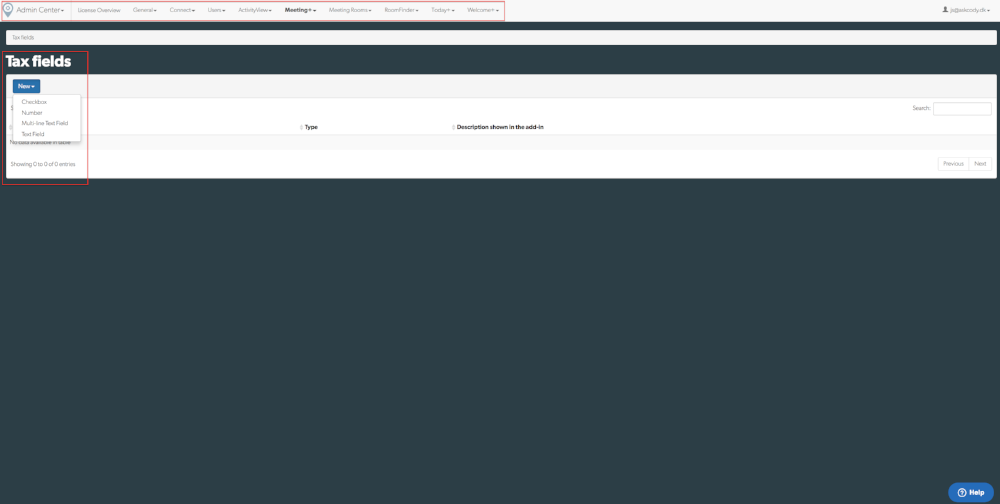 7. Regular Expressions (Regex)
In continuation of the new Tax Fields, we have released Regular Expressions (Regex).
Regex is a code format that allows you to determine what type of information input is accepted in a text field. Since 3 out of the 4 available tax field types are text fields regex can be used to customize what information is accepted in these tax fields. This eliminates user errors and can help customers avoid incorrect tax info.
Example: A tax field is created to register Danish VAT numbers. By using regex, the customer can set up the tax field to only accept information In the Danish VAT number format (DKXXXXXXXX).
8. Expected guests visiting for multiple days
For you to have a clear picture of who and how many check-ins you have on a given day, we have now released a feature, where guests staying for multiple days will have to check in for every day he or she is visiting. This way you will always know where all of your guests are!
9. We have added Domains to the Workplace Add-in settings
With this feature, you can now add domains to your Workplace Add-in. This will allow the Add-in to preselect what Purpose of a meeting is. Domains added in Admin Center will be registered as internal and purposes can now be configured to be preselected depending on if there are attendees with other domains than the internal domains in Admin Center.
Example: If all attendees have internal domains the preselected purpose is configured to be "Internal meeting." If any attendees have an external domain, the preselected purpose is configured to be "External meeting."
10. Syncing both hosts and visitors to the Visitor Management Portal through AADFS
So, to the last feature for August: From now on, when you sync your hosts to the Visitor Management Portal via your AADFS-connection (AskCody Active Directory Forwarding Service), you now also have the possibility to create all hosts as visitors as well, keeping your Visitor Management Portal updated at all times.
---------------------
For all feature releases above you can find more information and help articles on our Help Center right here - we have updated existing articles with the new information, and brand new features have gotten new articles. Check it out!
We at AskCody hope you're going to love your new features, and we look forward to releasing even more cool stuff in the next month! As a little Easter egg I can tell you, that we expect to release some cool stuff already this week – stay tuned for more updates to come!