Partner with AskCody and Grow your Business
Improve productivity for your clients now and increase your leadflow.
Partner with AskCody
And increase the number of solutions you can offer your customers, share recurring revenue, and increase lead flow.
Selling products like Microsoft 365 will help put some points on the board. But selling Microsoft 365 bundled with solutions and value-adding add-ins that solve customers' real, everyday pain points will help you retain your clients, boost your revenue stream, and cement your position as a leader in the field.
We are always looking to partner with like-minded solution providers who believe in our vision to help companies boost productivity and eliminate tedious meeting-related tasks.
Why Partner with AskCody?
Drive consumption
With AskCody's Meeting Management Suite in your arsenal, you'll be able to increase consumption on important workloads such as Exchange Online and Outlook.
Increase customer loyalty, stand out from the crowd
Become the Microsoft Partner that bundles Microsoft 365 with AskCody's unique and powerful solutions that address the business needs, not the IT-department, and sell this as a subscription-based solution to your clients.
Boosts your revenue stream and raise customer lifetime value
Adding AskCody to your Microsoft 365 offering will raise your revenue stream based on your Microsoft 365 business.
Staying competitive in today's service-driven environment means going beyond the deal or the initial sale. The good business focuses on customer lifetime value. Maintain customers for life by ensuring that your clients continually have access to the most powerful tools in the market and the skills to get the most out of their solution investments.
"

The AskCody partner program focuses on assisting our partner's core business with meaningful and valuable products that differentiating you from your competitors.

" Partnership Details and FAQ
AskCody Key Features
100% integrated with Microsoft Outlook, Exchange, and Microsoft 365

Offer individual modules or an entire modern workplace platform

Empower your clients to search for meeting rooms and hotdesks across multiple locations and time zones

Booking of catering, equipment, and other supplies directly

Meeting room display software

Lobby display software

Resource tracking and analytics give your clients insight into workplace utilization

Indoor wayfinding software
Who should partner with AskCody
There are four main companies that make a great fit for a partnership:
IT Infrastructure Companies - you install the hardware in meeting rooms and we'll provide the software to power the displays, find the meeting rooms, and make your client's modern workplace more productive.

Display Hardware Vendors - your expertise helps customers find the right displays for their facilities. Our expertise puts the right information on those displays.

Managed IT Support Firms - AskCody software makes it easier for your to support a Microsoft 365, Outlook or Exchange powered firm. AskCody also simplifies Azure consumption. Let us handle the heavy lifting for meeting room management.

AskCody provides a complimentary software solution to other productivity software. AskCody drives Azure consumption while keeping customers happy and productive.
How will AskCody help me sell?
Any way we can, but mostly in a sales and software support role:
AskCody will help you complete a RFPs and win the deal.

We have an excellent relationship with Microsoft, a worldwide presence, very loyal customers, and a very strong brand in Scandinavia. We'll leverage these assets to help you.

We share leads when there is a good fit for a hardware vendor or infrastructure manager to support one of our software sales.

We share recurring revenue!
Some of your current partners
We are happy to have good relationships with many companies. Below are links to announcements of previous partnerships:
With AskCody, customers experience a massive value in automating labor-intensive meeting tasks
What does AskCody do for their clients?
Download this eBook and learn about the value AskCody creates for one of our clients.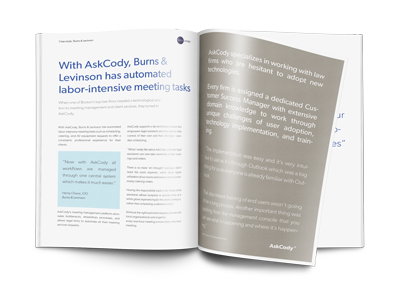 Become an AskCody partner today
Give us a call now or send us a note to learn more about how we can grow your business together.