Meeting Management: How Much Time Do You Waste?
Figure out how much time you are wasting on meeting management and learn how to optimize your meetings.
Have you ever considered how much time is wasted in preparation for meetings?
Have you ever:
Had trouble finding a meeting room that accommodated your specific criteria

Felt you or your organization spent more time on planning and preparing for meetings than attending them?

Experienced poor utilization of your workspace

s

and meeting rooms?
Meeting organizers are tasked to assemble a group of busy people together at the same time and place. This may involve communicating back and forth with attendees via email or phone. Once everyone agrees on a time to meet, organizers must find a meeting room that fits their needs, reserve audiovisual equipment, order catering and other additional services, register guests at the reception, and ensure the necessary information is available to the finance department for tax purposes.
When finally finished coordinating a meeting, meeting planners may find that they've spent more time scheduling the meeting than they'll spend in the meeting itself.
Studies show that business professionals spend 4.75 hours of a typical workweek preparing for meetings - not attending meeting, just preparing.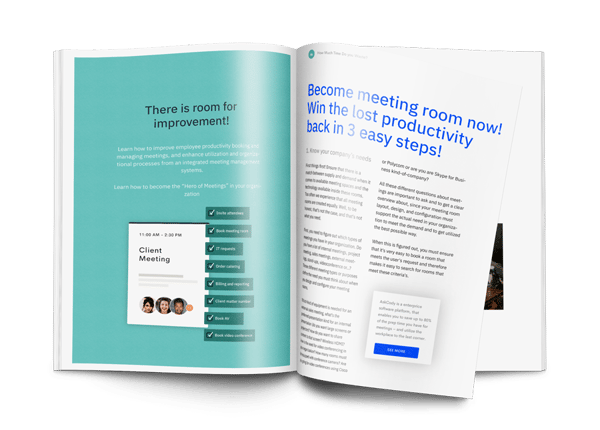 What you'll learn
In this ebook you'll learn why a one-hour meeting is never just a one-hour meeting and get three easy steps to optimize time spent on meetings in your organization
What you'll get in this ebook:
Why is

meeting management

such a problem

Why a

one

-hour meeting is

never just

a

one

-hour meeting.

What's the consequence for the business in lost productivity?
How to become a meeting room hero in your organization
3 easy steps to win back lost productivity
What are the benefits for your business with an all-in-one meeting management platform