15 Ways Meeting Room Displays Improve Productivity, Happiness, & Efficiency
The Ultimate Guide to Meeting Room Displays with 15 ways to improve productivity.
Do you know how to get more out of your meeting rooms instantly?
With Meeting Room Displays, you can improve your utilization of meeting rooms as well as present the right information at the right time and place for visitors and employees:
Help people find the right room

See if the room is available or occupied

See how long and when the room is occupied

Book the room at the door

End, extend, cancel and confirm the meeting at the door

Remove

no-shows

meetings
You don't need to leave your desk to book a meeting room! Our solution is seamlessly integrated with your calendar systems such as Outlook, Exchange, Microsoft Teams, or Google Calendar. So, save your time and resources when booking instant meetings.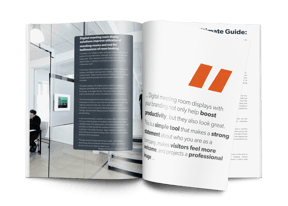 What you'll learn:
This guide will provide you with 15 reasons why Meeting Room Displays will help your organization optimize resources, both in terms of meeting rooms in your office and your employees.
With Room Displays, you'll:
Provide an

instant

overview

Boost productivity

Optimize workplace utilization

Impress your visitors and

employees

Improve company

i

dentity and

profess

ional

image
With our guide, you'll find the ultimate guide to why you should implement Meeting Room Displays and what to look for when searching for the perfect solution for your office.
Download the guide today.