AskCody on Integrations, Infrastructure, Data Processing, Security and Compliance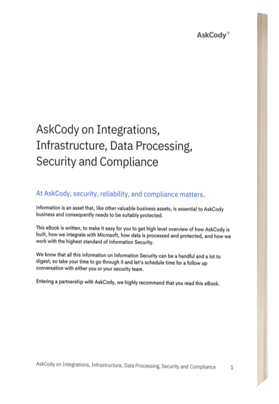 Information is an asset that, like other valuable business assets, is essential to business and consequently needs to be suitably protected.
This eBook is written to make it easy for you to get a high-level overview of how we work with the highest standards of Information Security.
In the eBook and on the links to more extensive information on the topics covered and included, we have gathered and collected the most important information and content on Information Security, Data Processing, Architecture and Infrastructure, and Integrations with Microsoft Exchange.