11 Ways to Optimize Front Desk Resources and Improve Visitor Satisfaction
Want to improve your reception? Here's 11 easy to implement and effective tips.
Download the
guidebook now
Have you ever considered the amount of more important tasks your front desk resources could be focusing on instead of manually tracking the day's visitors?
Are you missing information:
Who is coming?

When your visitors are coming?

Where they need to go?

Who they will be meeting with?

How long they will be in your office?
What is more, all the tedious task like registration of guests, guest logging, NDA signing, printing of guests passes / name tags and notifications to the host are done manually at your front desk? In this eBook you'll learn how to optimize all of these processes with a visitor management system and thereby free up time in the reception.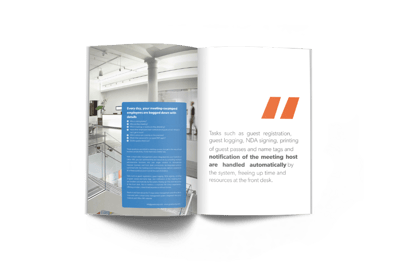 What you'll learn:
This eBook shows you how to optimize resources at the front desk while providing a better experience for external guests. With a visitor management software you can:
Create a great first impression of your building / office

Improve security with digital solution

Allow self-

registration

and

i

nstant

employee

notifi

cation

Ditch manual processes

Provide

check-out by smartphone

Send text message to employee / host when the guest

ar

rive

Improve security by keeping track of all visitors
Download this eBook and learn about the 11 ways visitor management and office life is improved with a virtual visitor management system integrated into your Outlook and Microsoft 365 calendar.