11 Easy Ways to Improve Meeting Processes
Learn how to win lost productivity back with these 11 easy improvements within meeting processes.
Have you ever realized how much time is wasted on meeting booking processes across your organization?
You properly know the feeling: what in theory should be a simple task ends up taking several hours when it comes to booking a meeting.
Meetings are a necessary part of doing business, but there is so many tedious tasks to prepare the meeting, such as:
Inviting

the guests

Booking

the appropriate conference room

Ordering food/catering

Arranging

for guests to be picked up them at the reception

P

reparing

invoice

for the cost center
Suddenly you realize that the 1-hour meeting is now a 3-hour preparation task. Is it possible to improve this process and make it easy and smooth? Of course, it is!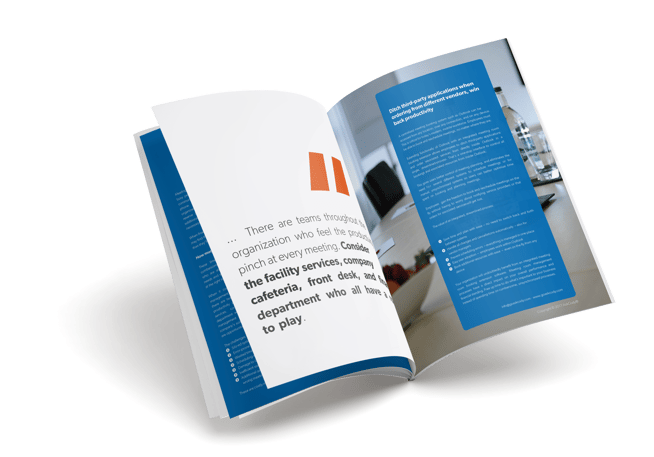 What you'll learn:
In this guide we cover the main productivity killers and give you 11 easy to implement steps to optimize the cross-organizational communication around meetings.
Here is a sneak peek what an integrated meeting room booking system brings to your company:
No more paper-based booking methods

Handle meetings changes and cancellations automatically

Never worry about double booked

meeting rooms

Instant

vendors

notification

if the meeting is canceled, rescheduled, or moved

S

trong first impression of your company due to well-organized meetings.

Save time for all meeting room users
Your organization will undoubtedly benefit from an integrated meeting room booking extension software. Meeting room management processes have a direct impact on your overall performance and financial standing.
Download this guide and learn how you support your organization with the tools to optimize meeting processes across organizations.