Manage Meetings and Find Rooms with ease with AskCody for Microsoft
Recommended by Microsoft's
Better With Office
program. We simply strive to be the best meeting room booking software for Microsoft-based solutions.
Key features
100% integrated with Microsoft Outlook. AskCody utilizes your existing Microsoft calendar system and Exchange backbone
Search for meeting rooms, guest offices, and hotdesks across multiple locations and time zones
Set room criteria, like a whiteboard, airtame etc.
Book catering, equipment, and other services directly from Outlook
More about AskCody Meeting Room Booking
Why do I need Meeting Management software when I already have Outlook or Microsoft 365?
Meeting scheduling is a routine activity in the workplace. However, it is a complicated and time-consuming process for many organizations and meeting managers, assistants, facility managers and all involved in meeting planning.
Meeting planners can easily spend more time scheduling the meeting than the duration of the meeting itself. On average, a meeting can take 15 minutes to book. Moreover, this might not even include ordering associated services like catering, a table arrangement, AV equipment, or contacting facilities management to ensure that the right IT equipment is onsite and operating in the room. Now add the time spent on booking a desk, workstation, huddle room, focus room, or just some space for that project meeting next week your hosting.
Microsoft Outlook and Microsoft 365 operates along two dimensions when it comes to meetings:
1: Availability of attendees
2: Availability of rooms
However, meeting scheduling is so much more than attendees and the place to meet. It's a lot of to-do's, manual micro processes and related tasks that are not supported natively by Outlook and that involves a lot of other vital parts of the organization like Facilities Management, the Canteen, the Reception, or IT.
With AskCody Meeting Management for Outlook, it allows you to accomplish everything you needed to achieve with Exchange and Outlook in the first place.
Why do I need an integrated Meeting Management solution with Exchange and Active Directory? Why can't I just use a 3rd. Party tool with a separate database?
With the need for enhanced scheduling capabilities with Outlook or Microsoft 365, organizations end up spending significant time and money to set up an entirely separate system to hosts their bookings or reservations and provide the enhanced scheduling capabilities required by their end-users.
This process can take 6-18 months to complete only to result in synchronization challenges between Exchange and Outlook, your separate meeting management system, and your various providers (Facilities Management, Catering, etc.). Moreover, now IT has to manage and maintain a new system in their workplace technology stack that's not integrated into their Microsoft backbone or Active Directory.
With AskCody, customers no longer have to manage two or more separate systems. Having a meeting reservation exists only in one place (Exchange) eliminates the inconsistent synchronization challenges and frustration caused by having the same booking live in two areas (i.e., Outlook and a separate SQL-based solution). AskCody manages users in Active Directory or Azure AD for easy control of access, roles, and deployment.
Does AskCody software integrate with both Outlook and Microsoft 365?
Yes, it indeed does. Natively.
We have a close collaboration with Microsoft, and our platform is 100% integrated with Microsoft Exchange, Microsoft 365, and Outlook. No need for manual processes or outdated third-party tools, unintegrated Sharepoint sites, or paper-based booking. Everything works within the familiar Outlook and Office interface. We have based AskCody on modern integrations into Exchange and built everything on Microsoft Azure.
Learn more about how we integrate to Exchange and Microsoft 365 on our knowledge base.
What happens to my catering or services order when meetings are canceled​ or rescheduled?
Catering, services and additional resources follow your meeting. That's one of the best parts. We call it follow the meeting intelligence.
Meetings are canceled, rescheduled, postponed, or relocated all the time. That's why all the assigned resources such as catering, AV and telepresence, meeting room equipment, and table arrangements follow the meeting if it is rescheduled. If a meeting is canceled, the assigned resources will be released automatically. The kitchen or the AV provider will be notified immediately from the AskCody Management Portal.
How does vendors or service providers work with AskCody?
AskCody is not just Outlook add-ins or room booking features. It's a complete Platform with a backend designed to make the meeting experience more efficient and effective than ever for providers of meeting services, office managers, facilities managers and real estate owners.
Office Managers can use the AskCody to manage additional resources, workflows, items, bookings of corporate kitchens and canteens, and accept or reject bookings. Kitchen and facility managers can view at a glance what they need and how many people need meeting services, as well as the location. Now they have an instant one-stop interface with an updated overview in real-time.
Can data be exported? And what about cost center management or tax management for external meetings?
With AskCody you get the data you need when you need it.
Your IT or Finance department will love the ease-of-use associated with the data export in AskCody. Data is simply exported to incorporate with accounting, databases, and ERP through simple CSV exports or by leveraging the AskCody API.
What languages do AskCody support?
The AskCody Platform is available in major languages of your choice.
English

German

French

Spanish

Norwegian

Swedish

Danish

Finnish
Don't miss your dose of meeting management knowledge
AskCody is a key solution to book and manage meetings with ease
Learn what AskCody can do
Download the case study and see how AskCody helped one multinational bank save hundreds of hours per day streamlining 1.000 daily meeting bookings.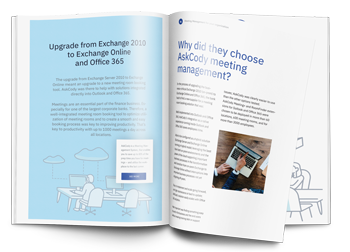 "Without AskCody, the search for meeting rooms would be difficult and a lot of resources would have been wasted. The municipality of Skanderborg is, therefore, more than happy for our AskCody installation and 100% satisfied."

Hundreds of satisfied AskCody customers, including: