BOOK MEETINGS
We help you find the best place to meet, order meeting services and invite visitors directly from your familiar interface in Outlook.
Key features
3 STEPS TO A BOOKED MEETING
It does not matter if you book a meeting for yourself, or on behalf of others. With three simple steps in Outlook, you set AskCody to work, interfacing with meeting participants, guests, and service providers for you.
And when things change, you only need to move the meeting, in Outlook, and we will do the heavy lifting for you. We call it "follow-the-meeting–logic" and you'll love it.
01.
Find the right place to meet
Create a new event, add participants, and add a video conference link, like you are used to in Outlook.

Using our native Bookings add-in, you find the right room for your meeting, for instance, based on size and purpose, or it has the right equipment available.

You can also use our mobile app to book, extend and cancel resources in advance or ad-hoc, as well as book desks, guest offices, cars, bikes, and parking.
02.
Order meeting services
Use our native add-in to add meeting services to your meeting.
We will list what is available for that room and at that time, automatically honoring restrictions, and preparation time set by your service providers. The only thing you have to do is select it and finalize the request.
Cost centers or client matter numbers for general ledger can be added to ease administrative processes.
03.
Invite visitors, notify reception
We automatically recognize external guests, and via the add-in, you can notify reception of their arrival.
We will automatically send fully customizable e-mails and SMS, reminding you of the meeting, providing directions and parking instructions, and that WIFI code everyone is always asking for.
Upon arrival, your visitors will be prepared, you as a host will be notified, and the reception will be ready to welcome them.
Key benefits
ALL UNDER ONE ROOF
We help you standardize and automate your meeting processes. Providing you with a better overview, less manual work, and elimination of synchronization issues. All within Outlook.
Better overview
In the AskCody management portal, booked meetings will instantly appear in one calendar view, providing a complete overview of meetings, room status, associated services, and attendees in one calendar interface.
Visualize meeting activity in your workplace with dashboards and meeting room displays—an instant overview of where you need to be and which meeting rooms and desks are available.

Optimize your workspaces
With insights for Bookings, you get valuable data to see how your meeting rooms and desks are being used across locations. Giving you the tool to optimize your office space.
Insights are based on Microsoft PowerBI and are available in our portal. You can see insights on Bookings, Services, and Visitors enabling you to streamline the entire meeting process.
You can also export the data to your preferred reporting tools.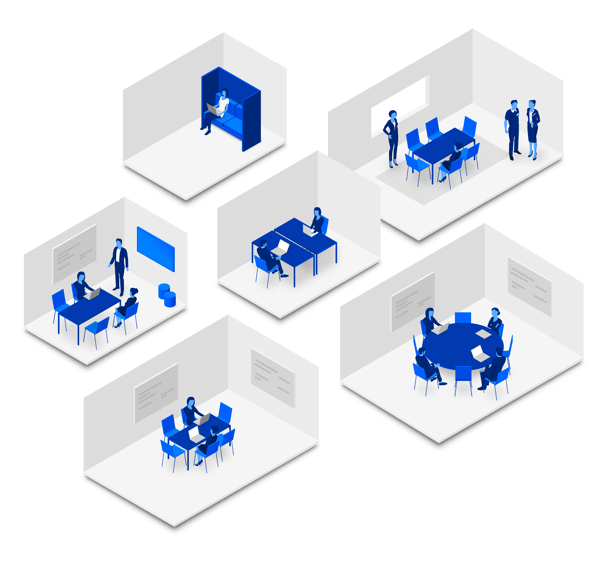 Made to empower you
Learn how Nabil, Jennie & others benefit from using AskCody
Don't just take our word for it
Read what some of our 500,000+ users from across the world say about us
"A Wonderful Upgrade to our Room Reservation System! AskCody has really centralized everything for us and saved us time. I also think that we are utilizing rooms more efficiently based on booking a room on the capacity that it can hold, etc."
"We are using AskCody mainly for meeting room bookings and visitor registration. During the bookings, AskCody helps quickly finding the perfect meeting room to fulfill the requirements for each specific meeting, filtering by locations, purpose, and even equipment within the room."
"Great Meeting Room Booking system for Office365 with great support and uptime. AskCody is primarily used for showing meeting info to our employees in the office, this means lesser double booking of meeting rooms and more productivity in the meetings."
"We've had really good experiences with AskCody. They've simplified and made our ability to book rooms and meetings seamless. We have integrated AskCody with our Outlook mail and you can book a room directly from the meeting invitation. Doesn't get any easier than that."
"Implementing Askcody is a straight forward procedure and can be done in a relative short time. Time spend finding meeting rooms is reduced to an absolute minimum, frustrations concerning lack of resources are obsolete."
"The AskCody solution has reduced meeting room conflicts and eased the burden on IT. The solution gives clear visibility at each room (...) with current and future scheduling visible, the ability to book rooms on demand and showing users attending the meeting are key benefits."
"AskCody was introduced as a solution to solve multiple businesses needing access to one booking system for the entire building. Even though some businesses are on Office 365 and some in a hosted exchange environment, everything still works and syncs in real time."
How can we help you?
DOES ASKCODY SOFTWARE INTEGRATE WITH BOTH OUTLOOK AND MICROSOFT 365?
Yes, it indeed does. Natively.

We have a close collaboration with Microsoft, and our platform is 100% integrated with Microsoft Exchange, Microsoft 365, and Outlook. No need for manual processes or outdated third-party tools, unintegrated Sharepoint sites, or paper-based booking. Everything works within the familiar Outlook and Office interface. We have based the AskCody meeting room booking system on modern integrations into Exchange and built everything on Microsoft Azure.

Learn more about how we integrate to Exchange and Microsoft 365 on our knowledge base.
WHY DO I NEED MEETING MANAGEMENT SOFTWARE WHEN I HAVE OUTLOOK OR MICROSOFT 365?
Meeting scheduling is a routine activity in the workplace. However, it is a complicated and time-consuming process for meeting managers, assistants, facility managers, and all involved in meeting planning.
Meeting planners can easily spend more time scheduling the meeting than the duration of the meeting itself. On average, a meeting can take 15 minutes to book. Moreover, this might not even include ordering associated services like catering, a table arrangement, AV equipment, or contacting facilities management to ensure that the right IT equipment is onsite and operating in the room. Now add the time spent on booking a desk, workstation, huddle room, focus room, or just some space for that project meeting next week your hosting.
Microsoft Outlook and Microsoft 365 operates along two dimensions when it comes to meetings:
1: Availability of attendees
2: Availability of rooms
However, meeting scheduling is so much more than attendees and the place to meet. It's a lot of to-do's, manual micro-processes, and related tasks that are not supported natively by Outlook and that involve a lot of other vital parts of the organization like Facilities Management, the Canteen, the Reception, or IT.
With a meeting room booking system integrated with outlook, you can accomplish everything you needed to achieve with Exchange and Outlook in the first place.
CAN'T I USE A 3RD PARTY TOOL TO SYNCH WITH MICROSOFT 365?
Do I need a meeting management solution native to Microsoft Exchange and Active Directory? Can't I just use a 3rd party tool with a separate database?
Good question.
With the need for enhanced scheduling capabilities with Outlook or Microsoft 365, organizations end up spending significant time and money to set up an entirely separate system to host their bookings or reservations and provide the enhanced scheduling capabilities required by their end users.
This process can take 6-18 months to complete only to result in synchronization challenges between Exchange and Outlook, your separate meeting room booking system, and your various providers (Facilities Management, Catering, etc.). Moreover, now IT has to manage and maintain a new system in their workplace technology stack that's not integrated into their Microsoft backbone or Active Directory.
With AskCody, your meeting room booking system integrated with outlook, customers no longer have to manage two or more separate systems. Having a meeting reservation exists only in one place (Exchange) eliminates the inconsistent synchronization challenges and frustration caused by having the same booking live in two areas (i.e., Outlook and a separate SQL-based solution). AskCody manages users in Active Directory or Azure AD for easy control of access, roles, and deployment.
And don't forget - it's all cloud-based.
CAN I CONTROL WHO IS ABLE TO BOOK ROOMS?
Yes, you can support a decentralized room booking process with AskCody. Some users can request rooms with others empowered to approve their requests.
Learn more in this support article, about user roles, and membership hierarchy.
CAN YOU BOOK RESOURCES ON BEHALF OF SOMEONE ELSE?
Yes, with delegated access or shared access to calendars as configured in Microsoft Outlook.
Delegated Access gives access to the entire account, including calendars and email.
Shared Access gives access to calendars (i.e. can't send emails on behalf of other people).
Which languages does AskCody support?
The AskCody Platform is available in a language of your choice.
Danish

Dutch

English

Finnish

French

German

Italian

Japanese

Norwegian

Spanish

Swedish
We would love to show you AskCody
Understand how we can help you in your organizational needs