As an IT professional, no one knows the potentially enormous undertaking of a new technology implementation better than you do. Whether you have steered the ship through one before or you have heard battle stories from colleagues in the IT field, you know that a tremendous amount of the company's time, resources, and good will rides on the success of this solution.
There is nothing simple about technology implementation. Executed perfectly, it is a relatively painless, unobtrusive process that optimizes efficiency, improves workflows, and scales seamlessly. Emphasis on "perfectly." Chances are, you are going to hit some bumps in the road. With a little extra guidance, you can make sure those bumps don't end up standing in the way of increased productivity in the workplace.
The key to better business productivity all rides on the level of user adoption after implementation. Ultimately, no matter how powerful a technological solution may be, it's not worth anything if it isn't being used.
Don't be surprised when you are faced with some level of resistance from employees. To resist is human. No matter how powerful the technology, your new platform will not be able to compete with human nature without proper coaching and facilitation. This guide will help you make implementation as pain free as possible for everyone in the organization, no matter their level of technical expertise.
To do so, you must play the dual role of champion of the selected solution and advocate and liaison for your company's employees. We've broken the steps of a successful implementation into three phases that focus on the people, the technology, and the future. With each of these distinct factors given equal consideration, you're more likely to improve your entire workplace environment and productivity throughout the life of implementation and beyond.
Phase 1: The People
Make it a team effort
You know you have a problem that this new solution will fix. You know who the problem affects and how. But the important first step in any technology implementation is including everyone who will be affected by the solution from the very beginning. Work with individuals to collaboratively map the current business processes of each department. Survey employees to find their perspective on the most common pain points. If possible, quantify how much productive time they lose each day or week dealing with an outdated system.
Determine what their ideal solution looks like, including tools, capabilities, and access. This helps even the employees most resistant to change visualize the light at the end of the implementation tunnel. No one likes having their business routine altered. Recognize there may be some growing pains as everyone learns the system and works to make it perform optimally. Focus everyone on the end goal and what that goal looks like for them personally, such as how much time it will save them.
Be transparent, listen, and demonstrate that you value each employee's input. Employees who feel that their concerns and opinions matter are more likely to put the effort into adopting the new technology.
Promote internal champions
Appoint an official individual or team to serve as the internal champion for the use of the new software solution. This person or group will help maintain momentum that many new users will feel right out of the gate, and help bring others up to speed over time. They will be an expert in the solution and can serve as an internal resource for others.
The internal champion will regularly send reminders, share success stories, and schedule new training opportunities. This prevents users from sliding back into old habits and helps strengthen ongoing user adoption. This is an important role not only during implementation, but also long after, so make sure your internal champion is passionate about their new responsibility.
Phase 2: The Technology
Establish a robust partnership with your technology provider
Make sure your technology partner understands all the unique needs of your business and how the software will support each department's needs. Create a Business Requirements document that will serve as a roadmap for implementation. This document should include how current processes work, swim lane diagrams of each work stream, a gap analysis, all costs for the project in the long and short term, and a schedule.
A business requirements document will help the provider understand all the needs that this new technology must support. This is a valuable resource for the technology partner, but it also serves the dual purpose of leading employees to proverbial drinking hole.
Provide the proper training
This is big. A comprehensive training plan must be put into place from the very beginning. Make sure your training is interactive and hands on, either online or in person. You might be the Information Officer, but take the technical expertise of your diverse workforce into consideration. Don't forget the work you did with employees to create that business processes roadmap. This will help you strategize the ideal type and level of training for each department.
Provide training that is comprehensive, consistent, and ongoing. Users aren't going to be software pros overnight. Plan for ongoing refresher courses and courses that offer new levels of challenge. Consider software updates and new versions. The best way to ensure your company is taking full advantage of the capabilities of your new solution in order to achieve full ROI is to stay up to date with your training.
Depending on the level of technical expertise needed to master the new technology, provide access to learning materials, video tutorials, and other resources on-demand. In addition to the official training dates and workshops, you should encourage employees to regularly access these on-demand resources at times that work best for them.
Phase 3: The Follow Up
Keep your eyes on the future
Any new technology must be capable of scaling to meet the growing needs of your organization now and in the future. How will this solution scale across departments, locations, cities, and countries? What might be cost effective today is not necessarily the best choice for the future. You should have a clear understanding of the implications of adding users and locations to your new system.
Company leaders are often taken by surprise when a solution that initially won them over in price ultimately ends up looking like a hockey stick in growing cost of ownership as time goes on. Partner with the solution that flows with your business needs.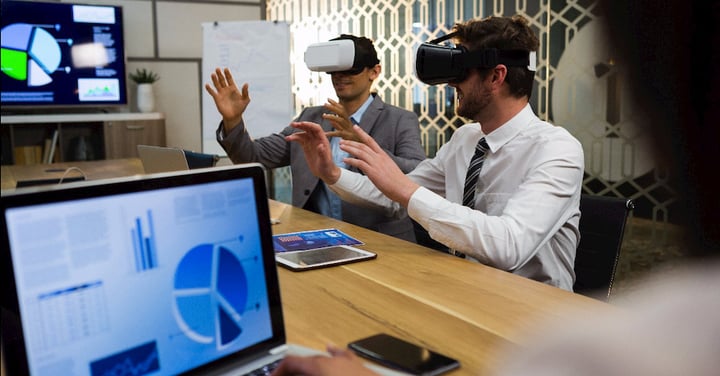 No matter what type of software solution you are rolling out, this guide to technology implementation will help ensure it works for you today and in the future. Establishing the right solution, partner, and plan will transform your entire workplace environment and productivity levels.
If you are examining how to increase productivity in the workplace, we suggest starting by making meetings more productive. We'll show you how you can save your employees four hours a week of wasted time.