Millennials catch a lot of flak these days for the way in which they are shaking up just about everything. They've killed diamonds, mayonnaise, golf, and department stores, just to name a few. They marry later and carry more debt than any other previous generation. But perhaps the biggest splash millennials are making is in the professional world. That's because the changes they're making will be felt for generations to come.
The fact is that millennials came of the professional age at one of the most uncertain job markets in decades. They entered the working world at a time when markets were struggling, companies were freezing their hiring, and the growth of wages slowed to a near stop. As a result, millennials have gotten creative. They've become freelancers and entrepreneurs, opened their own businesses, and brought new standards to the boring old office culture. Today, one in five jobs in America is held by a freelancer. It's believed that within a decade, the gig economy could make up half of the global workforce.
The traditional office model doesn't work
The traditional office model doesn't work well for independent contractors, small businesses, or startups. Full-scale offices require nearly full time work to keep them humming. There are costly responsibilities such as hiring cleaning, facilities and services, reception, and other necessary business necessities.
Traditional office rents aren't cheap, and typically require lengthy commitments. That would be difficult to sustain for a small business or startup, who would find such a heavy financial burden impossible with small budgets and uncertain futures.
This begs the future: Where will all of these freelancers, entrepreneurs, and startups work? Luckily, a solution emerged in response to this growing millennial culture of freelancing and startups – shared office space.
What's the deal with shared office space?
In 2007, when millennials were first entering the job market, shared office space was a nearly unheard of concept. According to Forbes, there were only 14 coworking spaces in all of the United States. In 2018, there were more than 11,100 coworking spaces. It's predicted that by 2020, there will be more than 26,000, hosting nearly 4 million people.
Shared coworking spaces are everything the traditional office is not. Members can pay for access to common areas or rent a hot desk, dedicated desk, or suite of desks. This make it possible for small companies and individuals to have access to a host of office amenities, such a conference rooms, printing, and shared spaces like kitchens and common areas. But they lack the stringent, expensive commitment of extended rental agreements and solo property responsibilities.
Coworking spaces are also incredibly varied. Shared corporate offices run by Regus provide a more traditional, executive office feel that is popular among small law firms or sales associates who find themselves regularly on the road. The coworking startup WeWork, on the other hand, provides hip, design-centric spaces that focus on community building and networking.
Why Millennials love it
Creative spaces
Coworking spaces have done an incredible job of wooing millennial workers, creatives, and tech startups with their funky spaces, ultra-modern office design and furniture, and community-building activities such as office parties, special events, and foosball. Building amenities don't just include cleaning services, high speed internet, and printing, but also free beer, micro-roasted coffee, and fruit water.
Budget friendly
Tenants can pay a daily or monthly membership fee for a sliding scale of access to amenities. A freelancer, for example, may find their groove working in common areas and lounges without access to a dedicated desk for as little as $30 a month. A small business, on the other hand, can rent a room, a suite of desks, or even a wing of an entire floor starting at around $4,500 a month. Access to shared conference rooms that can be reserved through online booking systems are available through membership packages or pay-as-you-go.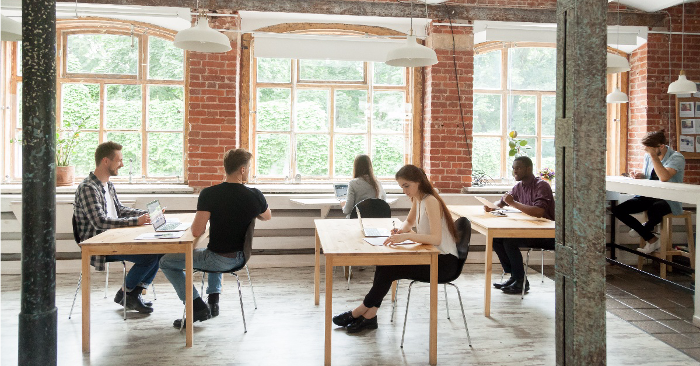 Flexibility
Coworking spaces don't tie small businesses and startups to lengthy, binding contracts. Usually spaces are rented month-to-month basis, but can also be reduced to daily and even hourly commitments. That's incredibly convenient for companies with uncertain futures who may need to scale up or down. It's also a boon for contractors who find themselves on the road and need a professional setting to host a meeting or saddle up to a desk when in a different city.
Fostering networking
Coworking spaces seem to specialize in fun, non-traditional networking opportunities such as Olympic Games parties, service work, whiskey tastings, and bake offs that bring tenants together. This is a welcome aspect to many people who work independently and crave a little personal interaction. These networking opportunities are also designed to bring startups together to swap ideas, talk talent, and open new doors.
Cool places
Most shared offices spaces are centrally, conveniently located in cities. Some coworking spaces are located in prime buildings and neighborhoods that would otherwise be cost prohibitive to young companies and independent workers. Others have snatched up properties on the cheap in up-and-coming or newly hot neighborhoods and created stunning environments, which has its own allure for the creative population.
What does the future of shared office spaces look like?
All signs point to the continued growth of shared office spaces. As the gig and entrepreneurial communities continue to grow, so will the need for dedicated coworking spaces. We're always watching the evolution of the office environment with interest at AskCody. The bottom line is stodgy offices with inefficient processes and no flexibility are a thing of the past. The future is all about adaptability, ease-of-use, and better ways of doing business.