Picture this: You prepared all week for an important meeting on Thursday afternoon. Clients have come in from out of town to attend. Partners from across the city will also be joining. In addition to the amount of time you've spent preparing the presentation, you spent hours searching for the right room to accommodate the number of people and technical needs, ordered catering so food arrives at the right time, and coordinated with the front desk staff each time there is a change to the guest list.
The big day arrives and as you get ready to kick off the meeting, you notice two important guests are not yet in the meeting room. You check the sign in sheet at the front desk and see that they did arrive at the office, but the office administrator had stepped away from the front desk and therefore did not direct them to the conference room.
Without any guidance, these two guests had set off in search of a restroom before the meeting. By the time the found the restroom and then eventually made their way to the correct conference room, a quarter of the first hour has been eaten away. The meeting has just begun and you are already behind.
Meeting management inefficiency is a death by a thousand cuts; AskCody can bandage those up.
1. Faster, better guest experience
Guests who have access to a comprehensive meeting management solution have better experiences. The check in process is expedited and simplified because it's all handled via their phones or a tablet at the front desk. Once guests are checked in, they can pull up a detailed map in a familiar interface right on their phone that helps them easily navigate to the specific room.
This end-to-end facilitation creates a memorable, impressive experience and leaves guests with a favorable impression. People form their opinion of you based on the first three seconds of their first impression!
2. Easier meeting host experience
All those hours spent searching for an open room that meets your needs, figuring out catering, and booking IT needs? A meeting management solution helps you book everything users need for a successful meeting in seconds. Filter room search based on size, room type, technology and tools, and availability. Book catering with a few clicks of the mouse. The front desk, catering group, and IT services are alerted automatically. Changes are reflected in real time.
Meeting coordinators are freed from time-consuming, tedious tasks so they can focus on preparing what matters most, the presentation and content of the meeting.
3. Improved safety and security controls
We've all been to offices where you have to give a disinterested security guard your ID, only to identify yourself again when you get in the building. The overview of office activities and guests creates a safer environment. However, doing it twice is inefficient.
You can easily automate notifying security via email or give them their own AskCody powered tablet to streamline the check-in at security. Administrators can view digital guest logs to see exactly who is in the office at any time.
4. Tighter resource controls for more efficiency
A meeting management solution eliminates room sharks, room ghosting, and any potential interruptions from an unwitting employee looking for a free room.
Interactive digital displays outside of every meeting room not only show who is using the room, for what purpose, and for how long, but also allow ad-hoc meetings can book an open room on the spot to be sure no one inadvertently double books.
Employees working in a room are even alerted in advance when their time is ending and a group is about to take over so meeting coordinators never lose time waiting for their room to be cleared.
Avoid the hallway huddle with AskCody.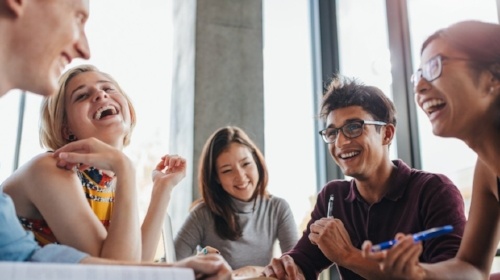 5. More productive office administrators
The average mid-sized company front desk could save hundreds of hours a year by eliminating the old fashioned, tedious check-in process and replacing it with automation. All the time spent updating the "meeting room book" can be spent on more profitable tasks.
Empowering your front desk employees to focus on providing white glove service to guests or handling more important office logistics will save you time and help with retention (millennials hate anything they perceive as busy work - regardless of how vital that VIP is to your success).
6. Increase focus on collaboration
When office workers are freed from the tedium of meeting management and booking everything from small huddle spaces to large conference room they are more likely to meet productively. Transparency into office activities makes it possible for workers to collaborate with ease. Productivity increases because meeting coordinators no longer get bogged down with the minutia of meeting management - they get right to the important work.
When it comes to an overview of office activities, success lies in the details. AskCody's meeting management solution integrates seamlessly with the email and calendar tools you already use most, such as Outlook and Microsoft 365. This empowers everyone in the organization with the tools they need to gain insight and boost productivity.