When it comes to running a business, it is all about the numbers. While most businesses look at overall revenue, there is a much more critical number all businesses should be looking at, especially those in professional services — your profit margins.
Profit margins serve several critical purposes. First, comparing your profit margins to averages in your industry serves as a benchmark. If the average profit margin is much higher, it may be time to adjust the way you do business.
Tracking your profit margin over time can highlight how strategic changes are impacting your firm's bottom line.
So, how does your profit margin compare to your industry? First, let's make sure your profit margin numbers are accurate.
How to Calculate Your Company's Profit Margin
To calculate profit margin as a percentage, most organizations use this simple formula:

However, the formula varies based on whether you are trying to calculate gross profit margin or net profit margin.
Which should you use? Well, it depends on what you are trying to measure.
Gross profit, which is the retail cost minus the cost of producing the product or service, is generally used to determine the profit margin of a specific product or service, rather than the business as a whole. For example, if you wanted to know if your corporate or residential service clients generate a higher profit margin, you would use calculate gross profit margin of each.
Net profit, calculated dividing the company's net income over a specific period of time by net sales, is used to get insight into the health of the company as a whole.
When it comes to calculating accurate profit margins, the devil is in the details.
Don't forget to consider costs such as shipping, payroll, employee benefits, and even maintenance costs. By making sure to consider all your costs, you can ensure your profit margin is an accurate representation of your business' overall health.
Average Profit Margin, By Industry
Calculating your own profit margin doesn't tell you much in and of itself. Tracking your profit margin over time can give you a strong indication of whether your company is growing or shrinking, of course.
An even better metric is to compare your current profit margin to the rest of your industry. This study by Sterns NYU lists a full range of profit margins by industry, but we've combined their data with several other studies to give you a complete picture.
Average Profit Margin Range for Financial Service Companies
The average profit margin for the financial services industry is around 15%; however, the average profit margin for the industry's more concentrated subsectors ranges from 5.1% to 40.5%.
Accounting, Tax Preparation - 19.8%
Legal Services - 17.8%
Lessors of Real Estate - 14.1%
Offices of Real Estate Agents/Brokers - 14.1%
Investment Banking - 17.62%
Average Profit Margin for the Medical Field
The medical field has pretty healthy profit margins, but exact margins vary by field and the way the office is run. Automation tools and digital medical reports could have a significant impact.
Offices of Dentists - 14.9%
Offices of Physicians - 14.1%
Drug (Pharmaceutical) - 18.38%
Average Profit Margin for Engineering
Engineering companies often live on razor-thin profit margins, which means even small savings could have a large impact on profit margins.
Engineering/Construction - 1.0 %
Chemical (diversified) - 4.31%
Average Profit Margin for Accounting Firms
Accounting firm profitability varies slightly based on the size of the firm, but averages around 39%.
Firms with revenues of $196,643 - 38.9%
Firms with revenues of $371,432 - 40.2%
Firms with revenues of $671,880 - 40.3%
Average Profit Margin for Marketing/Ad Firms
Marketing agencies see an average net profit margin between 10% and 25%, which means there's plenty of room for growth for agencies on the lower end.
However, a study by Stern NYU found the average advertising profit margin was just 3.30%, which is considerably less than other reports.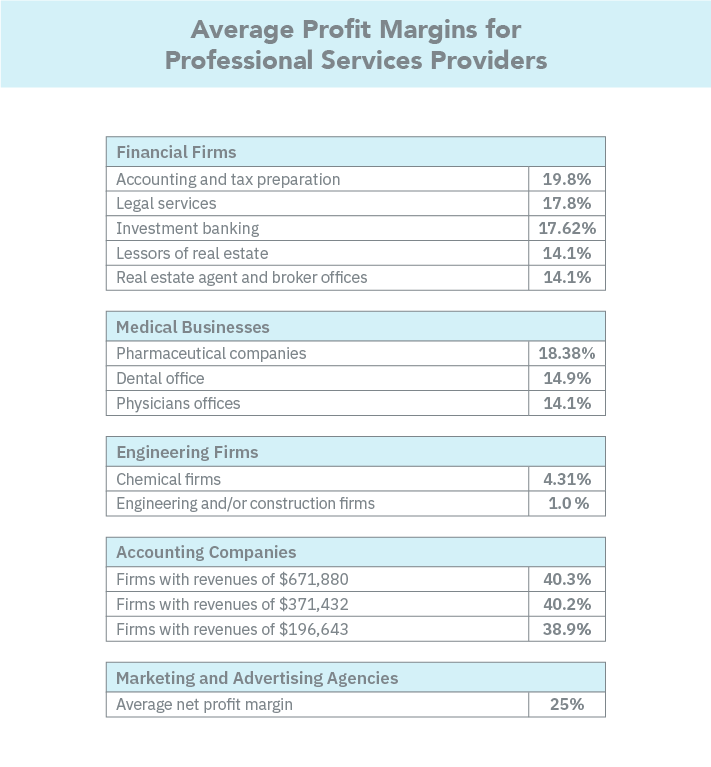 How to Improve Your Professional Service Company's Profit Margins
If your profit margin is not on par with the rest of your industry — or if you are on the lower end of the average — it might be time to make some changes. Reducing inefficiencies and lowering costs are the most obvious ways to improve your margins, but where do you start?
Here are seven tips to help you take control of your profit margins.
Streamline Processes
From invoice processing to project workflows, as humans, we have a tendency to get stuck in our habits. We do things because "They've always been done that way!" The truth is, inefficiencies could be costing your business 20 to 30 percent of your revenue.
It is time to take a hard look at your workflow processes and look at workflow automation tools that can not just streamline your workflow, but actually automate manual processes like data entry.
Billing With Precision
As a professional services company, time really is money. And, if you aren't billing accurately, you could be giving your time away for free. Make sure to track your time every day — in fact, every hour is the most efficient way to ensure accuracy.
Trying to recreate time tracking sheets a week later is not only incredibly stressful, but it is also inaccurate. By tracking your time each and every day, you can make sure you are billing the correct client for your time.
Pay Attention to Creeping Costs
A few dollars here, a few dollars there — those little costs that don't seem like a big deal on their own can add up. Take the time to review your SaaS subscriptions, your IT costs, your internet plan, hosting packages, and digital storage solutions.
Are you paying for services you aren't using? If you are using the service, are you using up to the limits of your plan? For example, are you paying to host five websites when you only host two? Or are you paying for software seats you aren't using?
Tiny costs can creep over time and result in thousands of wasted dollars.
Improve Employee Utilization Rates
Professional service firms can boost profit margins with one simple switch: assign more work to junior employees, such as assistants, paralegals, or staff. This will keep them engaged and fully utilized while giving senior staff more time to focus on more strategic or revenue-generating tasks.
Optimize Meeting Planning
Meetings could be killing your profits. And we're not just talking about the amount of time you spend in those useless meetings, there's also all the time that goes into planning them.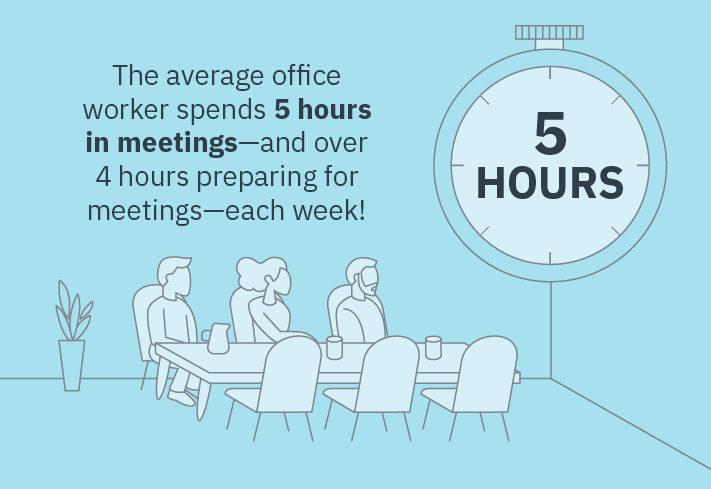 To maximize billable hours, professional service firms should look for a meeting management solution that allows users to search for available meeting rooms, conference rooms, and available desks to reduce meeting planning time.
Equipment Management
In addition to allowing users to search for available rooms, meeting management solutions like AskCody also make it far easier to find the right room. How often do you reserve a room and then spend additional time sending AV requests and making sure the room has the projector, smartboard, or video conferencing tools you need?
A meeting room management tool allows users to filter rooms based on the size and features so you can spend less time planning your meetings and more time getting work done.
Visitor Management
Professional service firms don't just host meetings with other employees — they often meet with clients, prospective clients, and other outside resources. The time required to get visitors signed in, approved, and to the meeting room can eat up hours of productive time.
A meeting management tool can take care of pre-registration, streamline the check-in process, print guest badges, and even provide directions to the meeting room with wayfaring tools.
A more efficient visitor experience doesn't just save time — it makes a great first impression on visitors.
Final Thoughts
When it comes to profit margins, many professional services companies are unsure where they stand — or how to drive more profits in a competitive market. The key to improving profitability for your business isn't just getting more clients — it is becoming more aware of how you leverage current resources.
Meeting management tools, like AskCody, can give you hours of time back every week — allowing you to focus on revenue-driving tasks.