It's Monday morning. You log in to your workspace and glance at your calendar for the week ahead. There's a meeting with Joe about a project that's been going nowhere. A meeting with Jody about the same thing you talked about last week — was she even paying attention?
When your week is a revolving door of meetings, it's hard to get any actual work done. It's frustrating — but it also costs your business money.
Are you tired of being trapped in meetings that waste time and don't actually help you or your staff be more productive?
Implementing (or improving) your meeting facilitation process is the key to taking back your time.
What is a Meeting Facilitator & Why Do They Matter?
When run well, meetings help businesses make decisions, brainstorm innovative solutions, and solve problems. When they are run poorly, however, they cost companies billions of dollars, leave employees frustrated and drained.
A meeting facilitator can change all that.
What is a Meeting Facilitator?
Meeting facilitation is all about ensuring that meetings run on time and — above all — are actually productive. Facilitators are responsible for planning and leading a meeting all while remaining objective.
For example, a meeting facilitator would:
Create and send out an agenda
Ensure the meeting room has the required materials
Keep the meeting on topic
Ensure everyone participates by limiting those that talk over other attendees and drawing out quieter attendees
Introduce meeting techniques, such as round-table discussions or brainstorming sessions.
Listen for and raise issues that may not be addressed
Call for a vote or agreement to verify a decision has been made
Summarize action points and decisions at the end of a meeting

Why do meeting facilitators matter? Well, business meetings are a notorious waste of time — and money. A recent report found that meetings cost U.S. companies a staggering $399 billion in 2019.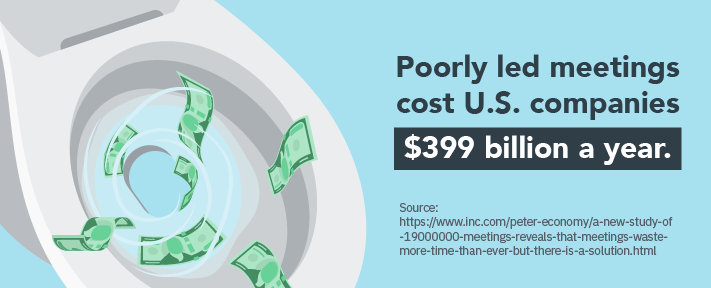 Here's How to Make Meeting Facilitation Easier — And More Effective.
Meeting facilitation can drastically improve overall business productivity and reduce pointless meetings, but how can you ensure facilitation doesn't become just another pointless task? Here are a few strategies to make meeting facilitation easier — and more effective.
Set and Stick to a Clear Agenda
Have you ever walked into a meeting and thought " I have no idea why I'm even here.) Meetings live and die by their agenda. A clear agenda functions, essentially, as a road map for the meeting to ensure that
What does a clear business meeting agenda look like?
Outlines topics to be covered
Prioritized topics
Indicates what decision need to be made
Lists
Assigns talking points to specific employees
Includes defined outcomes
A clearly outlined agenda doesn't just make your meetings more productive, it makes meeting facilitation easier because you have an outline of the goals and decisions that need to be made and can refer back to the agenda as you work to keep the meeting on track.
Practice Active Listening
Many meetings go south when attendees fail to listen to other's points of view or talk over each other. Active listening is the practice of listening to others when they speak to hear what they are actually saying, rather than gathering information for a rebuttal.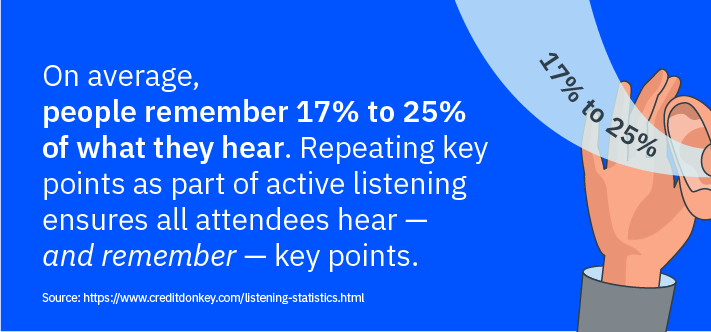 As a facilitator, active listening is critical to ensuring all attendees feel heard and keeps the meeting moving. After each person speaks, you should directly acknowledge the speaker, paraphrase their points to the rest of the attendee, reflect on their rationale, and then move the meeting to the next speaker or point.
Active listening makes meetings more effective but how does it make facilitation easier? It helps prevent the meeting from getting stuck on the same topic and keeps the meeting focused on the main points.
Set Time Blocks — And Stick To Them
Time blocks are set amounts of time dedicated to a specific topic or discussion. They help keep the meeting on track and, for example, prevent the discussion from getting stuck on a minor detail.
In the agenda, make sure to set a time block for each topic to be covered. When the time is up, the facilitator recaps the discussion, restate any decisions, and move the conversation on to the next topics.
Time blocks work because they keep the conversation focused, which makes it easier to ensure every point in the agenda gets covered. In some cases, a specific topic might require a bit more time. If that happens, evaluate why more time is required — was the topic more complex than anticipated or did the conversation veer off-topic? Then, decide the next steps — should another meeting be scheduled or could it be covered in an email?
Don't Be Afraid to Take Breaks
Not all meetings go as planned. Sometimes conversations go in circles, you get drawn off-topic, or tempers flare. Should you double down and try to get the meeting back on track? That is not always the most effective strategy.
Sometimes, taking a quick break is the most effective path to a productive meeting.
Allow everyone to step out for fresh air, grab a drink, or use the restroom. When you come back together, everyone will feel calmer and reenergized — which makes it far easier to get things done.
Use Meeting Management Software
Artificial intelligence has given us self-driving cars and even learned how to brew beer. In the business world, however, it is taking over a variety of mundane tasks — including those related to planning and facilitating meetings.
Meeting planning tools allow facilitators to better prepare for meetings, which ensures they have time to focus on critical tasks, such as creating a detailed agenda.
Meeting management tools like AskCody make help meeting facilitators:
Easily reserve the right room
Send attendees direction to the meeting location
Send the agenda and other important documentation
Automate pre-meeting tasks, like visitor sign-in and security checks
Order catering or AV services
Manage meeting room displays
Access insights and analytics about attendance and utilization
Technology solutions are great — when they work well and suit your purpose. Make sure the meeting management software you select fits your needs and offers features that make the facilitator's job easier.
Provide Takeaways & Closure
The meeting is almost over, but the meeting facilitator's job is not done. The final step is to review any decisions made, restate issues that went unresolved, and generally summarize the meeting. End the meeting on a positive note by thanking attendees for their time and calling out participants who were particularly helpful during the meeting.
Once the meeting is done, send out meeting minutes and provide next steps — has the issue been resolved? What tasks need to be completed? Who is responsible for those tasks and when are they due? This final step will ensure things actually get done.
The Takeaway
Meeting facilitation can improve the efficiency and the effectiveness of your business meetings — but only when it is done well. To be effective, meeting facilitators need to stay focused on improving communication and keeping the meeting on topic and on time by being organized and using active listening.
But, they don't have to do it alone. Technological solutions like AskCody's meeting management software can help automate tedious meeting tasks, streamline meeting workflows, and keep everyone in the loop so your employees can focus on what really matters — building a successful company.