Your front desk staff wears many hats for your company. It could be argued that this position is one of the most varied, perceptive, and all-encompassing in the organization. Depending on the size of your company, this person serves the role of scheduler, office manager, travel agent, conflict negotiator, and meeting manager. From stocking office supplies and making copies to greeting visitors as the face of the company, they keep the flow of the office running smoothly.
Indeed, the front desk staff could be considered the gatekeeper to the entire office's productivity. At the very least, they are the oil that keeps the gears turning. As company leader, it is in your best interest to ensure your front desk staff is the most productive they can be. We've broken it down into three easy steps for you to maximize your front desk's productivity.
1. Dig beneath the surface when hiring
When looking for the ideal front desk employee, it is important to map out not only the technical skills they will need to succeed in the job, but also the personality traits that ensure they will enjoy it. This person must have a firm grasp of the software and office equipment used at your company every day. That includes everything from Microsoft programs and Outlook to copy machines and printers.
They must be deft problem solvers, think quickly on their feet, and enjoy speaking to people. If this candidate is not organized, skilled at verbal and written communication, and have a high attention to detail, they will not thrive.
2. Engage their strengths
The role of office administrator might evolve as your chosen hire really digs into your company. Maybe you discover this person is skilled in design programs such as Adobe Illustrator, InDesign, or Photoshop. Perhaps they are a pro at social media branding. Maybe he or she would thrive on a trade show floor to help pull people to your booth.
Capitalize on those skills by challenging your front desk staff to take on new types of assignments they would be passionate about, such as helping to design brochures, managing a social media account, or serving as a face of the company at a trade show or conference. Research shows that employees that are regularly challenged to flex their skills and achieve new goals are more productive, engaged, and happy.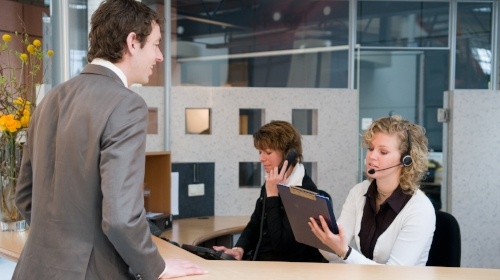 3. Provide the proper productivity tools
In addition to having a winning personality, organized working style, and technical skills, your front desk staff can only be as productive as the tools you provide allow them to be. This employee or employees should have access to their own email, Office Suite, printer, and other tools.
As company leader, it's possible you take for granted the everyday ways your office administrator keeps your office humming. Picture a typical meeting. A client is coming in to discuss the latest Q2 efforts. When they arrive, they are greeted at the front desk, checked in, provided with nametags, escorted to the conference room, and offered refreshments. There are pads of paper and pens available on the conference room table. The necessary technical equipment is ready for your team's presentation. Lunch is scheduled to arrive at noon.
Your front desk staff handles the minute, yet no less important tasks of meeting management so you don't have to. All of that takes a tremendous amount of time from their day. They are scheduler, caterer, and office guide in addition to their everyday administrator duties.
Now imagine if they could accomplish everything mentioned above in a few clicks and a few minutes. Providing a supplemental productivity platform, such as a meeting management solution, allows your front desk staff to focus on duties that are more important. It demonstrates that you value their skills and their time, which increases employee morale.
Expecting the front desk staff to execute all of their office management duties manually is like resisting the implementation of email in favor of old fashioned letter correspondence.
Front desk productivity matters
With the above three steps in place, your front desk is sure to keep your office working like a well-oiled machine. That means good things for the rest of your office morale and productivity levels. Indeed, maximizing your office productivity starts with the front desk. The many benefits will flow up throughout the organization. And that's just good for your bottom line.