In the modern days, with the help of vastly evolving technological development, people build information systems (IS) to ease and assist in execution of various daily tasks. It is not a secret that AskCody contributes to the pool of such information systems, and we are fierce in battling the challenges of everyday employee, manager, receptionist and many other crucial parts of the living and breathing organization. This battle is not easy and we would like to shed a light over some of these issues that we challenge ourselves to overcome.
In the following you will learn how to optimize productivity in your organization while utilizing your office space to the full extent.
Evolving office space
Modern office space is evolving into a dynamic, constantly moving environment, where employees are encouraged to work more flexibly, avert stress and increase their productivity of their everyday affairs in the office. Office space utilization and meeting room analytics are implemented in most larger organizations and the term activity-based workplace is being implemented by increasing number of companies and organizations. The idea behind the term is to combine and harmonize organizational and cultural factors, together with work processes, surrounding environment, and technology to uphold high importance objectives of the organization.
Organizations and companies invest time and money into workspace management to implement digital technologies into business processes in the workplaces, transforming the way offices operate. Accordingly, there is a trending mind-set in organizations to leave the idea of a cubicle office space behind and implement hot-desk principle, where vibrant office life can be facilitated.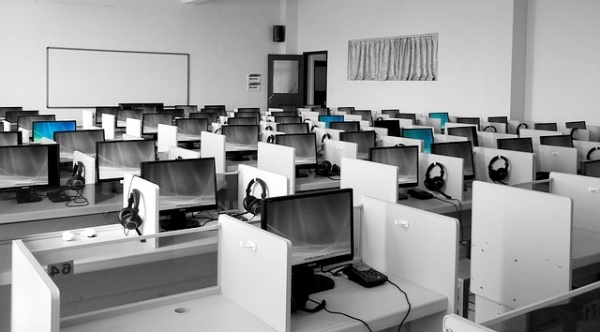 The concept of desk being free from personal belongings and seat being available at any given moment are argued to be beneficial, leading to improved cost-efficiency balance in organizational versatility, creating sustainable work environment, and boosting employee comfort. Subsequently, a wide range of ICT (information and communication technology) is continuously being invented to help people with the management of such dynamic workspace. In addition to all mentioned above, not only management, but also employees are given direct access to handle building's recourses, thus increasing their role in the way the space is being used and utilized.
This provides the option for employees to digitally arrange their meetings within their buildings without the need of interacting with reception or others responsible for meeting rooms. Those systems are built to optimize the decision-making process, thus ultimately increasing the efficiency and effectiveness in internal organizational operations, which includes usage of workspace and equipment within the building.
Hurray! Now your employees are packed with helpful tools and now productivity and progress will go over the top in your organization!
Or is there more to this story?
The bills from think air
In 2014, Service sector reached second place in highest electric energy consumption in the EU with the total of 29,81%, falling slightly behind Industry sector with 36,86%. Commercial building consumption is predicted to grow on average 1.6% in the next two decades, and it is said to be most rapidly growing energy requiring sector. Office buildings are huge energy consumers, hence, the vastly growing field of research to create more cost-effective ways to maintain building energy consumption.
What does this mean to you?
It is not enough to provide your employees with the tools, you need to make sure you establish organizational objectives, as well as, track if they are being followed.
It comes as a no surprise that for the growth of the organization one must focus on reducing costs and maximizing profit. Once a company is established and starts to build up, it requires for it to expand and grow in number of assets, varying from real estate property, equipment, people etc. Costs start to increase with the growth of the organization, inclining expansion of office space, as well as personnel.
Depending on the size of the buildings and personnel using the facilities, cost can vary for each organization, but it is the underutilized space that costs organizations the most.
Have you been invited to a meeting and after showing up for it, you discover that it is you and two other people sitting in the room suitable to fit 20? Have you ever wondered how much the "empty seats" cost? Have you thought of how often does this happen in your organization? If you have a number, multiply it five times and you might get a bit closer to not having a clue…
This is when you get bills from literally thin air, when your meeting rooms are not used to their fullest capacity. Not only that, but the struggle you and your employees go through by talking to their peer with the intend to exchange meeting rooms when a meeting room of the required size is occupied by other colleagues whose number of attendees for the meeting is half the size of yours.
What are you missing?
When organizational goals are not clearly established, the employees are given the freedom of choice without the direct indication of the consequences of their actions. This leads to what comes natural – employees base their decisions on personal preference. In the case of asset management and recourse usage, employees without a doubt will always use the nicest, closest meeting room, with the highest quality equipment, comfortable environment, and pleasing atmosphere, regardless if they hold the meeting in semi filled rooms. But are they wrong?
You need to make sure you provide the right environment for your employees to be productive and you guide them towards the goal you want them to reach!
What can you do about it?
Evaluate the current state of your meeting rooms
After carrying out interviews with many of our customers, we discovered the factors that influence the preferential choice of their employees while choosing the meeting room. Take your time to consider the quality of the following attributes of your meeting rooms:
Sound isolation
Meeting room design
Light isolation
Quality and state of furniture and equipment
Performance of air-conditioning
Performance of temperature regulation
Provide your employees with the right tools to make more accurate decisions
Get a meeting management system, to manage your meeting rooms, for your employees so they can get the recourses they need! With a Workplace your employees can book meeting rooms with the needed capacity, thus eliminating waste of space and resources. Looking for the right meeting room has never been so easy!
Monitor the utilization of your building and find the problematic areas
With an analytic workspace management system, you'll get structured data of your building and the way your employees interact with it. With AskCody Insights you can tap into the depths of underutilized meeting rooms. This monitor service provides you with real-time data of your living and breathing organization. With this data, you can evaluate your recourses based on facts and not your gut-feeling.