In recent years, the office workplace has changed dramatically. Many companies have replaced drab cubicles with open seating, blended spaces, in-office happy hours, and artistic elements. But, have those shifts really had any impact on worker productivity? And, more importantly, do workers feel these changes have made their working lives easier?
We decided to find out.
Recently, AskCody surveyed more than 400 workers in the U.S. to learn more about how their workspaces impacted their overall productivity.
Here is what we learned.
Workspaces Improve Productivity for Most Workers
Our survey found that over 78 percent of workers say their workspace improves their productivity while just over 21 percent of workers say their workspace hurts their productivity.
This is encouraging, as it suggests that the modern workspace is great for overall worker productivity.
Wondering what we mean by "modern workspace," exactly? Fair enough. Check out our article What is a Modern Workplace? to learn more.
While Most Companies Use Their Office Space Well, There is Room for Improvement
Most of us spend more waking hours at work than at home. And when we're happy with where we're spending our days, it's also good for business according to a study that found workers who are happy are 20 percent more productive.
However, only 50 percent of our 400 survey respondents said their company uses their office space "decently," at best. The vast majority of respondents believe their company has room to improve.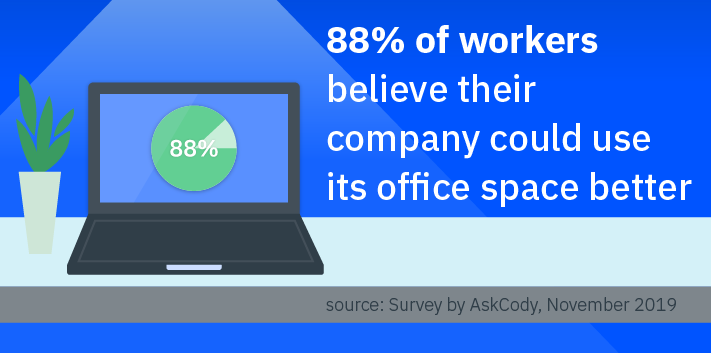 Meeting Management is a "Struggle"
When it came time for meetings, our survey found that nearly 50 percent of workers had at least "some" difficulty securing space for meetings while 24 percent of respondents stated they "struggle" to secure space for meetings.
When you consider that 157 million people are employed in the United States in 2019, that number gets even more troublesome.
Based on our survey, 39.91 percent (+/- 2.75 percent) of employees work mostly in an office. If we extrapolate based on current employment stats, that means approximately 49.53 million people in the United States work in an office. If 24 percent struggle to find meeting space, then nearly 12 million Americans struggle to secure space for meetings at their offices.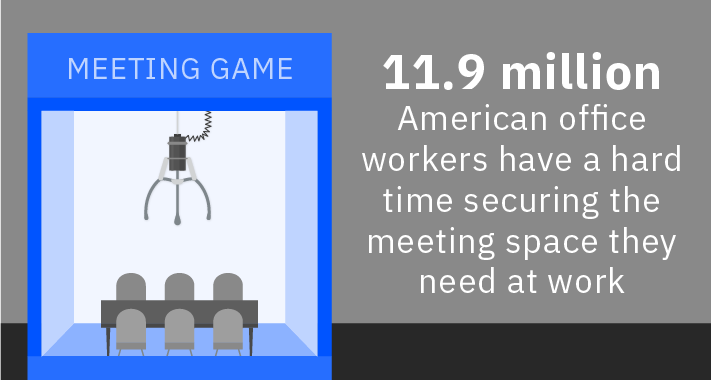 The truth is, attending and especially planning for meetings is a major time-waster for employees. In fact, 70 percent of workers spend at least 15 minutes a day looking for a place to hold a meeting.
For a company with 100 employees and an average salary of $50,000, just looking for meeting spaces could result in wasting more than $150,000 per year.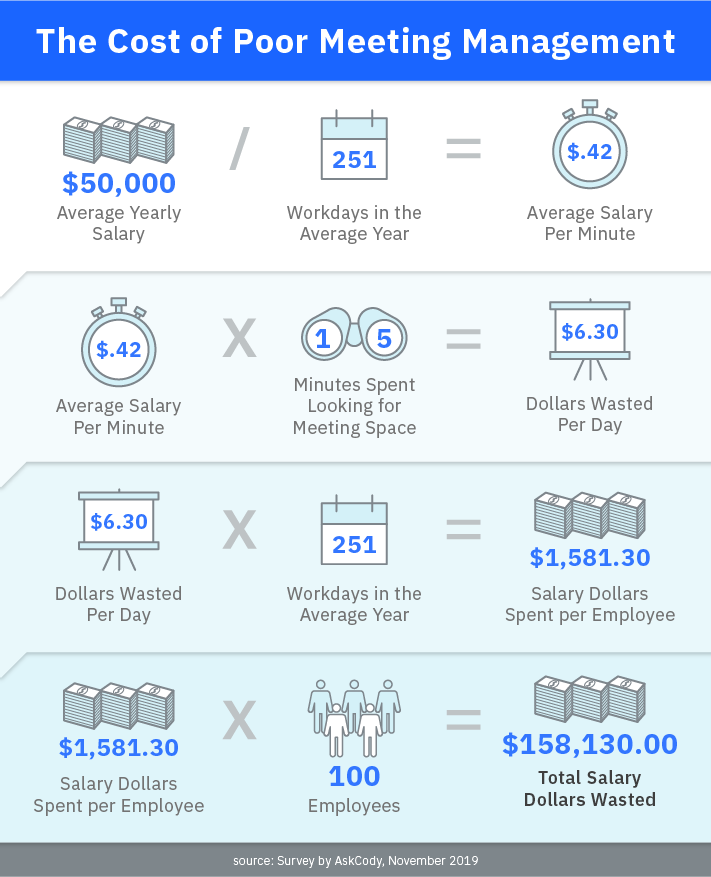 Are You Ready to Start Making Your Workspace Work Harder?
400 U.S. workers can't be wrong: There is major money to be saved by making it easier to manage meetings.
The perfect solution will vary by the business, but a centralized, easy-to-use meeting management platform complete with resources for visitors and even analytics that let businesses see how their spaces are being used is a great place to start.
If you were as surprised by the results of this survey as we were, it's time to reach out to your own staff to see if your workspace is working for them as well as what you can do to improve their happiness and, as a result, your overall productivity.
Survey Methodology
This survey was conducted through Google Surveys. Out of a total of 1,268 respondents, 400 passed the screening question and filled out the survey. Respondents included men and women in the United States between the ages of 25-64.