IoT: The buzzword of the decade.
After years of talk, the Internet of Things (IoT) is more pervasive than ever. It's in our homes, our cars, and now our offices. And it's going to continue to grow in ways we haven't yet even imagined. You don't have to look too far into the future to see the increasing prevalence of IoT throughout modern workplaces.
What does that mean for the modern office? How can data collected via IoT help employees improve productivity? Will it improve conveniences and employee satisfaction? How can we leverage IoT to get deeper insights into how the workplace is utilized?
Today's modern companies are now seeking ways to make their workplace environments more connected and intelligent. The good news is IoT solutions such as motion sensors and bluetooth low energy beacons for indoor positioning can be leveraged in several strategic ways that integrate well with other digital solutions, such as the meeting room booking solution,or the facilities management platform. This offers a wide variety of future capabilities to employees and facility teams in planning how they can enhance their workplace.
So what can IoT do for your workplace?
With a bright feature ahead, plenty of providers have been strategizing how to deploy beacons as a useful workplace tool. Devices such as those from Senion, a global leader in indoor positioning solutions or Yanzi, the world's largest office IoT provider, are helping companies develop new ideas and features to create a more connected and intelligent workplace.
The pace of IoT innovation is accelerating. The user pool is growing, and new capabilities to how IoT can transform an office seem to be added all the time. There is a growing list of what IoT can be used for today, including:
Find a colleague in a different part of the building
Locate an open conference room or workstation based on your current location or shortest distance to the available resource
Pinpoint a meeting room with the right tech set-up
Monitor the air quality or temperature of a specific floor plan or meeting room
Automatically book meeting rooms or hot desks just by entering a room or sitting at the desk
Create real-time dashboards about utilization of the floor-plan in full context
Provide facility managers with sensitive data usage data for future planning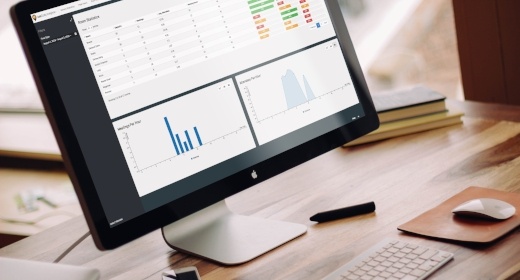 How do IoT beacons and other smart devices work?
IoT beacons transmit a signal which is picked up by a smart device, an IoT gateway, or a smartphone. The smart device references the beacon's ID, and retrieves data. When this signal is sent, the user is in control of whether an interaction will occur and is prompted the choice to opt-in before an interaction is allowed.
Some beacons require an app for advanced interaction, but basic URL beacon support is on the rise as well, with Google's Eddystone as the driver. With the new General Data Protection Regulation rolling out, airtight security is by design and default. This means that soon all users will have to actively opt-in to share their data and take advantage of IoT capabilities. No data retrieval or usage will occur without every users' consent.
One major misunderstanding about beacons is that they automatically collect and track information about people. Some people believe these smart beacons are a form of surveillance marketed as revolutionary technology.
This simply isn't true. Beacons do not gather personal data from someone's mobile device and store it for tracking purposes. In fact, on the scale of smart technology, beacons are pretty stupid. They either broadcast an UUID (universally unique identifier) throughout a specific range, or measure movement. All the actual digital intelligence is handled by the user's phone or in a connected cloud solution.
Another common misconception is that beacons have low battery life. In fact, the battery of certain beacons can last five to 10 years. Longer battery life is possible by utilizing bluetooth low energy (BLE), or by limiting a beacon's signal range. A wider signal range will consume more battery life, so it is important to keep in mind that the range of beacon can vary from two to 80 meters.
How can IoT transform the modern workplace and empower employees?
Improved conference room experiences
Not only can IoT improve notifications of availability of conference rooms, but it can improve the overall room environment and energy usage. Beacons can automatically switch office lights off and on. And motion sensors with built-in humidity sensors, light sensors, and temperature sensors can detect both air and light quality during meetings.
How can IoT help facilities managers become champions?
Workspace utilization data can be measured from many data points. AskCody Insights with your Microsoft 365 or Exchange server gives you many of the answers. But using IoT to measure utilization rates will arm you with even more data for even greater insight.
Measuring meeting room or hot desk occupancy with IoT data has several benefits compared to traditional methods, primarily by offering a higher level of detail. As the level of detail increases, more and more complex questions about office space usage can be answered.
Meeting room details at your fingertips
The first objective is obviously understanding whether a room, workstation, or hot desk is in use or free. For employees, understanding availability increases the overview and accessibility of office spaces. For the facility manager, this data will assist in getting a clear, unbiased picture of the actual usage over time.
Understanding how many people are using a certain room is key information for future reconfigurations of the workspace. Utilization data can reveal optimal sizing of the real estate. For example, if smaller groups of people consistently use larger meeting rooms, this asset should be split up into two smaller rooms, thus accommodating more work sessions.
The final level of occupancy measurement is to understand who is using the rooms and to what extent. For example, separating the occupancy rates of sales, IT, or marketing teams.
To summarize, real estate is a large, costly, often overlooked investment for most companies. Maximizing the performance of the office space is crucial, especially considering that real estate is such a significant investment. Understanding the workspace utilization rates and measuring how employees use the office will provide the information needed to more effectively manage the corporate real estate portfolio.
The benefits of IoT in the modern workplace
The benefits of beacons are growing as technology continues to improve, and more and more companies put innovative thought behind them. The benefits have already proven themselves for many companies with increased employee productivity and better personalization. In the future, beacons can help drive down costs by getting to know employee preferences, habits, and other useful statistics.
Going forward, we see the value in IoT devices that track employee and visitor clock in and out times and metrics on meeting bookings and room usage. Location data is useful once analyzed, as office layout can be improved to take advantage of where employees spend most of their time.
Truly, the possibilities are endless. It's now a matter of software developers creating great user experiences that ensure employees and real estate developers are unlocking the potential of beacons and leveraging the uncovered possibilities.
More prevalent and advanced IoT devices are coming. It's a matter of time before we are all supported by them during our workday in one way or another. I believe that the best solutions will be found when software providers and IoT vendors make the technology seem to disappear and support the user in achieving his or hers goals without even knowing they are receiving support from an IoT device.