Teams, the new hub for collaboration in the modern workplace, also works with AskCody
This year, Microsoft launched Microsoft Teams. A platform that's truly redefining teamwork and collaboration in the modern workplace, integrating all business critical tools into one shared platform, that all employees can access and use, with the same ease of use as Facebook Messenger, Slack or other conversational interfaces.
But, Teams is not just yet another Chat App. It's "Collaboration 2.0", and with the new announcement for this year's Ignite, Teams is going to have a significant impact on teamwork in the modern workplace going forward.
As Microsoft put it: "Microsoft Teams is now the hub for teamwork in Microsoft 365. Going forward, Microsoft Teams becomes the core communication and collaboration client for Microsoft 365".
Teams will, therefore, have a huge impact on how you book and schedule meetings.
Teams Meetings, how does it work?
Scheduling meetings in Microsoft Teams are straightforward. If you are new to Teams, we recommend that you watch this short video: Scheduling Meetings with Microsoft Teams Scheduling Meetings with Microsoft Teams When you choose a "Location" for you Teams Meeting, your Microsoft 365 or Exchange Room List appears.
Here you simply choose the meeting room you would like to book. The meeting room resources available, are the same rooms as available in Microsoft Outlook.
So, does AskCody integrate with Teams Meetings?
The short, and simple answer is: Yes!
For Outlook and Microsoft 365 AskCody bridge the gap between the digital and the physical workplace, and empower both employees and organizations to optimize time spent on meeting management as well as getting the most out of the material, modern workplace.
Now, that's also true for Teams.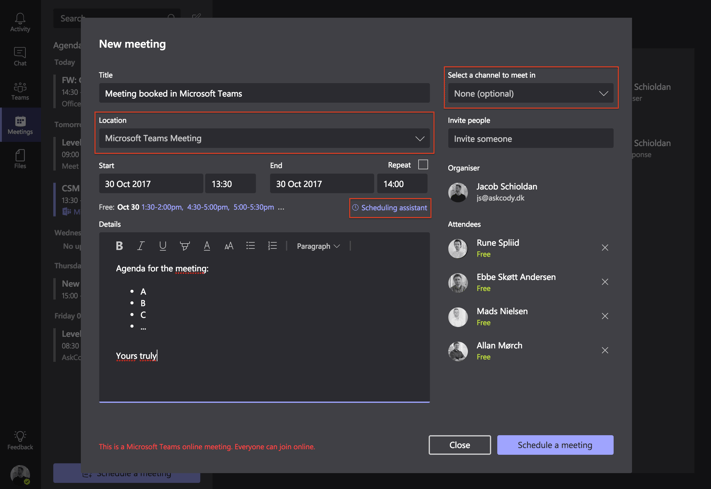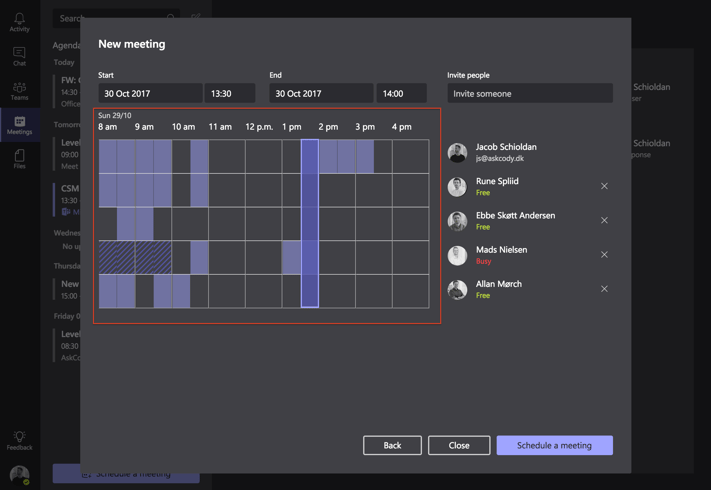 Supported AskCody modules right now are:
With AskCody for Microsoft 365 and Microsoft Teams, Meeting Room Displays, Meeting Dashboards, and Insights can bridge the gap between the digital collaboration, the digital workplace, and the physical workplace to ensure that workspace visibility you need to stay in control and provide organizations with the frictionless office.
We give you the same features and functionality as with Outlook and Microsoft 365 to stay connected and get the visibility you need in your organization. It's a mission to ensure that you can get rid of point solutions across your IT landscape. We have made it a priority to ensure that you only need one integrated cloud platform for meeting and workspace management in your modern workplace. Also, when Microsoft Teams is getting more and more impact on how your employees get things done.
With AskCody for Teams, you stay in control and keep that total consistency, visibility, and connectedness across both Microsoft 365, Outlook, Teams, and your Meeting Rooms.
It's a seamless integration that boosts collaboration and productivity. You still get the ability to "confirm," "release," "end," "extend" or "cancel" meetings right from the Meeting Room Display, or to provide that complete overview and visibility with Meeting Dashboards.