Superhero. Police officer. Firefighter. Service member. Meeting room hero? If you're reading this blog post, your childhood dreams of heroism aren't as far off as you might think. Here are our three steps to becoming the hero of meetings by eliminating tediousness and boosting productivity for all.
Step 1: Know your company's needs
First thing's first: Ensure that there is a match between supply and demand when it comes to available meeting spaces and the technology inside these rooms. Too often we come across companies who believe that all meeting rooms are created equal. That's hardly the case, and that's not going to help you meet the needs of your organization.
This starts with figuring out which types of meetings are most commonly utilized by members of your company. These can include internal meetings, project meetings, sales meetings, external meetings, stand-ups, videoconferences, and so on.
These different meeting purposes define the needs you must consider when designing and configuring your meeting spaces. What equipment is needed for an external sales meeting? What's the preferred presentation type for an internal presentation? Do you want large screens or projectors? How do you want to share content to those screens? Wireless HDMI? What about video conferencing? How many rooms must be equipped with conference cameras? Will your company be utilizing Cisco or Polycom, or are you are Skype for Business kind of company?
All these different questions are important to ask to get a clear overview of your company's needs. Meeting room layout, design, and configuration must support these to ensure conference rooms are utilized properly.
Knowing your company's meeting room needs will position you to be able to ensure it's easy to find and book a room that meets users' criteria. See how easy meeting room booking could be.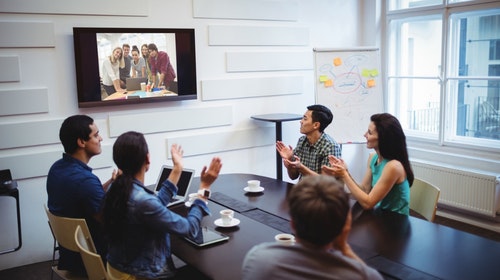 Step 2: Know your people
With a good overview of the types of meetings your company commonly executes and a plan to make any technical improvements to meeting room layout, it's time to think about who's involved in the meeting process.
When you book a conference room, do you do it yourself or ask your assistant or office administrators to do it for you? If you book refreshments for the meeting, who manages this? Who announces guests at reception? Who makes table arrangements? Is there a dedicated team, department, or individual to manage meeting costs and tax reports? Who delivers dashboards to management looking for an overview of meeting room utilization?
I suggest making a swim lane diagram to get an overview of processes, time spent on different activities, and systems used. This quick exercise will help you understand where the productivity killer is lying in your organization.  
Step 3: Know the tools that change the game
The most important step in your quest for meeting room heroism is in finding the right tool to manage all processes related to meeting room booking and meeting management written about above. Don't force employees to be bogged down with the details of meeting room management themselves. A meeting room management solution takes care of everything in just a few clicks.
A solution like AskCody can completely change the way meetings are booked and managed, and how all associated items and resources are ordered for meetings across organizations and locations – all from inside your current Microsoft Outlook or Microsoft 365 environment. The AskCody meeting management product suite streamlines room and hot desk booking and management. All those tedious tasks and hurdles to productivity related to meetings? Gone.
With a solution like AskCody, users will be able to search for and book rooms based on availability, the number of people, the purpose of the meeting, and in-room equipment right inside the tools they already use most at work. It only takes a few clicks to book rooms and order associated services from inside Microsoft 365 or Outlook's familiar interface.
With a combination of Microsoft 365, Outlook, and an integrated meeting management solution, you can provide the flexibility your employees need to stay productive and effectively and efficiently manage their time and activities in the modern workplace.
Choosing an integrated solution gives you the ability to ditch third-party applications or the use of other cumbersome processes involved with meeting planning, such as email, phone calls, or even sticky notes to book meeting rooms or services. With everything they need already inside their existing company mail and calendar platforms, employees are empowered to achieve more without ever having to switch between systems.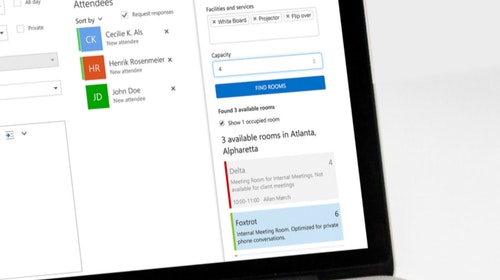 The benefits of meeting room management software
Your organization indubitably stands to benefit from an integrated meeting room booking software. Meeting room management processes have a direct impact on overall employee performance and organizational financial standing. Meeting room management solutions free up users' time to do what's important to your business instead of spending time on cumbersome, unsynchronized processes.
Large corporations and SMEs alike waste too much valuable resources on inefficient meeting management processes that could be better spent elsewhere. Changing this will entail a collective focus on the approach to meetings across the business world, but smaller steps can be taken today. It's time to get started.
Then just call yourself Office Productivity Man. The Masked Meeting Room Superstar. The Conference Room Conqueror. Okay, we're still working on that part.