Technology can unlock new frontiers for companies—ushering in higher productivity, increased employee satisfaction, and greater revenues.
Unfortunately, far too many companies remain hampered by outdated tech and systems. They let technology phobia kill business growth.
In this article, we'll explore why companies resist upgrading their technology, how legacy systems can detrimentally impact business, and how to overcome fears and implement new technology.
Why Businesses Resist Upgrading Technology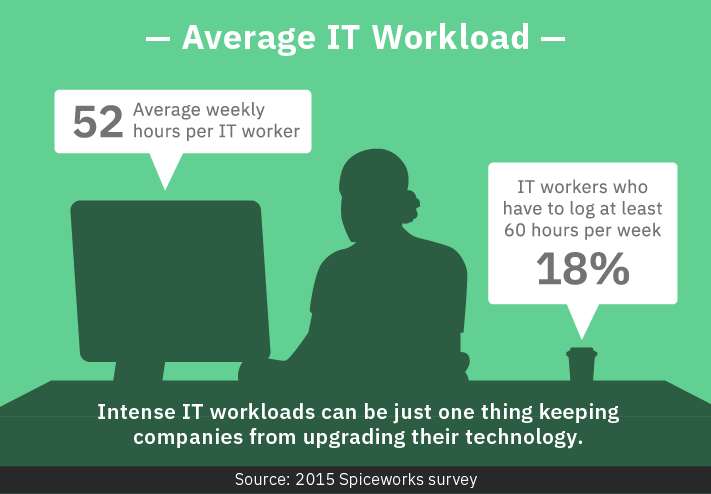 Businesses resist implementing new technology or upgrading their existing systems for a variety of reasons—here are some of the most common we've witnessed.
Cost and Complexity
Even for companies that are generating plenty of profit, the cost to implement technology can be prohibitive.
One engineer estimated that the true cost of introducing Salesforce ranged anywhere from $5,000 to north of $80,000 dollars. At the high end, that's a tall order for even a moderately-sized business. For a small business, it may be next to impossible.
And the challenges only go up as the solutions get larger and pricier, such as with something like enterprise resource planning (ERP) software. Truth is, for some businesses, the benefit would have to be huge to convince them to put up with the cost and complexity of a replatforming project.
Lack of IT Resources
The average information technology worker logs 52 hours a week, and 18 percent work more than 60 hours according to a survey by technology marketplace Spiceworks. Implementing the latest technology may be reduced to a burden for IT teams that are already spread thin.
The same survey also found that IT department size makes a difference, noting, "The average overworked IT department has 10 staff members while IT departments that work normal hours have an average of 17 IT pros on staff."
While good vendors can ease the load with dedicated reps and customer service, it may never be realistic for some businesses to implement new technology without hiring more IT workers. If they can't afford that, they can't afford new tools.
The Ease of Legacy Systems—Especially if They "Still Work"
For all the talk in recent years of broadscale adoption of cloud computing, many companies remain mired in the past.
In fact, the employee experience practitioners at Sapho estimated that 85 to 90 percent of the Fortune 500 companies they worked with still relied on on-premises systems, noting, "You'd be surprised, but even solutions we haven't heard about in years (think Lotus Notes and IBM Domino) have more than 100 million users."
There's a reason companies still run Windows 95 and the like—they still work. And when that's the case, it seems easier and cheaper to stick with the legacy system—even when hidden costs ranging from costly maintenance to low employee morale have been proven.
Some People Just Loathe Change
That new CRM solution is only going to boost revenue if you can get your people to adopt and actually use it. But, for various reasons, some people just hate change—especially when it comes to workplace technology.
Some of this avoidance is valid. A YouGov survey found that 23 percent of workers disliked new tech because they feared it would replace their role.
Even employees whose jobs won't be lost to automation might fear that a failure to grasp the nuances of new software could put them out of a job. So, technophobia persists.
Fear of the Unknown
At the end of the day, technology can seem like a really big, scary unknown to some companies and employees. Sometimes, it's hard to tell if that new system will be worth the cost of implementation or if it will fully integrate into the corporate culture. And if it doesn't, that was a huge risk that didn't pay off.
However, after reading all the following ways in which outdated tech is bad for business, we have a feeling some of that fear may fade.
How Old Technology Hurts Business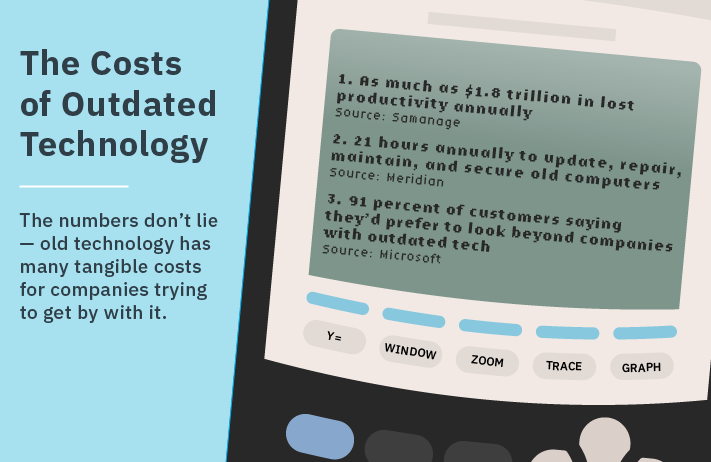 Outdated and legacy technology isn't just preventing businesses from reaching greater heights, it can also be actively harmful. Next up: Four ways that dated tech is detrimental.
Alienates a Growing Portion of the Workforce
Four out of five Millennials—that is, people who were born between 1981 and 1996—said workplace technology would influence where they choose to work, according to a Penn Schoen Berland (PSB) study. The study also noted that three in five Millennials would prefer high-tech perks to low-tech perks like beer and ping pong.
And it's not just Millennials who expect technologically-adept offices. That same study found that 50 percent of all employees expected to work in smart offices by 2021. And generally speaking, workers who are stuck with legacy technology are 7x more likely to be frustrated than employees at firms that welcome technology, according to a study from Unisys.
Scares Off Potential Customers
The average customer doesn't want the old ways of doing business, according to a survey by Microsoft.
Over 90 percent of respondents stated that they would cease to conduct business with a firm if it had outdated tech. And, 62 percent of respondents claimed they would become repeat customers if the businesses they patronized had modern technology.
Risks Violating Important Regulations
Businesses these days must operate under an increasing number of local, state, and federal government regulations.
Outdated systems that aren't built to manage these regulations can cause companies to unwittingly break important rules—which could result in costly fines, a damaged brand reputation, and even legal trouble for the individuals and organizations involved.
Dampens Productivity
Minutes slip away easily in an office setting. People grab their coffee. They chat with coworkers. And, too often, they sit in front of ancient computers with fans louder than wind turbines and waiting for slow programs to pull up their files, process important information, and otherwise help them do their jobs. And while the outdated tech is spinning up, morale is dwindling and productive time is running down the drain.
Meridian noted in 2016 that computers over four years old cost companies 21 hours of productivity annually due to repairs, maintenance, and security fixes. Depending on how large your company is, the number of salary dollars wasted on downtime could be devastating.
In fact, Samanage's State of Workplace Survey found that American businesses might be losing as much as $1.8 trillion dollars annually on wasted productivity due to "aging infrastructure and outdated technology."
4 Step to Overcome Fear and Implement New Technology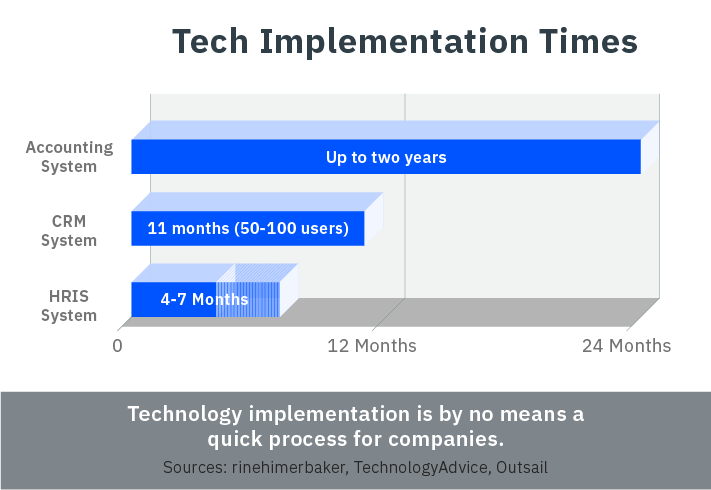 The good news for companies hindered by outdated technology is that it's getting easier to move beyond the phobia with modern solutions that offer reasonable first steps.
Follow this quick guide to help your organization ditch the technophobia and start 2020 strong.
1. Create a Clear Game Plan
Begin with business objectives to create a crystal-clear idea of what you'd like to accomplish by modernizing or upgrading technology.
Perhaps it's stronger sales—or less time spent on mundane tasks like meeting planning. (Did you know that the average employee spends over four hours preparing for meetings every week? If that sounds like your office, check out these meeting management tools that are so amazing, you'll wonder how you ever lived without them.)
With your objectives outlined, you can create a game plan for how you're going to get there. And, ideally, that will include trialing and adopting some cutting-edge workplace software.
2. Prep Employees for Change
When a new technology fails to take root within a business, it's not always because it's the wrong solution. Sometimes, it can be because employees weren't properly prepared for the change.
Good leaders prepare their employees to change to new technology. This can mean hosting extra (paid!) training sessions during work hours; making themselves available to answer questions; and being transparent about what's to be expected, where the project is currently, and how long the transition may take. This is especially important when you consider that accounting systems can take up to two years to implement, new CRM systems need close to a year, and HRIS platforms need four to seven months (Don't worry—some workplace tech solutions are much more painless to roll out!).
3. Make the Change About The Health of Your Organization
Introducing new tech goes sideways when it becomes obvious that a product was chosen for the sake of newness instead of how it would benefit the business. Choose something that will help your employees and your organization and you'll have an easier time getting everyone to embrace it.
In this step, it's important to show that you empathize with workers. Give a clear and simple explanation of the reason for the change and its benefits. Know the answer to the all-important workplace question: What's in it for me?
4. Don't Let New Tech Fall by The Wayside
A good implementation project doesn't end on the day your new workplace tech is up and running. A great implementation project may never end at all!
If you want to overcome technophobia, you have to show employees that they aren't on their own with this strange new platform by providing self-help tools and learning resources, open channels of communication, regular check-ins where employees are encouraged to ask questions, continued training, and any other support that's necessary to keep your workplace tech and your employees performing their best.
Overcoming technophobia happens one change at a time. Become a meeting hero at your workplace by introducing a meeting management platform that's easy-to-use, easy to install, and sure to set a good precedent for projects to come.