It's likely that you already interact with digital signage on a daily basis. From touch screen menu kiosks at fast food restaurants to arrival and departures displays at the airport, digital signs have slowly replaced analog signs in a wide variety of public and private spaces. While the change has been constant and subtle, the effects on connectivity and communication have major potential for companies looking to improve engagement and foster a better work environment.
The Emergence of Digital Signage
An incredibly broad term, digital signage can refer to a multitude of displays. However, for our purposes, digital signage means a centrally controlled content distribution platform that can display information to a specific audience. Digital content has humble beginnings in static VHS and DVD displays used on tube TVs in retail centers, and later in rotating slideshows and photos when flat screens emerged on the scene in the early 2000s. As digital capabilities and screen technology has progressed, digital signs have become increasingly prevalent and interactive, evolving from one-way static communication into a two-way experience for company and consumers.
Today's content management systems, or CMS, coupled with high-quality flat screens, can be put to almost any use imaginable - showcasing schedules and events, emergency notification systems, memos, advertisements, social media feeds, live news and metrics – and have slowly but surely been replacing more traditional forms of signage.
So why has digital communication caused such a radical shift in the way we interact with the world? When used correctly, digital signage has the ability to guide user experience in a unique way. No longer a sci-fi possibility, signs can now change content based on the individual using the display, utilizing real time information to adapt its message. From billboards to meeting room displays, digital signs offer companies all kinds of opportunities to engage their consumer base, direct an audience, or boost company morale inside the office.
Digital signs are also an eco-friendly and cost effective alternative to traditional paper-based announcements, marketing campaigns, memos, and other large-scale communications efforts within your company. in short, digital signs have a wide number of advantages, and their capabilities continue to evolve. Making the switch to digital now is an important technological update for any company.
Keeping Up With the Changing Workplace
Even if you aren't in a customer focused or client-facing business, digital signage can play a huge role in your office. The modern workplace has changed dramatically over the past few decades, favoring open layouts instead of cubicles, more horizontal business models, and fun perks like free coffee and foosball tables. But these shifts have been more than just cosmetic. Attitudes about work-life balance have changed dramatically, in large part thanks to startups moving workplace culture forward. And it's not just an attitude shift happening in to today's office; the demographics of the workforce are also changing.
Millennials are already the largest emergent segment in the workplace, rapidly approaching 50% of the total workforce. As workplace demographics continue to change, becoming more and more diverse, as well as more and more populated with Millennial ideals, having updated technology across platforms that feels well-incorporated in the company culture can be a huge draw. Employee experience has become an increasingly important factor in today's workplace – workers expect to feel valued and be actively engaged by their employers. They want to feel at home and inspired by their work environment. By the same token, companies are investing more time and effort into cultivating a welcoming culture that strives to interact with employees in big and small ways. For some, digital signs present an opportunity to interact with their own employees like consumers of the brand and company culture.
More than just a technological trail of breadcrumbs leading guests to their destination, digital signs can engage your clients and employees directly. For example, some companies use digital screens to rotate interactive content like live metrics, local weather, daily trivia, and internal message boards to keep things fresh and exciting. Shared spaces will use Wi-Fi login information to update office-wide displays of which members are on-site each day, facilitating potential connections and collaborations across companies and industries. In these and other ways, content distributed digitally can easily be used to elicit feedback and real-time response from clients, customers, and employees alike, deepening their connection to the company in subtle yet powerful ways.
A content management system, or a CMS, is a software platform that wirelessly distributes visual and audial information, usually capable of cross-platform integration as well. A good CMS will allow you to not only control and view the digital content in a user-friendly way, it will also sync up with your other communication systems and allow you to access the information you need on any device, from any location. Meeting room calendars can sync up with event listings on the flat screen in the lobby, as well as the event staff's calendar, while confirmation emails are sent automatically to guests with date, time, directions, and parking information- the possibilities are endless for widespread communications and back-end administrative work alike.
Content management systems can also be a great solution for an increasingly global and remote work force. Hot desking, shared workspace, and office hoteling are becoming increasingly popular arrangements, and digital signage can help solve many logistical problems that companies face when making a transition to a more flexible model. Rather than rely on email-based invites and calendars, today's content management systems are capable of syncing with Outlook to do everything from display meeting room schedules to customized welcome greetings upon arrival. Digital signage linked to your other communications systems can create a seamless experience for employees entering an unfamiliar space. From automated reception tablets that notify someone when their guest has arrived, to screens outside each meeting room and office displaying its availability, and lobby screens rotating upcoming events, company milestones, and social media, digital screens are an effective and efficient way to communicate information to those entering the space.
The impact of digital signage and communication goes beyond practical benefits – it also reinforces company culture, and helps employees feel connected. This is especially important for companies expanding their remote work force. Maintaining connection between team members from distant locations is vital to a cohesive remote model. Content management systems that integrate into your existing communication systems, sharing the same information across platforms and time zones, can make the transition easier.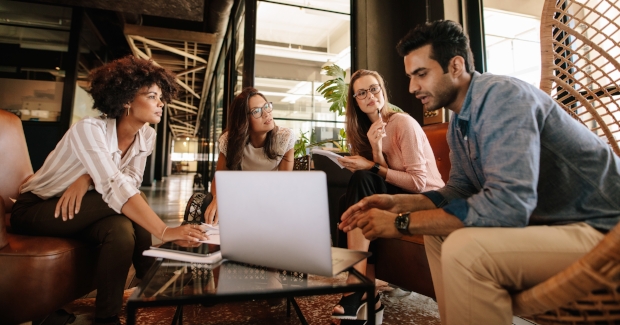 How to Use Digital Signage to Your Advantage
With so many options to consider when it comes to choosing a CMS, the best place to start is with the end user and not necessarily the product. Who are you trying to interact with? How does digital signage best fit into your business model? Where can it streamline interactions and operations, guide customer and employee experience, or improve communication systems? The answer will be different for every company, and will likely develop over time, but we have a few suggestions on how to incorporate digital signs into your business.
Largescale Communication - Digital signs are ideal for distributing information to large groups. Menus, event listings, updates and product releases, company-wide announcements, and other largescale communications, can be consolidated into a live, rotating feed and distributed company-wide instantly. Digital signs also have the potential to majorly improve emergency notification systems.

A Welcoming Interface at Reception – Tablets and touch screens make guest sign-in a breeze, and can automatically notify an employee that their guest has arrived. Screens can even be programmed to display photos and bios of special guests visiting the building, or display directions, marketing material, or announcements customized to those entering the building. Not only does this make a positive first impression, it also allows you to gather and use visitor data.

Supporting a Remote Workforce – Digital signs make it easier to connect employees and members to resources in shared workspaces. Displaying space wide announcements, schedules and events, on-site members and employees, and other pertinent information across buildings and time zones can help make an unfamiliar office feel more like home.

Employee Engagement – an often quoted Gallup poll finds that only 30% of the workforce considers themselves engaged. Digital signs can help by introducing fun and creative outlets for interaction. Live metrics, social media feeds for branded hashtags, company trivia, shoutouts, new employee bios, and fun company-wide polls are just a few of the ways you can put digital signage to work for your company culture.

Artwork – don't want to have blank screens sitting on the walls in offices and conference rooms? Using them to display digital artwork is a practical and cost-effective way to add color and personality to the office.

Expressing Your Brand– Company culture can often feel intangible and difficult to communicate, but digital signage can help. Use screens around your office to display values, mission statements, customer and employee testimonials, media coverage, milestones, and other markers of your brand.
However you use it, digital signage can transform your business by streamlining the way you communicate with employees and interact with guests and clients.
As workplaces become "smarter" and more connected, having up-to-date digital communications is a crucial component. Digital signage, although often a subtle influence on our environment, has the ability to impact a wide number of issues in today's modern workplace such as engagement, communication, and culture. digital signage is already user-centered and user-friendly, opening up endless possibilities for interaction, adaptation, and cross-platform integration, carrying your business into the cutting edge of the modern work force.