You've probably heard the statistic: about 40% of the current workforce is already made up of freelancers, solopreneurs, or so-called "contingent" workers, and that number is growing. While it's true that advances in technology and changes in the makeup of today's workforce have led to new ideas about where and how work gets done, the modern office is far from dead.
Social attitudes about what constitutes meaningful work have evolved significantly over the last 10-20 years, including our goals for the modern workplace. Today, the focus has shifted toward workspaces that foster human interaction and collaboration.
So why the sudden shift away from rows of cubicles and private offices? Employee engagement could have something to do with it. A 2015 Gallup poll showed that only 32% of employees define themselves as "engaged" at work, while the remaining 68% fell somewhere between "not engaged" (50.8%) and "actively disengaged" (17.2%). While some of this can certainly be attributed to the work itself, studies have found that office environment also has a significant impact on job satisfaction and motivation.
For office managers, architects and designers alike, striking the right balance between interactive and focused, structured and flexible, can be difficult. After all, no two companies are exactly alike, and what works for one will not always work for another. However, there are three main things to take into consideration when designing a work space: physical design, the office culture, and access to technology. If you're looking to overhaul any part of your office, we're here to steer you in the right direction.
Rethink the Physical Design
So what exactly is the ideal workplace? In traditional offices, employees are often told when to work, where to sit, and how to do their work. Studies show that this restriction on autonomy can have a lasting, negative impact on the motivation of employees. Coupled with a lack of natural light, little or very formalized interactions with coworkers, and the increasing ability to work from anywhere, and it's no wonder so many employees are struggling to feel inspired in the traditional office. In today's job market, people are beginning to value and demand flexibility from their employers, both in terms of where and how they work. Corporate companies are changing to meet the needs of current and potential talent, and create an office space where employees actively want to be.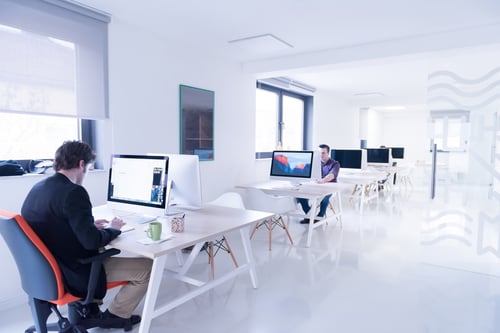 The most effective spaces are set up to cater to a variety of needs in the work environment, like neighborhoods in a city. There are distinct areas for solo work, impromptu team brainstorms, Skype meetings, social interaction, informal client meetings, and anything else you might need throughout the day. Rather than sitting in a static location, modern offices foster mobility and inspiration, as well as organic interactions between colleagues from all levels and departments.
It turns out that a focus on wellness and sustainability can increase productivity and motivation as well. The World Green Building Council's 2018 report found that green certified buildings had lower rates of absenteeism and staff turnover, saving one company over $200,000 a year. Adding organic elements like natural light, greenery, and improving lighting, air quality, and window access can go a long way toward making your employers happier and healthier, as well as pad your bottom line.
Office hoteling or hot-desking is another way in which companies have adapted to improve flexibility and efficiency, as well as save money. Companies like Acxiom and Deloitte have moved in this direction, providing open desks and common spaces for any employee company to utilize, either on a first-come-first-served basis, or through an office management software. This makes it easier for staff to travel for work, and it also ensures that remote or freelance employees have a professional place to meet with current and potential clients, while downsizing office space.
Employee Experience Matters
You can have the most beautifully designed state-of-the-art facility, but if it doesn't meet the needs of your team, or reflect the values and personality of your company, then it won't resonate with either your staff or incoming guests. While in the past employee experience wasn't much of an issue for employers, "talent management" is now a primary concern for most HR departments across a variety of sectors.
Bumble is a great example of a company that has worked their branding and a sense of humor into their office, while maintaining a beautiful and functional open work space; Instagram features living walls, colorful murals, and other selfie-worthy installations throughout common spaces, alongside a fully stocked bar and even a gelato station.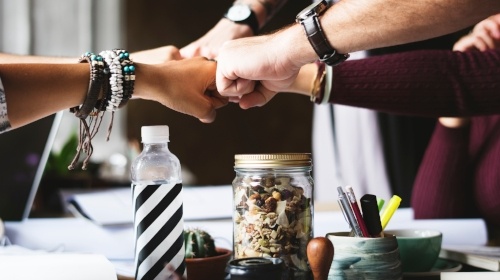 Perhaps your company doesn't have something quite as elaborately on-the-nose as Bumble's honeycombed headquarters, but there are plenty of ways to create a livelier and more interactive workspace without expensive art installations and a full time catering staff.
Bike storage, showers, and an on-site gym can encourage exercise and overall wellness. A working kitchen, free snacks, and comfortable lounge areas give employees a place to relax, socialize, and feel more at home. Even simple perks, such as free coffee, can go a long way toward creating a more inviting atmosphere that espouses teamwork, collaboration, and social interaction. And don't underestimate the power of team building! Try holding an office-wide contest to help come up with creative conference room names, or hold a weekly friends and family happy hour.
Don't have the money to install showers and a five-star kitchen? Increased flexibility within the company itself can improve the working environment. Give your employees the option to work from home a certain number of days a month, offer more malleable office hours, or provide flex days or additional vacation time. If your staff feels as though their own personal time is valued, they're more likely to stay engaged, improving overall productivity.
Don't Underestimate the Tech
Ensuring that current employees, new hires, clients and guests have a positive experience in your space is often dependent on the use of reliable, intuitive technology. Even a sleek remodeled office can fall short if the technology is out of date or difficult to use, if meeting rooms are continually over-booked, or remote employees can't join in on important discussions.
Meeting have an especially bad reputation for wasting time and productivity, and that's where we can help. With everything from meeting room and meeting dashboards to insights and analytics, AskCody will completely change the way potential talent, employees, guests, and clients experience the space.
Imagine it – a remote employee arrives for an on-site meeting with a potential client. As they enter the building, Meeting Room and Activity Displays showcase the meeting schedule for the day, ensuring that rooms aren't double booked or prior meetings don't overextend their scheduled time slot. The remote employee arrives at their meeting room early, already set up to their specifications (including tech and AV needs) as part of AskCody's meeting services.
Rather than worry about a last minute catering pick-up, an order for coffee and pastries from a local cafe was sent in when the room was booked, through the same platform as the meeting room and IT requests. Reception has already been notified about the catering order, as well as the arrival time of the potential client. An email was sent out the night before with a meeting reminder, leaving your employee free to focus on the content of the upcoming meeting, rather than logistical details. Whether your company is venturing into the world of office hoteling, or simply looking to overhaul your workspace with a more functional, interactive, and attractive design, AskCody is the modern workplace platform that guarantees the productivity of your employees.
When it comes to increasing productivity, engagement, and overall employee experience, nothing is as effective as rethinking the physical environment in which your staff works everyday. From technology upgrades to out-of-the-cubicle design ideas, even small changes like adding greenery and natural light can have a major impact on the overall health, wellness, and motivation of your employees.