What are recurring meetings?
Recurring meetings are gatherings set to automatically repeat within a given timeframe, it could be weekly meetings. On paper this sounds like a great idea because meeting organizers save time in meeting planning. But recurring meetings has its problems and could potentially lead to bad meeting behavior by booking less structured meetings. Thereby blocking company resources from other business-driving activities.

In this blog we dive into the dilemmas of recurring meetings and ask the question: "Do recurring meetings fit into the future workstyle?" And you might ask: "Well, what does the future workstyle look like?". Take a look at our Statement Of Direction where you can learn more about how we imagine the future.
Why should we even bother making rules for recurring meetings?
The service provider Fuze did a study stating that everyday there is about 25 million meetings in the United States. They estimated that the average middle-level manager uses 35% of their time in meetings, while upper-level managers use 50% of their time. According to Fuze in-effective meetings are costing US companies about 37 billion US dollars on lost productivity and wasted time.

The point is, we use a lot of time in meetings and preparing for meetings. Meetings are a huge cost, but they are also a massive investment in innovation, company culture, coordination, administration, and much more. Meetings are in essence the drivers of company progress. Therefore, it is crucial for successful businesses to optimize meeting procedures and to get the most of their time.

Recurring meetings saves time in your meeting planning process – but does it outweigh the problems?
When talking to companies we see two tendencies.
There are organizations, who use recurring meetings frequently and with great success. These companies save time in meeting planning because they plan ongoing events in advance. When booking a weekly meeting every Tuesday three months ahead, the meeting planner can use five minutes to plan 12 meetings – instead of using one hour to plan 12 different meetings. This saves a lot of time in the long run.
On one hand, these companies express, that they rarely forget to book meetings and recurring meetings release friction in coordinating multiple calendars each week.
On the other hand, we see organizations trying to eliminate or significantly reduce recurring meetings. One of the reasons we hear from these organizations is that recurring meetings often lack agendas and that leads to less structured meetings. The thought process being: If people use less time planning the meetings, chances are that the quality of the meeting will decrease.
Recurring meetings - a time saver or a blocker of company resources?
Recurring meetings are saving you time in meeting planning. That is a fact. You simply use less time on coordination, planning and administrating meetings. You can also rest assured, that you have a meeting room available (if the meeting is in person).
But recurring meetings are also increasing the risk of ghost meetings and bad meeting culture. Ghost meetings are meetings where attendees book a meeting room, but do not attend the scheduled meeting. It is often due to people forgetting to cancel the meeting in their calendar or attending the meeting somewhere else than in the meeting room.
Recurring meetings are a contributor to ghost meetings because people forget to cancel or edit repeatable events, which results in meeting rooms being blocked. This is a problem, because you could end up paying lease for rooms, that are being used ineffectively.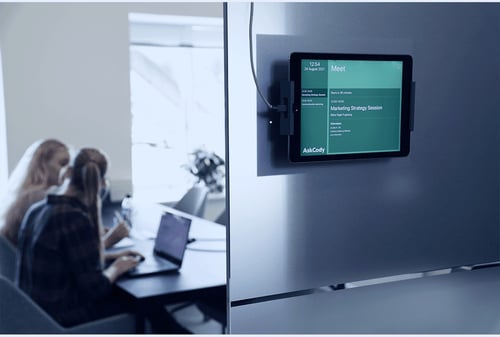 The hybrid work problem
With the introduction to hybrid working, it is clear, that work can be done anywhere. If you work with flexible hours and under hybrid working conditions, this could be a problem for the current recurring meetings feature.
Recurring meetings are a result of a less dynamic workstyle. If you book a meeting with ten attendees over an extended period it does not take into account, how the participants will attend. You simply do not know how meeting participants will participate.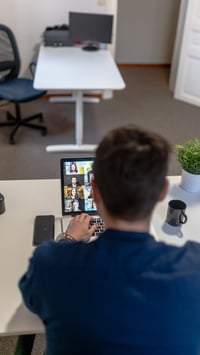 Let us say that you want to book a recurring meeting with eight participants. To make room for all the participants you book a large meeting room and order coffee. But today the reality for many organizations is that a lot of the participants will join online. This means that you will have less and sometimes no participants physically in the meeting room.
It is possible that Microsoft in the future will make it easier for attendees to validate how they will attend the meeting. But until that happens, hybrid working and recurring meetings could create friction for your organization.
How does AskCody use recurring meetings?
At AskCody we try to limit the number of recurring meetings to save time for other value driven activities. That being said, we still use recurring meetings for a couple of events. Here are a few examples of recurring meetings in AskCody:
State Of The Union – it is the longest lasting recurring meeting, where different departments
every Wednesday present new initiatives for the rest of the organization
Office Yoga each Wednesday – a half-hour of yoga before State Of The Union
Status meetings in each department
All these meetings are done online with no meeting rooms connected to the meetings.
Reduce the negative effects of recurring with an on-site confirmation
One way to reduce the negative effects of recurring meetings is by having an on-site confirmation, when people attend meetings. This could be done with Room Displays, where you can confirm meetings 15 minutes before or after the meeting. If the meeting is not confirmed the meeting room will become available for others to use.

If there is one thing we hope to achieve with this post, it is that you consider carefully next time you are about to book a recurring meeting in your own and your colleague's calendar.

Interested in learning more about how to better utilize your meeting rooms?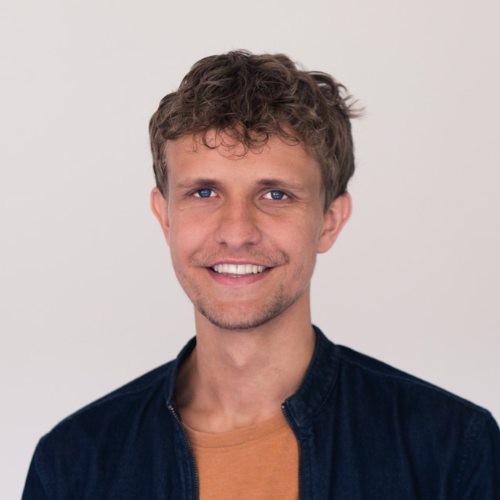 Andreas Sjelborg Rahbek
Product Marketing Specialist, AskCody. Andreas shares news about AskCody product improvements and features.