AskCody Community,
Here's a real-life story I wanted to share on a sunny Monday from Boston.
Andreas Baand Larsen, AskCody's Nordic Sales Manager, just shared with me a photo from Microsoft Inspire while he was literally stammering out "We…w..w….we… WE'RE ON THE BIG SCREEEN."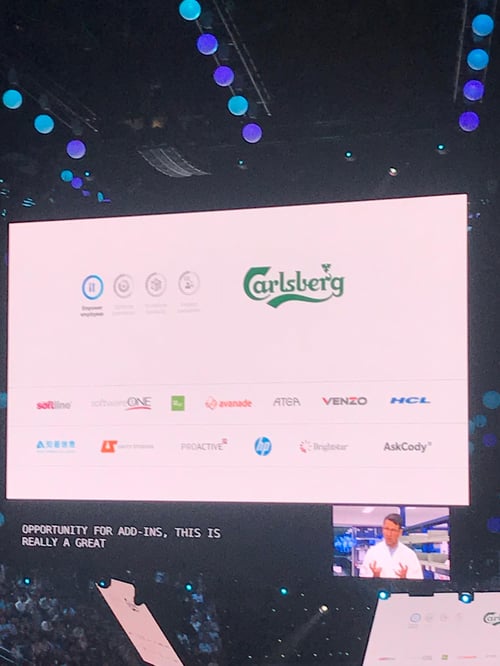 You can see AskCody's logo just above Judson Althoff
And just to draw the picture for you, Andreas is attending Microsoft Inspire with 42.000 other people and the Keynote is usually seen by millions of people in the days to come. You can go watch it here.
And yes! We were on the screen being showcased! Twice!
To be completely honest. I didn't know. This was a complete surprise for me too.
This year Microsoft chose Carlsberg as the BIG NAME to showcase how Microsoft Technology can drive Digital Transformation.
Microsoft's Judson Althoff and Carlsberg's Sarah Haywood introduced 4 pillars, or vignettes, of how Carlsberg uses Microsoft solutions to drive digital transformation. They are: Empower Employees, Engage Customers, Optimize Operations, & Transform Products
In each of these vignettes different vendors and partners were showcased and they presented some really cool ways they use Microsoft Technology. And then, they listed all the partners who are a key part of this transformation.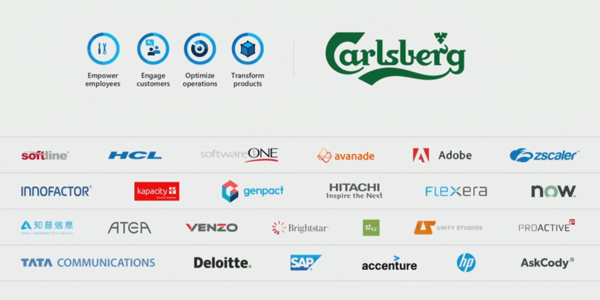 Ta daa! AskCody on stage with some minor companies as SAP, Deloitte, Accenture, TATA, Software 1, HP, Unity, Adobe, Avanade and of course our good partner in Scandinavia ATEA….
Judson Althoff, EVP Worldwide Commercial Business, the host of the keynote, summarized the showcase of driving Digital Transformation this way: " You have now seen great technology. But it's our great partners that is bringing that technology to life, driving the real digital transformation. And I have to remind you; This isn't a demo. This is digital transformation in real life. These guys are not actors. They run this business. They are here because they love what they do. Technology and the way our partners make that technology can really change the way they run their business."
Sarah Haywood, CTO, Carlsberg rounded up with this statement.
"It all starts and ends with how you share your customers visions. At Carlsberg we have a vision of a connected Carlsberg. We need great partners who can innovate with us and respond rapidly to the diverse and the new opportunities for us to connect our workforce, our employees our customers."
We're thrilled and proud to be highlighted and showcased as one of those partners, being a partner that's driving digital transformation, empowering employees and optimizing operations.
Recently, we revisited our company mission during our CEO Breakfasts (monthly event at AskCody) in both Aalborg and Boston. At AskCody we're on a mission to empower employees to work smarter, increase work-life productivity and collaborate (meet) with ease, while enabling organizations (and relevant organizational units) to increase operational efficiency, get the most out of resources, transform and automate processes, optimize the workspace experience, and make workplace decisions based on data.
Key words:
empower employees to work smarter and increase work-life productivity
enabling organizations to increase operational efficiency
I believe this is an extraordinary example of how our company mission truly aligns with the market, our market position in it, why this company and our software is unique, and why what we do is and how we create value for our clients really matters.
Yes, it's a bold, two-sided mission. But it's in our DNA to focus both on Employees and the Organization. I hope this example highlights why that mission is our very core.
Today, my team and myself are very proud of being a part of AskCody.
There's no free spins or easy way to get up there on that screen being highlighted twice during the most important keynote of the year in our business. And as the only ISV! It requires a hell of job. From everyone. Everyday. Every hour. In everything we do. That the demand we should keep putting on our self. Because that's what it takes.
Thank you Microsoft! And a big thank you to a unique customer that believes in our software, our company and the mission we're on. This is an extraordinary big high-five that shows us that we are at the right track, and that there is an alignment between AskCody's mission and how the market is responding.
This is validation at the highest level possible. Go look at the brands displayed next to us. Inspire mainstage is the Champions League for Software companies. But it doesn't come for free. We have to keep up, keep be pushing the limits, pushing the boundaries. And most importantly our mindset about what we are able to achieve if we keep doing our very best (and then some). That what it takes to get up there!
Next time, we're aiming for time on stage ;)
All the best.
Allan Mørch
CEO & Founder